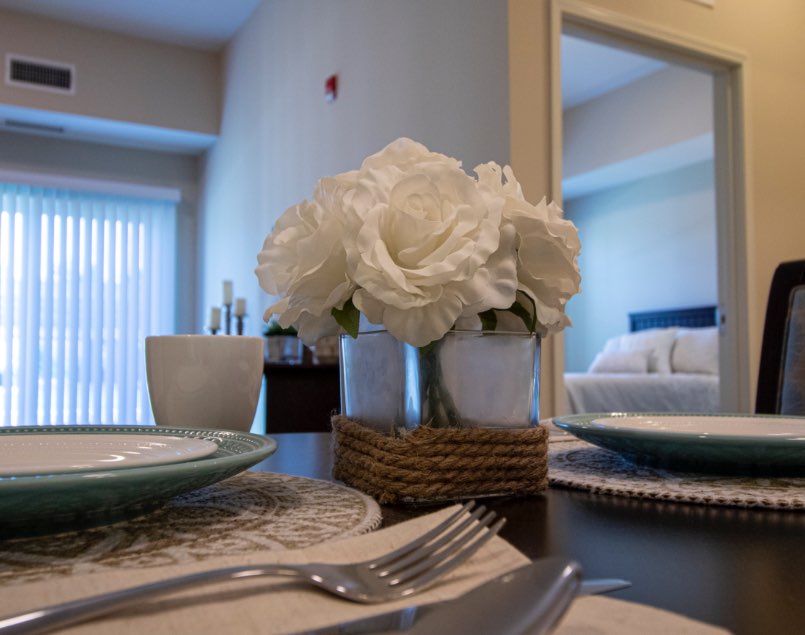 Memory Care Decorating Tips
Transitioning your loved one into a memory care community can be a difficult decision, especially if it is their first time moving into a senior living community and out of their home. While the move will mean leaving behind their familiar spaces, small touches can make their new community feel like home.
Here are a few tips to help your loved one feel comfortable and at ease in their new memory care neighborhood.
Home Sweet Home
Nothing says home like being in a personalized environment, and no one knows your loved one better than you do. Fill their room with memories and pieces of life, such as past hobbies or passions, and photographs of grandchildren, children, pets, or their partner.
Keep It Simple
Small pieces of familiar furniture or decorations can help comfort your loved one in their new community. When it comes to furniture and decor, there are a few things to keep in mind about your loved one's new space:
Contrast colors: The older we get, the harder it becomes to locate like-colored objects. Combine colors that are dark and light so they can be easier to differentiate between the surrounding objects.
Avoid busy patterns: A busy pattern can confuse someone who is experiencing memory loss. Objects in the pattern may be unrecognizable, causing your loved one confusion as to what is on their rug or towel.
Proper Lighting: Natural light is best, but when adding additional lighting, be sure the lights aren't too bright or harsh. Avoid twinkling or blinking lights as they can cause confusion for seniors experiencing memory impairments.
Promote Wellness
While comfort is key in your loved one's new space, it's important to include items that will help promote wellness. Incorporating these elements into the environment may assist in the preservation of their sense of self and purpose in life.
Install non-slip carpet over hardwood floors or smooth surfaces to help your loved one avoid slipping. Be sure to avoid scatter rugs to prevent tripping or confusion.
Hang drapes over apartment windows to help muffle noises from outside that could cause disorientation.
Position furniture to encourage engagement rather than in front of a TV.
Memory Care Matters
Transitioning your loved one into a new community can seem daunting, but with these memory care decorating tips, you can make their space feel like home in no time. Before you begin to decorate your loved one's memory care room, be sure to check with the community for any guidelines to follow. For more tips and advice about moving a loved one to memory care, reach out to your local StoryPoint community.