As you prepare to transition your parents into senior living, it's important to keep in mind the type of services your loved ones need. Is mom a perfect fit for independent living? Does dad need a little more assistance?
A looming question you may have is this: Will your loved ones be able to live together if their needs differ? Here's the breakdown.
Can Couples Who Move Into Senior Living Together, Stay Together?
Short answer: Yes.
If one parent needs a little extra help, often both individuals can move into assisted living so that the one who needs more support has access to what they need.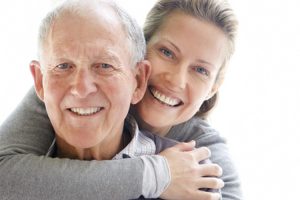 Unique to StoryPoint and our sister company Independence Village, our communities offer enhanced living. A bridge between independent living and assisted living, enhanced living is often a good living option for couples who require different levels of support.
Dementia Care
If you have a loved one with dementia, the community's service offerings will typically dictate if your parents can live together.
For example, not all senior living communities offer the full spectrum of care. If an independent living community doesn't provide memory care, mom or dad will likely need to move to a different community that can support their needs.
For communities that offer memory care, often a spouse can live with their significant other in the memory care neighborhood, even though they don't require the services associated with memory care.
In other situations where dementia support services are needed, one spouse may move to memory care while the other will remain in independent, enhanced or assisted living. Within these cases, while your parents aren't in the same apartment, they're still in the same community.
Regardless of the situation, there are various options available to keep your loved ones living together for as long as safely possible.
In Search Of Senior Living Options?
Many families are unsure of where to begin when it comes to their search for senior living options for their loved ones. If you need a jumpstart, our simple survey can help. Take the survey here.