Thinking about retirement? Michigan ranks as one of the best places to settle down. With beautiful seasonal changes and endless activities to enjoy, retirement in Michigan offers the perfect combination of peaceful relaxation and new experiences.
Here are some of the best retirement destinations to consider in Michigan.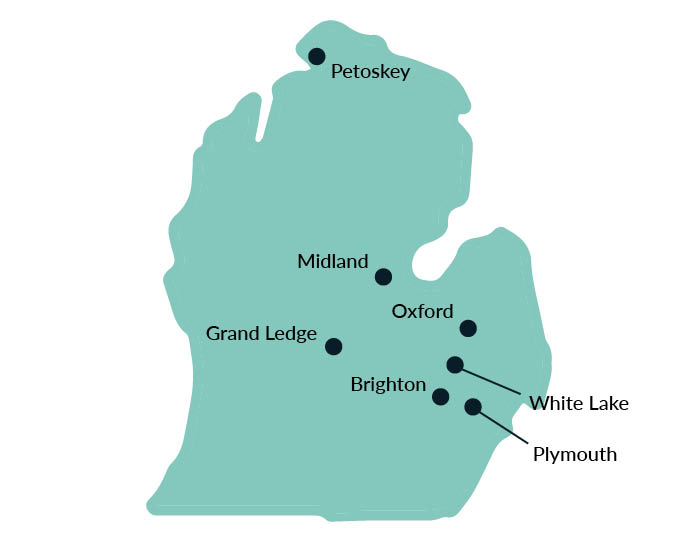 Brighton is a city in the suburbs of Detroit, about 20 miles north of Ann Arbor. Downtown Brighton is full of charming shops and restaurants, and the surrounding areas have many golf courses and country clubs.
Visit Independence Village of Brighton

Grand Ledge is the perfect setting for those looking to retire in a small, quiet city. Located just outside of Lansing, the state capital, living in Grand Ledge promises the opportunity to take in the amber color of changing leaves in the fall and experience the lush foliage in the spring. You can also catch a cruise and journey down the Grand River, or simply take a stroll to enjoy the views this community has to offer.
Visit Independence Village of Grand Ledge

Midland is considered the "City of Modern Explorers," due largely in part to the innovations of the Dow family scientists, inventors, architects, and arts supporters. Explore the Alden B. Dow Home & Studio, experience the Midland Center for the Arts, or enjoy Dow Gardens and its impressive canopy walk that's suspended four stories above the forest floor.
During the holidays, be sure to visit the Santa House and the jolly Charles W. Howard Santa Claus School. Midland has an abundance of personality, adventure, shopping, and things to do for all interests and lifestyles.
Visit Independence Village of Midland

Oxford is a suburb of Detroit that offers a small-town feel with the benefit of many modern amenities. There is no shortage of character in this community, and retirees can stroll Main Street shops or join fellow residents on Thursdays in the summertime for Music In The Park. Bookworms can spend their retirement days at a new, state-of-the-art public library. Oxford blends historical character with newly-built businesses to make this small town a quality place to retire.
Visit Independence Village of Oxford

Located in northern Michigan, Petoskey offers picturesque views of Lake Michigan and a historic downtown area, making it a quaint, relaxing place to retire. This is a hotspot for those who enjoy beautiful, scenic atmospheres, and small, eclectic boutiques. In the summer, the marinas are alive and busy. In the fall, you'll love the bright reds, oranges, and yellows of the changing leaves. And as the snow begins to fall, you'll be sure to find many winter activities to do in or near town. If you're looking for that "up north" feel, you'll find it in Petoskey.
Visit Independence Village of Petoskey

Plymouth is a quaint town located just outside of metro Detroit. Here, you can spend your days exploring the past at the Plymouth Historical Museum, grabbing a bite to eat at a local restaurant or getting outside at Plymouth's Kellogg Park. Plus, Plymouth is home to Michigan's largest free ice festival, the Plymouth Ice Festival.
Visit Independence Village of Plymouth

White Lake is one of Michigan's premier outdoor areas, which makes it a great place for nature lovers to retire in Michigan. The Dublin Community Senior Center offers activities including a bingo night and walking club. Plus, there are many adult activities available at the White Lake Township Library.
Visit Independence Village of White Lake

Our services provide seniors the opportunity to live a life full of exciting activities, build new friendships and of course, remain independent and active. Reach out to our team today to schedule a visit to your local Independence Village to see if we're the right community for you.