What is a CCRC?
What are the benefits of moving to a CCRC?
Are CCRC communities more expensive?
Many people have questions about continuing care and Continuing Care Retirement Communities (CCRC), and we've heard them all. So, we're here to help!
Below you'll find some of the most frequently asked questions that we hear about continuing care communities, with in-depth answers. Take a look below to see why people consider continuing care communities and see if it makes sense for your loved one.
1. What Is A
Continuing Care Retirement Community?
A Continuing Care Retirement Community is a long-term care option that offers a continuum of care under one roof. This way, there's an easy transition to adapt to a senior's needs as they change. A CCRC offers multiple levels of care as a senior's care needs progress: from independent living, to assisted living, to memory care.
The long-term care offered at CCRCs provides seniors with a stable home for the future. As care needs change, you and your loved one don't have to worry about moving just because more assistance is required. A CCRC ensures your loved one will always have access to care without having to move from place to place.
It's worth noting that, like a CCRC, some senior living communities offer a continuum of care. Many of our communities offer continuing care services which we call enhanced living. This care option allows residents who aren't ready to transition to assisted living to fully enjoy their independent lifestyle with added customizable care services.
2. What Services Do CCRCs Offer?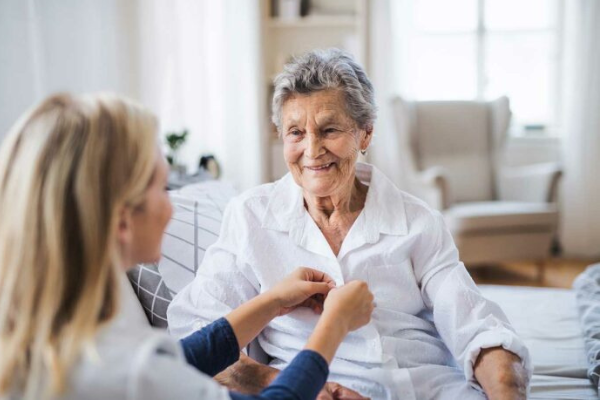 CCRCs can simplify the process for seniors to move from one level of care to another. A lot of the time, seniors are healthy when they move into a community but as they may require increased care, CCRCs are ready to adapt to serve the increased needs of its residents. This easy access to these services can provide comfort for all parties involved. Living options and health services you can find in continuing care communities include:
Independent Living

Assisted Living

Nutritional counseling

Physical therapy

Skilled Nursing

Onsite pharmacy

Memory Care
3. How Much Does A CCRC Cost?
Before considering continuing care communities, it's essential to be prepared for the financial requirements. The biggest difference between a CCRC compared to other living options is the initial entry fee. The CCRC's entrance fee will vary based on location, size, type of residence and care services.
A CCRC has a large contractual up front cost (like a down payment on a home) because it contractually guarantees housing and medical services for your lifetime. So, by paying the large initial fee, you paying up front for care for life. You are investing in your own future.
Note that senior living communities do not generally require the costly initial fee that CCRCs do. This is a big difference from other types of senior living!
So how much does a CCRC cost?  AARP reports that fees can range widely, from $40,000 to more than $2 million, according to NIC. The average initial payment is about $402,000, but payment options can vary and have wide ranges. This data includes monthly maintenance and service fees. Since most entrance fees are very expensive, many residents sell their existing homes to finance the entrance and monthly fees associated with a CCRC.
4. Why Choose A CCRC?
At these communities, the biggest benefit is the access to onsite advanced healthcare support, such as assisted living and memory care. But the all-inclusive lifestyle is an extra perk; it means cooking, cleaning, house, and yard work are provided.
CCRCs offer unique care for your loved one that may not receive on their own. With living alone, there is less supervision and more responsibilities that may propose risks or falling hazards. Continuing care communities can simplify life for your loved one by offering: 
Community enrichment.

Getting involved with the community provides both physical and mental health benefits for your loved one: they can keep active while also making friends and having fun. 

Nutritious dining.

Chef-prepared meals are available to encourage healthy eating. This is beneficial for senior nutrition but also their safety. Cooking can become more difficult with age and come with potential safety hazards. 

Housekeeping.

Retirement isn't meant for doing chores. Let a CCRC handle the housekeeping so your loved one can spend that time doing things they love. 

Security.

Ease the mind of both you and your loved one with the security offered at CCRC. Locked doors, up-to-date alarms and monitored entry points ensure safety for all residents. 

No need to move.

One of the best benefits of CCRC is the fact that in a community that offers a continuum of care, where seniors can age in place.  
Continuing care communities offer the same events and activities as other senior living communities such as card games, cooking demos, books clubs and more. These options make CCRCs as enjoyable as an independent living community with the added bonus of care when it's needed. 
They also provide the same transportation that can take residents to parks, museums, and other local places. The convenience of a CCRC is hard to match if you are looking for a senior community for your loved one.
Related: 4 Tips For Moving Your Loved One Into Senior Living
5. Is A
Continuing Care Retirement Community
Right For My Loved One?
The reasons for choosing senior living are different for everyone. Recommending help is never an easy task, but sometimes the signs tell us that our loved ones may benefit from added assistance. Here's our breakdown on the signs your loved would benefit from continuing care and the things to consider about life in a CCRC. 
Top reasons your loved one would benefit from continuing care 
They are in need of flexible care services.

They require assistance with housekeeping, cooking and other household chores.

They are lonely and seeking social interaction and activities. 

Are looking to downsize or consolidate home-ownership bills and tasks.

They could benefit from a licensed setting with professionally trained employees who will care for them each day.  
Things to take into consideration regarding CCRCs
There are substantial fees including a hefty initial fee and monthly maintenance costs. 

It requires intense planning, including guidance from a financial advisor and lawyer.

There are complex contracts.

There could be waitlists or limited housing choices and locations due to high demand.

Applicants must meet physical and cognitive health requirements to be eligible.

There's a lack of ownership. Many people take pride in owning a home and, in a CCRC, members do not own the residence.
Whether you know a CCRC is right or you aren't sure what the next steps look like, senior living experts are available to help guide you on your journey. Seeking professional guidance can ease the pressure of making a difficult decision. Speaking with a Community Specialist will provide you with the information you need to make the best decision for your loved one. 
Related: How To Talk To Your Parents About Moving Into Senior Living
A Continuum Of Care In Our Communities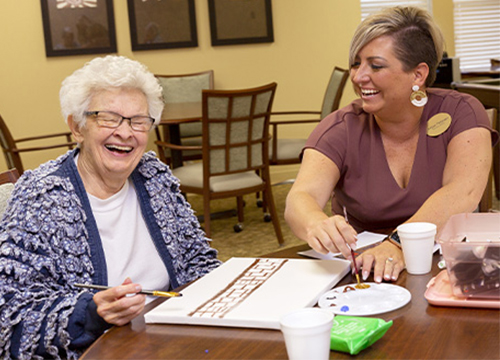 Unique to StoryPoint, enhanced living is a bridge between independent living and assisted living. It is designed for those who can benefit from personalized support and care while enjoying the residential setting and autonomy of independent living. 
With enhanced living, like a continuing care retirement community, you receive services unique to your needs, and can expand or reduce those services at any time. Enhanced living allows our residents to live with all of the perks of independent living — a maintenance-free lifestyle, access to community social events, on-site amenities and more — with the peace of mind knowing that your loved one won't have to move as their needs change. Learn more about enhanced living on our services page or call one of our Community Specialists to for more information. 
Related: What Is Enhanced Living?
Unsure Where To Start?
With the variety of senior care options available, it may be difficult to decide which type is the right fit. Our team is here to help you find the best option! Call 1-855-407-8679 or contact a Community Specialist to determine which service may be right for your loved one.