It's no secret that moving is a difficult decision. Leaving behind memories and set routines may seem overwhelming but sometimes, moving is the best option. Your parents may want to move closer to you and watch their grandkids grow up. Or, when your loved one starts to show signs of needing assistance, it may be time to move. Moving an elderly parent to your state is a great way to bring them closer to you, giving you peace of mind that your parents are right around the corner if they need you. 
Realizing it may be time to relocate mom or dad doesn't have to be an intimidating process. This is a decision you make with the best intentions for your loved one and their safety. With the proper preparation, you can create a clear plan for moving your parents to another state. To help get your plans in order, follow this step-by-step guide.
Top Reasons To Consider Moving Your Parents To Another State 
They need more assistance.
It can be hard for your loved one to admit they need greater support with daily activities, especially if they're concerned about losing their independence. These include tasks such as laundry, cooking and cleaning. When things aren't as simple as they used to be, it may be time to consider moving and receiving additional help with these activities. 
You can find the assistance your loved one needs at a senior living community, which is equipped to assist seniors and ensure their needs are being met while still promoting their independence. Other options include moving your loved one nearby or in with you to assist them with their daily tasks or hiring help. 
Related: 5 Benefits Of Independent Living 
They live far away.
Supporting parents who live far away can be challenging. As they need more assistance, it's important to be easily available. Moving an elderly parent from one state to another is helpful when bringing them closer to you. This allows you to be closer for support and be part of their day-to-day life if needed. The close proximity also provides peace of mind knowing you're nearby for any situation. 
They don't get to see their grandchildren very often. 
Moving any distance is hard. If your parents are resistant, remind them about the benefits and the ability to see their children and grandchildren more often. Remind your aging parents that, if they move, they'll have the chance to watch their grandkids grow up more closely. If they live in your same city, they can be present for precious moments like a soccer game or piano recital.
Related: Three Strategies For Reluctant Aging Parents
They aren't socializing.
When your loved one isn't getting out of the house as much, it might mean they aren't socializing or partaking in activities they enjoy. For many seniors, a lack of social connections can lead to loneliness or depression.
One of the biggest perks of any senior living community is the opportunities for socialization. While it can take time to adjust to a new environment, often seniors flourish once they make connections and become part of a community. Moving closer would also allow for visiting your loved one and schedule outings to remind them of activities that bring them joy and encourage socialization.
Steps For Moving Elderly Parents
After speaking with your loved one and finalizing that moving is the best option, it's time to create a plan. Know that deciding to move should be a joint decision. Bring your parents in during the planning process. Moving takes a lot preparation, so be ready to check in with them and keep everyone on the same page. Here are steps that can guide you through the process of moving an elderly parent from one state to another. 
1. Hold A Family Meeting
Communication is key. When dealing with decisions regarding a parent, you should include all family members in the process. Setting up a family meeting allows everyone to receive the information they need. This might mean holding a Zoom meeting with everyone involved or taking time over the holidays when the family is together to discuss moving. The family meeting should be held months or weeks in advance to get everyone on the same page, delegate responsibilities to family members and determine the best way to move your parents. 
2. Determine The Best Living Option For Your Loved One
How much assistance your loved one needs will determine the best living option for them. 
Moving In With Family 
If your loved one is starting to require some assistance, an option is to move them in with you. If you live in different states, this brings them closer and allows you to take care of them and be there for assistance as you need it. 
If you choose this option, remember to make your home safe for seniors. Walkways need to be clear from clutter along with any other tripping hazards. Bathrooms also require updated safety such as installing grab bars, slip-free bath mats and hand-held shower heads.
Talk About Senior Living Options
As the required level of care increases, you may need additional help. Senior living communities have professionals available to tend to your loved one and their needs. Communities are able to meet your senior where they're at and that's why there are different levels of senior living options, including:
Independent living:

For seniors that can manage everyday tasks while enjoying the benefits of maintenance free living and social opportunities.
Enhanced living:

 With enhanced living, seniors are able to enjoy the independence of independent living with additional wellness services like laundry, housekeeping and meal services. 
Assisted living:

For seniors who would benefit from 24/7 support from a community of compassionate, trained professionals. 
Memory care:

For seniors experiencing Alzheimer's or dementia.

Related: Understanding The Different Types Of Senior Living
Use The StoryPoint Group Cost Calculator
Our cost calculator is here to help you get an estimate of the cost of senior living where you live: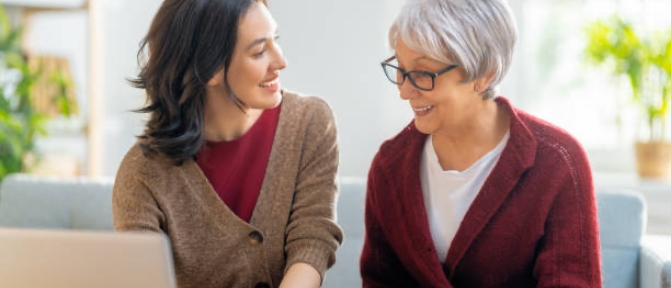 See The Costs Of
Senior Living Compared To Staying In Place
We created this senior living calculator to help you determine the costs of senior living compared to remaining in place.

Get Started
Compare The Costs Of Senior Living
To accurately estimate the cost of senior living, simply enter your monthly expenses in the field below.

To see an estimate of the cost of senior living, simply select the state and level of care you think is right for you or your loved one.
---
*This information is intended to aid in the evaluation and the decision-making process related to senior living alternatives. It is based on information and assumptions provided by you and information compiled from multiple accredited sources for comparison purposes. The calculations and comparisons provided should not be construed as financial, legal or tax advice. In addition, such information should not be relied upon as the only source of information.
3. Find The Best Way To Move
When planning for moving day, there are a few things to coordinate. First, consider how far the commute is from the old place to the new one. Check if the move is something that the family can handle. If the route isn't close to a family member, seek professional help. After that, assess how much is being moved. Is it enough for family members to transport? If you can, gather friends and family to help with the move. 
Different moving methods work best for different situations. Professional movers are an option for moving elderly parents to another state. Just make sure you find a company that has the ability to go from state to state. During your search, try to find moving companies that are best for your specific situation. Consider how heavy or fragile your parents' items are. Many moving companies specialize in transporting large items or working with seniors, so you don't have to worry about the move.  
Related: What Not To Bring To Senior Living
4. Plan For Health Care Needs Ahead Of Time
When moving an elderly parent from one state to another, you must find new health care providers. Finding doctors takes time, and it's important to plan this ahead of time and not at the last minute. Talk to your current doctor and see if they have referrals in your loved one's new area. Continue to do your research and read online referrals and credentials of new health care providers. Other tips during this time include:
Transfer prescriptions to a new pharmacy prior to moving.

Work with a care manager that can guide you during the move.

Check with the insurance company if new healthcare services are covered.
A care manager that specializes in health care services can help your parents during the move. If you can, find one that's familiar with your parent's new area. It is extremely helpful to have a care professional with knowledge of all the nearby care centers and what health care services they offer. 
5. Review The Moving Plan 
This step will get everyone involved on the same page. Even though the moving plan has been established, it's important to review it as a group and make sure everyone understands what's happening and what their required involvement is. 
Make sure your plan to move your parents out of state is documented and that it includes the address and contact information of where your loved one is staying. Reviewing this information will provide peace of mind that everyone understands the goals, location and logistics. 
6. Make Your Loved One's New Home Uniquely Theirs 
Moving presents a new opportunity to decorate and reorganize. Displaying items that resemble their previous space can provide comfort during the transition and make them feel at home. Let your loved one pick out decorations that will spark joy. Set up pictures of family members to remind them of their loved ones and other happy memories.
Moving also allows for reorganizing items and getting rid of clutter. During a move, especially when downsizing, getting rid of unnecessary items will make everyday items easier to access. Try labeling drawers and cabinets to remind your loved one where new items are located. 
Related: A Guide To Decorating Your Independent Living Apartment
Providing Peace Of Mind
Our communities provide you the peace of mind that your loved one is in good hands. Moving can be difficult, but we're here to assist you during the process. 
At StoryPoint Group, we have experts on staff that can help give you recommendations for moving companies, local doctors and more. Speak to a Community Specialist today to discuss our various locations in different states to find what location is best for your loved one's move. Give us a call at 1-844-275-9990.