You saw the Civil Rights Act of 1964 signed into law and Apollo 11 land on the moon. You've lived through the Cold War, the creation of Google, Y2K and the Great Recession. So you're no stranger to change, and these aren't the first "unprecedented times" you've lived through. 
In times of uncertainty, your family, friends and community are always there to support you. As our country enters another recession, know that our StoryPoint Group communities are here for you! See how senior living in a family-like neighborhood offers security and peace of mind in uncertain times.   
If you're concerned about the rising cost of living and inflation, you may be unsure what the best next steps are. Here's a look at how a senior living community can support you no matter what lies ahead. 
The Rising Cost Of Just About Everything
It's no secret, the cost of living keeps going up. With a red-hot housing market and surging inflation, prices are surging across the board. Here are a few key things we've seen over the past 12 months.  
In the last year:
Surging housing prices and inflation are squeezing many older adults out of their hard-earned money. Increased expenses have forced many of us to reevaluate our budgets.
Experts warn that your cash flow could be consumed by higher prices, and not just for food and goods, but by living expenses as well. 
How Senior Living Can Offset Rising Inflation
Utilities, Maintenance, Repairs, Daily Living Expenses
With the fluctuating cost of daily expenses, senior living communities can offset the cost of rising inflation. How is that possible? One of the best benefits of moving in is the all-inclusive lifestyle.
Think about the prices of many goods like food, utilities and gas have risen. (Gasoline prices alone are nearly 45% higher than they were last year.) In our communities, it's all taken care of for you. All costs are included, and that comes with access to our community perks. 
You don't need a fitness membership; we have a gym!
You don't need to pay for gas; we have a shuttle!
You don't need to pay a landscaper; we have a maintenance team!
Life in our communities allows you to beat inflation by paying a flat price for your life's expenses. For one price, you have access to an on-site fitness center, chef-prepared meals, community events and more. 
Use Our Cost Comparison Sheet To Compare Our Communities To National Uncertainty
Complete our cost comparison to see how senior living can help you offset the rising costs of living and inflation.
Click here to download our cost comparison sheet
Reference our comparison sheet as you continue reading to see how life in our senior living communities can offset household expenses, utilities, maintenance, daily living and more. 
Housing Expenses
Senior living allows you to get the best value out of downsizing. It's a seller's market and many seniors are looking to downsize. Unfortunately, downsizing your home may not be the cash grab it once was. While you're still likely to get top dollar for your current home, there's less inventory and intense competition to buy smaller homes. That's where senior living can help. 
Retirees that downsize into senior living communities don't have to worry about surging home prices or high interest rates. The biggest benefit of downsizing is the ability to maximize the profit in your current home. Moving into a senior living community means you can right size without losing value competing for a smaller home. You won't have to go through the hassles of a bidding war and the pains of buying a new home. 
Moving into our StoryPoint Group Communities allows you to get the smaller space you need, but with big added perks like gourmet dining, a dynamic social calendar, health care services and more. 
Use The StoryPoint Group Cost Calculator
Our cost calculator is here to help you get an estimate of the cost of senior living where you live: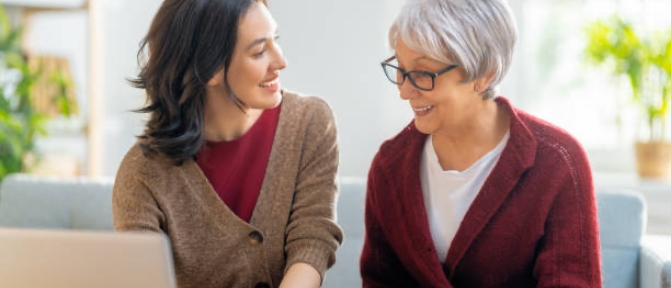 See The Costs Of
Senior Living Compared To Staying In Place
We created this senior living calculator to help you determine the costs of senior living compared to remaining in place.

Get Started
Compare The Costs Of Senior Living
To accurately estimate the cost of senior living, simply enter your monthly expenses in the field below.

To see an estimate of the cost of senior living, simply select the state and level of care you think is right for you or your loved one.
---
*This information is intended to aid in the evaluation and the decision-making process related to senior living alternatives. It is based on information and assumptions provided by you and information compiled from multiple accredited sources for comparison purposes. The calculations and comparisons provided should not be construed as financial, legal or tax advice. In addition, such information should not be relied upon as the only source of information.
How Senior Living Gives Certainty In Uncertain Times
Maintenance-Free Living
Don't add a leaky roof to your list of worries. We offer maintenance-free living, which means you can experience all the perks of home ownership without having to maintain your space. Let us worry about your least favorite chores. You can spend your time experiencing the parts of life that bring you joy. 
A Whole Community Waiting To Support You
In times of uncertainty, we can count on our neighbors to help get us through. Life in our StoryPoint Group communities means being part of a community that feels like family. With resident-led clubs, life enrichment activities, family-style dining and more, you'll make new friends. Connect with like-minded individuals and feel peace of mind knowing you have more than a home, you have a place where you belong. In uncertain times, we're here for you.