Assisted living options vary widely, which can sometimes make finding an assisted living community that checks all the boxes an overwhelming task. Here are answers to some commonly asked questions about assisted living to equip you with the knowledge you need before you start your search. 
Q: What is the difference between assisted living and a nursing home?
A: Levels of senior living communities typically differ by the services they provide. The major differences between an assisted living community and a nursing home relate to support services and style.
Assisted living: Assisted living offers additional support with items like medication assistance, assistance with personal care, other daily tasks and more.

Nursing home: Nursing home residents need around-the-clock support with all aspects of daily living and typically require greater medical-related care. 
Q: What levels of care can an assisted living community provide?
A: Assisted living communities offer secured, licensed care for seniors who require daily assistance. These communities include all of the benefits of independent living communities including daily activities, frequent events and regular employee check-ins. 
Assisted living at StoryPoint includes a variety of services and amenities for each resident's unique needs. Our assisted living communities have providers prepared to serve a variety of needs from administering medications to coordinating with personal health care providers and more. We also partner with local physician groups to visit our communities for your convenience and we have partners on-site 24 hours a day for assistance with activities of daily living (ADLs). 
SEE ALSO: Senior Living Services Compared: Independent, Enhanced, Assisted & Memory Care
Q: How is assisted living different than having at-home care?
A: The biggest benefit of living in an assisted living community versus receiving care at home is socialization. At StoryPoint, our assisted living communities organize daily activities specific for residents in order to engage them in hobbies and help them connect with others. In addition, our employees get to know residents on a personal level — and do routine check-ins to make sure your loved one feels comfortable and fulfilled.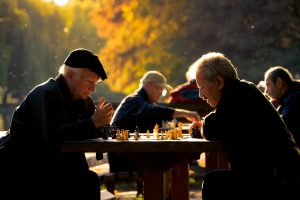 Q: When is the right time to move in?
A: There's no "right" time to move in — timing is always based on individual wants and needs.  
While some seniors are more proactive about moving to an assisted living community, others choose to remain home until their needs grow beyond what's manageable for themselves or their loved ones to handle.
Unsure Where To Start?
At StoryPoint, we offer a variety of specialized services and activities designed for residents at all stages of life. Our team will take you on a personalized tour and help you find the services to best suit you or your loved one's needs. Contact us today to talk to our team.