Congratulations, your family has taken several community tours, asked questions and chosen the right assisted living community for your loved one. Now, it's time to move in! 
As you prepare to move your elderly loved one into their new home, it's common to have questions. What should you bring? What furniture would be best in an assisted living apartment? How do you decorate the new space? 
We've included tips for decorating with little extra touches that can turn their new apartment into a home. Use this guide to help you understand the best furniture for assisted living apartments to make your loved one feel at home, while also prioritizing their safety.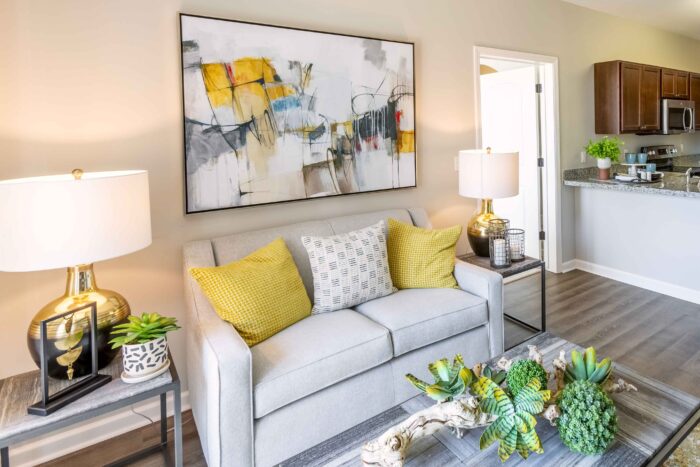 The
Best Furniture For Assisted Living
Apartments
Sturdy, Non-Glass Tables
When choosing a coffee table or dining table, it's important to take into account all of the little safety measures that can make your loved one's new home safer and more enjoyable. 
Search for tables with rounded edges instead of sharp corners. Make sure the table can support a lot of weight, (larger pieces of furniture can be great for physical support when moving around) and avoid glass-top tables that can be difficult to clean and easy to shatter.
Functional Seating
One rule of thumb with apartment-living is to not let design outweigh functionality. When you're shopping for couches, loveseats and dining chairs, be sure to make your selection carefully. Take into account the fabric. Is it comfortable and stain resistant? Are the chair's arms supportive enough if they're needed for balance? 
When shopping for your loved one's apartment, we recommend you consider seating that is:
Firm and supportive

Easy to sit and rise from

Cozy with comfortable cushioning

The right height for your loved one

Made with stain resistant fabric
Multipurpose Furniture With Added Storage
If your loved one is downsizing, it's a great idea to incorporate multipurpose pieces with extra storage. Consider a bed with storage drawers built into the bed frame or side tables that include clothing storage.
An ottoman or storage trunk that can be used as a footstool, can double as a place to store books, yarn or many other things. Furniture storage is the ideal solution to provide a secure place for loved one's possessions, while also freeing up even more space within their home.
Related: Making The Move To Senior Living: Tips For Downsizing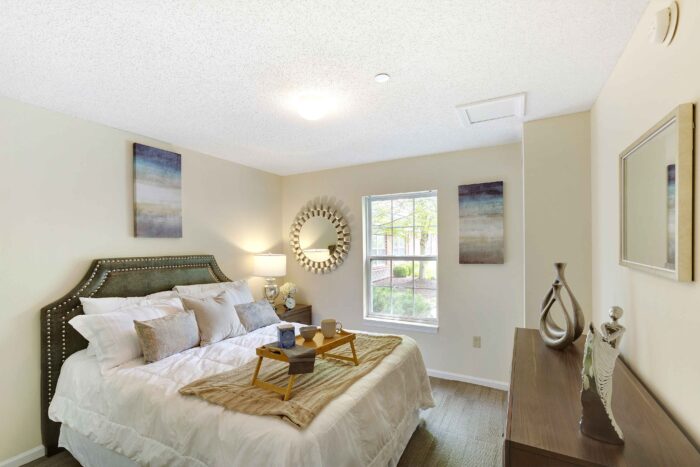 How To Furnish An Assisted Living Apartment
Consider What The Community Offers
Before finalizing any design decisions, take into account the on-site amenities the community offers. Many senior living communities feature common spaces, a craft room, dining hall, recreation center and more.
For example, if the senior living community has a craft room on-site, you may not need to take up space in your apartment for your scrapbooking table. Or you may not need a big dining table if you know your loved one will be spending their mealtime in the dining room with friends. 
Knowing the community can help you decide on what to bring and what furniture will be needed. 
Personalize It
Everyone wants to live in a beautiful space that represents their taste and personal style. Everything from the color scheme, linens, throw pillows, blankets and artwork can reflect their style and create a space they are proud to live in.
Vintage finds and sentimental pieces — like family pictures, a game-winning baseball or an old storage trunk — can add depth and character to a home. Especially when decorating a small space, these treasures can give a room a sense of history and personality. 
Interior Design With Safety In Mind
When coordinating living arrangements for your loved one, safety needs to be top of mind. Keep the living room safe by simplifying the area and only keeping the furniture and decor that serves a purpose or makes your loved one comfortable. 
There should be plenty of natural light, but you may want to check the floor plan and consider installing a night light in dark corners or where needed. When you examine overall the safety of your loved one's, start with high traffic areas like the bathroom, living room and kitchen. 
Related: Managing Home Safety For Elderly Family Members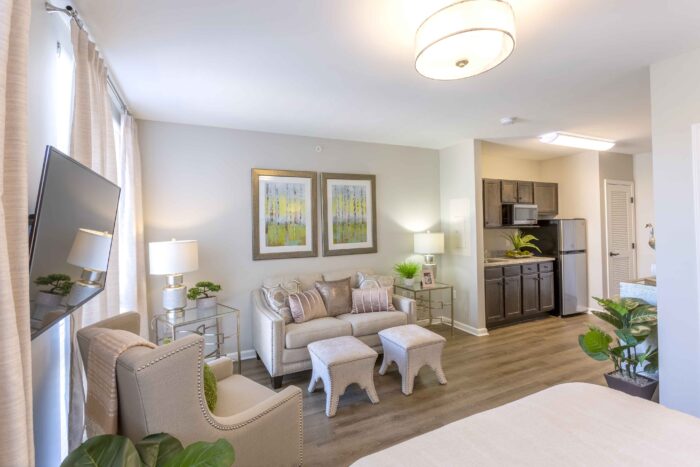 At StoryPoint Group, Our Communities Are More Than Just A Place To Live
In our StoryPoint Group communities, our assisted living apartments are designed with seniors in mind, along with safety features such as grab bars, raised toilets and other support where it's needed. 
Our maintenance-free lifestyle allows our team to handle the chores, repairs and maintenance, giving your loved one more time to do what they love – and giving you the peace of mind that your elderly parents are receiving the best care. 
Learn what life is like with us. Find a community today or learn more by contacting us at 1-844-275-9990 or by scheduling a tour.