They cared for you, and now that it's your turn to care for your aging parents, you want to find the best care for them. 
With more and more families looking for senior living that supports both parents' needs, many adult children have questions about assisted living for couples.
Can couples live together in assisted living? Is it possible to find assisted living for couples with different needs? Use our guide to help your aging parents find a place where they can live happily ever after, together.
Can Couples Live Together In Assisted Living?
In most cases, yes, they can live together in assisted living. Finding assisted living for two people is possible, and it can be advantageous for the couple. The key to finding the right living arrangement is to find a senior living community that caters to individualized lifestyles and care needs.
Assisted Living For Couples
With Different Needs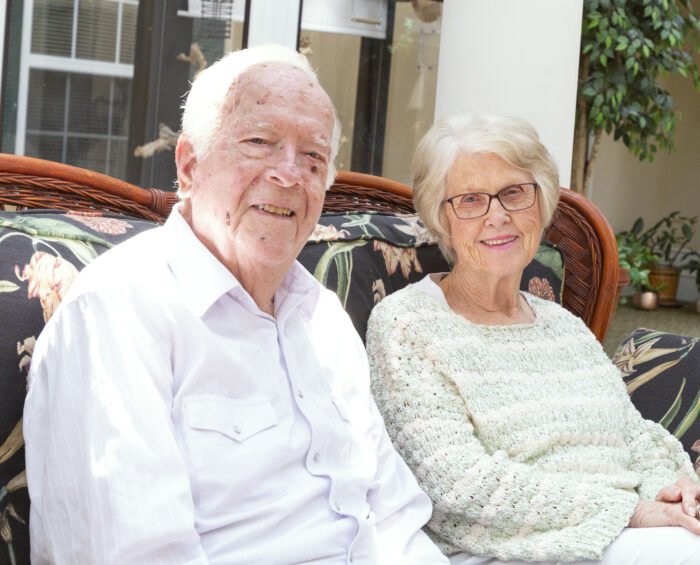 Sometimes the right living option may differ for both of your parents, and that's ok! Senior living communities get to know a lot of couples who have different needs, and are prepared to support your loved ones — both individually and together. 
These communities may be able to accommodate differing levels of care between residents, but it's best to ask when you tour the community to be sure. Fortunately, many senior living communities, including many at StoryPoint Group, can accommodate a range of needs (such as independent living, assisted living and memory care.) This allows both spouses to get the support they need in their shared apartment.
Even if only one is experiencing advanced memory impairments, meaning they'd benefit from specialized, around-the-clock care, choosing a community that offers various living options means your parents can stay where they want to be: under one roof. 
Some additional benefits of senior living for couples with different needs include:
Supporting the caregiver spouse.

If your parents have different levels of care, that could mean that one of them is acting as the full-time caregiver for their spouse. With added support, the caregiver spouse can focus on their own needs with confidence that their partner's care is led by a professional team.
Maintaining their own lifestyles.

If your parents have different lifestyles, they can each choose how much, or how little, they'd like to get involved in the community, attend onsite events and use the amenities. 
Providing peace of mind for you.

Is Dad reminding Mom to take her medication? Is Mom still able to help Dad up the stairs? These are very real concerns that children of aging parents face. With skilled nursing and other care services available, you'll have peace of mind that licensed staff are there to support both of your parents.
Assisted Living For Couples
With The Same Needs
Assisted living communities give older adults personalized senior care in a residential setting. For couples with the same care needs, assisted living supports your parents, allowing them  to live together and receive help with activities of daily living such as getting dressed, eating and more.
Assisted living is a great fit for senior couples who would benefit from added assistance with daily tasks, a social lifestyle and access to amenities focused on senior wellness. Living in a community empowers older adults to take part in social activities and live a maintenance-free lifestyle. 
In addition to on-site social events, communities often plan outings to local museums, concerts, parks and other attractions. These services may not be your first concern when choosing a community, but social opportunities are a major benefit of assisted living.
Assisted Living Apartments For Couples
The layouts vary widely across different types of assisted living communities. These can include studios, two-bedrooms, suites, condos and even cottages that are specifically designed with the wants and needs of older adults in mind. Couples can choose the floor plan, dining options and services that are right for them.
Finding The Best Senior Living Options For Couples
The spouse who needs the higher level of health care should determine which type of senior living option can best accommodate the couple. It's important that the more independent parent also has the resources they need to age in place and stay happy. 
When planning senior living for couples, it's best to plan ahead. We recommend doing some research beforehand to ensure you find a community that offers multiple levels of care if needed. Talk to the community about how they cater to couples and ask insightful questions to get a full picture of what life is like there. 
While touring communities, ask the community specialist what types of care services and social programs they have. Try to find a community with activities and amenities that would appeal to both mom and dad, like a poker night, a putting green, a breakfast club or monthly trips. 
Fortunately, with the range of communities out there, it's possible to satisfy both parent's wants and needs. 
Related: Questions To Ask In Assisted Living Interviews
Let StoryPoint Be Your Guide
Now that you know what senior living options are available for your aging parents, we're here to help you navigate the next steps. Our StoryPoint Group communities are filled with experts who can answer questions, discuss your parents' unique needs and guide you to the senior living option that's right for them. 
Our diverse service offerings allow residents to stay within the community as they progress through various care levels, from assisted living to memory care. Click here to learn more about our assisted living options. Schedule a tour of your local StoryPoint Group community or call us at 1-844-275-9990. We can't wait to get to know you!