Doctors are always telling us that the best way to protect our bodies long-term is by eating right and getting the proper amount of exercise. There is a common misconception that exercise has to take place inside a gym or at a fitness class, but this is simply not true. For people over 60, many of their day to day activities will provide them with the exercise that is recommended each day.
The best practice for maintaining a productive exercise schedule is to find a healthy balance of activities that focus on endurance, flexibility and strength. Here are some of our favorite examples of exercises for each of those three categories.
Endurance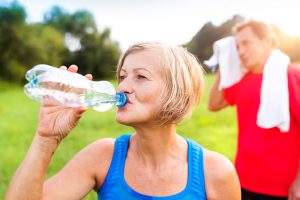 Depending on your physical ability, there is a wide range of activities for people over 60 to practice endurance. Some will choose to run marathons, while others would prefer taking a brisk walk. Any form of cardio will fulfill the daily endurance requirement.
Popular cardio workouts include aerobics, swimming, biking and jogging.
Flexibility
Flexibility is an easy form of exercise to pair with strength conditioning and cardio. It can be as simple as stretching before lifting weights or going for a bike ride.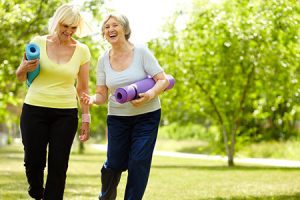 If you really enjoy working on flexibility, yoga or pilates can offer great opportunities to extend your muscles in a healthy manner.
For an easy morning flexibility practice, reach your arms up high towards the sky and then slowly lower them and reach towards your toes.
RELATED: Staying Active While Having Fun
Strength
Exercises that challenge your strength are great to do several times a week. Strength workouts can also change as you continue to practice them. One easy way to practice this form of exercise at home is to get a dumbbell set and do bicep curls while watching your favorite TV show. It can also be practiced in more routine activities like carrying groceries.
The fun part of exercising is finding new and unique ways to work out. We recommend talking to your doctor before setting up a workout plan to help you decide what you should consider and what might be too much for you.
It can also be fun to find a friend or "workout buddy" to chat with on a morning walk or do yoga with on a sunny day outside. Try whatever exercises sound appealing to you and find out what you enjoy because this will make getting exercise in more fun and less of a hassle.