The fear of someone close to you falling, especially if they live alone, is a common concern for many families with aging parents or loved ones. Fortunately, there are many fall prevention strategies you can take to make the home safer.
One of the best ways to reduce the risk of injury is to optimize the residence with this home safety checklist for fall prevention:
Start With The Living Room
Generally speaking, the living room is where seniors and their families spend the majority of their time — and there are a number of simple modifications that you can do to remove tripping hazards.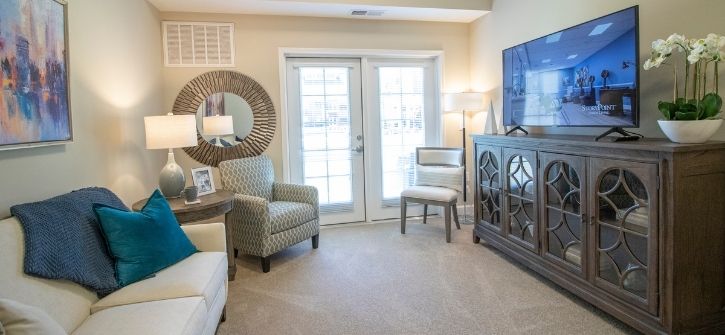 Work with your loved one to strategically arrange the furniture in this room and make it as safe as possible by: 
Securing bulky furniture. Furniture in the living room can often be big and bulky. While these larger pieces of furniture can be used for physical support when moving around, it's important to make sure they are firmly secured to the floor. 
Leaving room between furniture pieces. Arrange furniture so that walkways are clear and open. 
Keeping the space well-lit. Wall-mounted light fixtures, overhead lighting and windows provide light to maintain visibility and help reduce trips or falls. Make sure curtains or blinds are firmly secured, easy to use and do not drape on the ground. Connect table lamps to light switches so that they can easily be tuned on and off. 
Removing unused furniture. Keep the living room clutter free by removing items not regularly used such as electronics and throw rugs. 
Ensuring cables and cords are tucked away. Keep cords out of the way – and if they must run across walking paths, make sure to cover them with a mat or secure rug.
Bathroom Fall Prevention Strategies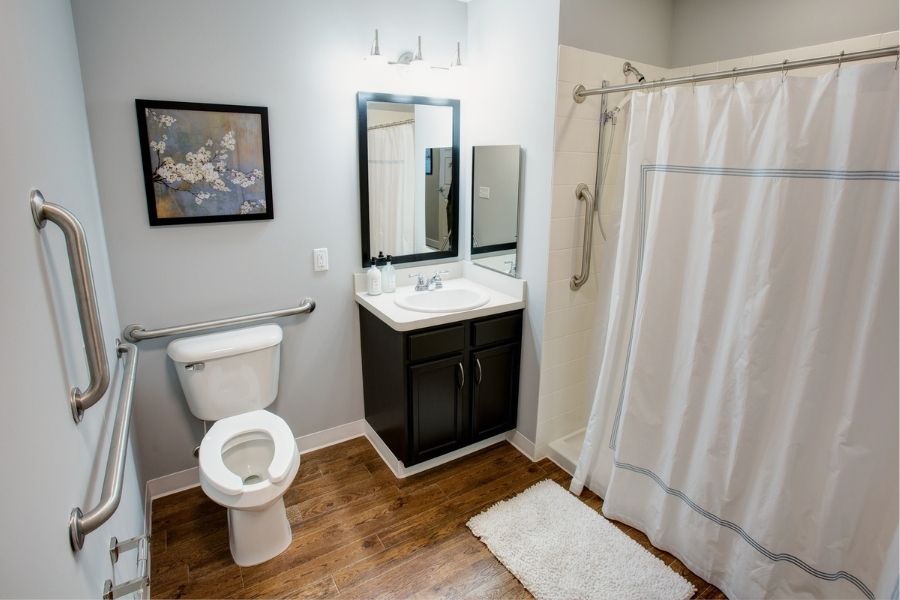 Home bathrooms can be slippery, which can make this room a potential tripping hazard for seniors. Talk to your loved one about bathroom safety and consider the following fall prevention tips:
Install handrails if they aren't already present. Towel racks don't offer the same support as professionally installed grab bars.
Use non-slip surface protectors for both the floor, shower and tub. The traction of a rubber mat can help prevent falls. 
Install a commode chair or a raised toilet to help your loved one sit and stand more comfortably. 
Place a chair in the shower for extra support. 
Emphasize the importance of wearing rubber-bottomed slippers or non-slip shoes when your loved one is in the bathroom. 
Bedroom Safety
The bedroom area can quickly become cluttered with personal items like clothes, old photo books, antiques or gifts. If the bedroom is becoming crowded, be sure to discuss the importance of keeping this space open.
Here are some suggestions for keeping the bedroom free of obstacles:
Add organizational storage bins or containers so that your loved one has a place to keep items safely out of the way.
Maximize walking space with strategic bed placement.
Keep cords close to the walls and not arranged across walkways.
Use night lights to help your loved one move around the room at night. Consider motion-activated night lights along the route your loved one would take to get a glass of water during the night.
Adjust the bed height so that your loved one can sit on the edge of the bed with their feet firmly touching the floor.
Ensure sheets and bedding do not hang to the floor so that your loved one can avoid tripping.
Clear all laundry and laundry baskets that may be on the floor. It may seem trivial, but picking up loose clothing can help avoid accidents.
Don't Forget About The Kitchen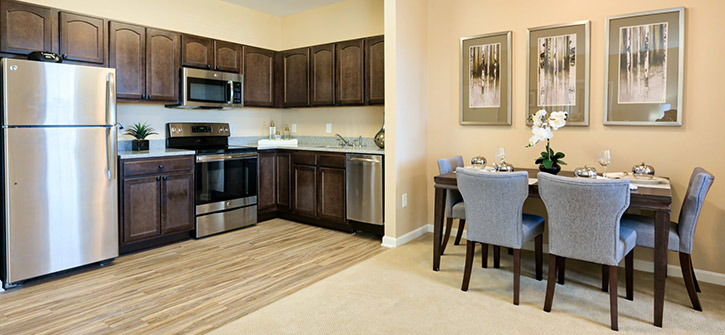 In the kitchen, there are many injury risks to guard against such as heat from the stove, sharp knives and slippery surfaces that can cause falls. Often, the kitchen floor is a tile, wood or linoleum material, which can be a little more difficult to walk on. 
Smooth surfaces make slips and falls more common due to lack of friction, and spills or debris can make a fall more likely. Effective kitchen fall prevention strategies include: 
Wearing house shoes with rubber grip soles. Hard surfaces may not offer the same cushion that carpet does, but wearing rubber grip shoes or slippers will provide extra traction to prevent falls. 
Cleaning up spills immediately. Slick kitchen floors can be a major fall hazard. Be sure to clean up a wet floor quickly or keep a small towel around the kitchen just for cleaning spills. 
Eliminating rugs in the kitchen or replacing them with rubber backed rugs. Area rugs and scatter rugs can be major tripping hazards.
Sitting while prepping ingredients. Standing for too long can cause dizziness, especially as we age. Having a small stool for your loved one to sit on while preparing meals can be a useful tool. 
Putting popular items within easy reach. Heavy plates and appliances shouldn't be something your loved one needs to reach for, especially if they use the blender every day. Try to limit the use of ladders or step stools, where it's easy to lose balance. 
Making it a habit to do routine checks for leaks around the sink or other appliances like the dishwasher or refrigerator. 
Installing automatic shut-off devices for appliances like the stove or oven.
Related: Older Adult Kitchen Safety Checklist
Safety Is Key, And Independence Village Is Here To Help
At Independence Village, safety comes first. With a trained care team and floor plans built with residents in mind, you and your loved one can spend less time worrying about falls and more time making memories. 
Visit our Here For A Loved One page to see how Independence Village can provide knowledge and support when making the transition to a senior living community and call us today at 1-844-403-6569 to learn how we can help. 
Related: 6 Tips For Talking To Your Loved One About Senior Living