Talking about senior living options with your loved one can be challenging. Some seniors may have difficulty accepting that they need additional support with daily tasks like chores and home maintenance. Conversely, some aging parents may also feel afraid of losing their independence. Fortunately, most senior living communities encourage flexibility and making the most of retirement.
If you are looking for advice on how to get your elderly parents to accept help, know you're not alone. What you say, and how you say it, is immensely important to ensure that the conversation goes as smoothly as possible. To help, we have compiled the following four tips for discussing senior care with a loved one.
1. Empathy Can Go A Long Way
When talking to aging parents, put yourself in their shoes. Try to understand their potential fears about accepting help. To assure that they don't feel as though you are trying to take over, make sure to involve them in decision-making.
Here are a few strategies that can help you have a more sympathetic conversation:
Actively listen to your loved ones' concerns. Be willing to hear them out, and let them know that you will take these concerns to heart.
Make a list of pros and cons. Making a list can help a parent see the positive advantages of senior living. Together you can also discuss any perceived cons and brainstorm potential solutions.
Remind them that they are a part of the decision-making process. Continuously remind your loved one that in the end, this will be a decision you make together.
Showing empathy often leads to a productive conversation. When your loved one sees that your offers to help are heartfelt, they may be more likely to accept care.
Related: 3 Ways Senior Living Can Enhance Independence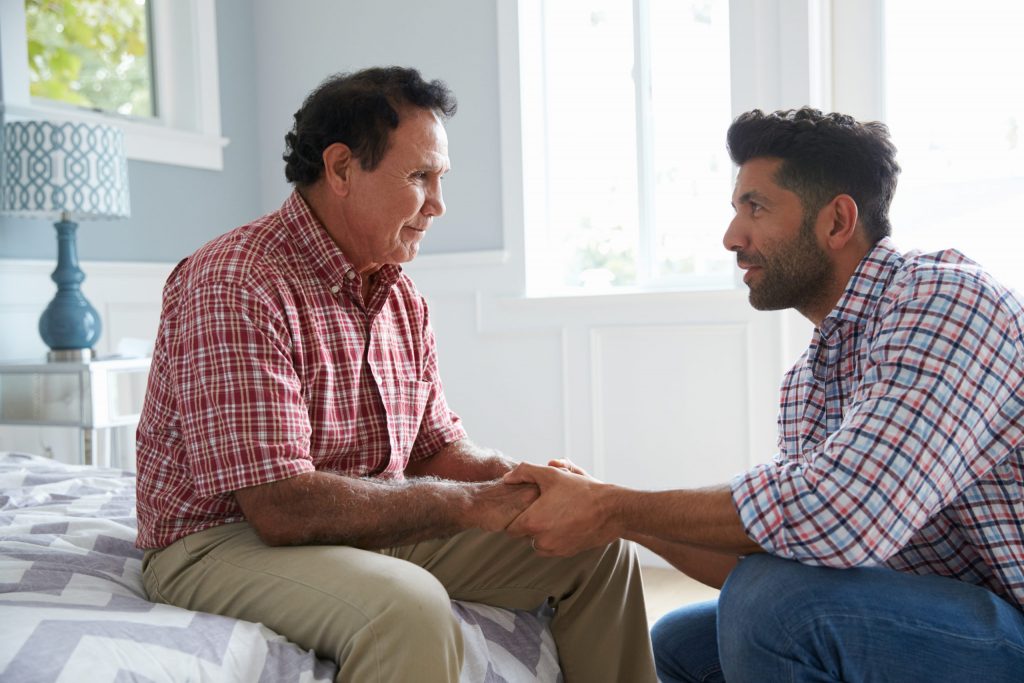 2. Change The Focus Of The Conversation
The topic of senior care can often be built around the concept of loss. Specifically, discussions for senior care can occur after an aging parent has lost a spouse or the ability to care for themselves and/or their home.
If you're unsure of what to do when an elderly parent refuses to move, try focusing on the positives of senior living. Change the conversation from making it about a loss to a discussion about the many benefits that they will gain.
For example, senior living communities can:
Encourage new friendships. Community living naturally fosters new relationships. In senior living, residents are typically in the same stage of life as one another, making it easier to bond with other fellow residents.
Enhance independence. Most senior living communities take care of things such as household maintenance, laundry and housekeeping. When your loved one is free from daily chores, they gain the ability to choose how they will spend their days.  
Provide safety and security for seniors. Senior living communities are designed with special features like raised toilets, grab bars in hallways and bathrooms, and ample lighting to enhance safety. Having on-call staff also means that your loved one won't have to worry about struggling to contact help in an emergency.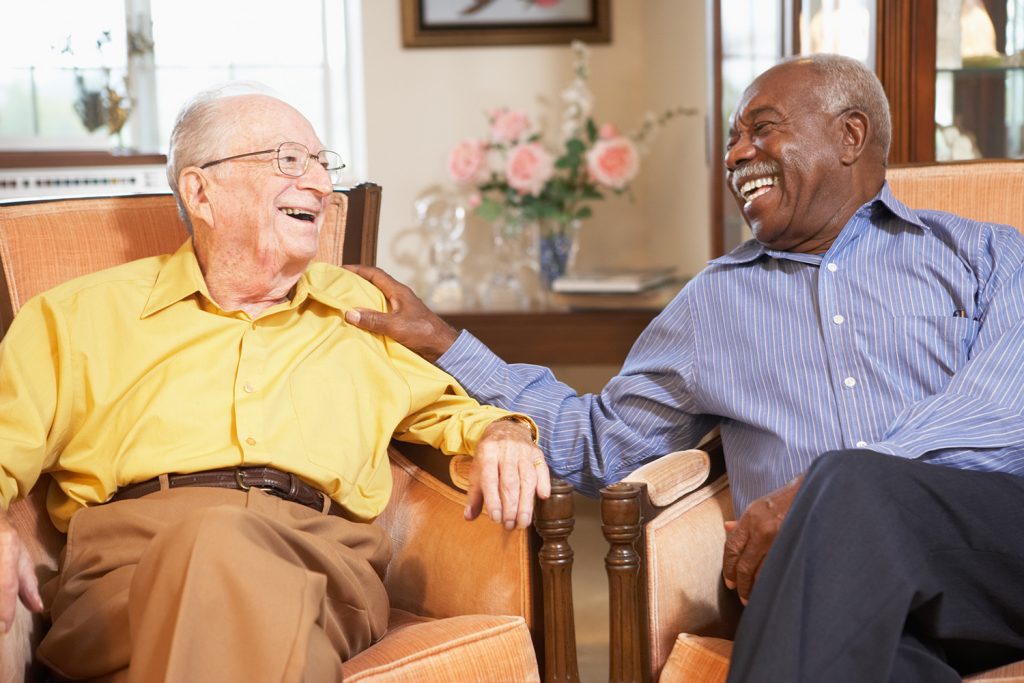 Receiving extra care or moving into an assisted living community does not have to equal loss. Your loved one isn't losing their home – instead, they're moving to a new one that better suits their needs. Their next chapter should be a continuation of the life they've worked so hard to build, with the added peace of mind knowing that they will have the right care when they need it.
Change the conversation by shining light on the positive aspects of senior living. One way to foster a sense of excitement for your loved one is by showing them the different activities and amenities available at each senior living community. This can help give them something to look forward to throughout the process.
Related: How Senior Living Communities Encourage New Friendships
3. Include Your Loved One In The Decision-Making
One of the best ways to help a parent be more open to the idea of senior living is to ensure they are part of the decision-making process. No one wants to lose control of their life, and it can be scary to feel like you can no longer make decisions for yourself. When making decisions for your aging parents, be sure you are allowing them to have a say.
Great ways for your loved one to be involved include:
Research together. Start the process on a positive note by researching communities together, or by sharing any places you've found that you would like their opinion on.
Inviting them to make a list of amenities that they would enjoy. Having their wish-list in hand will help you identify places that would fit well with their desires.
Touring senior living communities together. Bring your loved one along when visiting a new community — and then discuss their thoughts afterward.
Involving a parent as much as possible in the decision-making process will put them more at ease. Work together to discover your loved one's wants versus their needs. From there, you can establish a middle ground where everyone is comfortable. By allowing your loved one to be involved in planning their care and choosing their community, you are reassuring them that they are in control.
4. Find The Right Senior Living Community Through Research
It all starts with research and fact-checking. When exploring which senior living communities will be a good fit for your aging parent, become familiar with all the ways these communities can help your loved one thrive. Keep in mind your loved one's lifestyle, hobbies they enjoy and the type of care they currently need.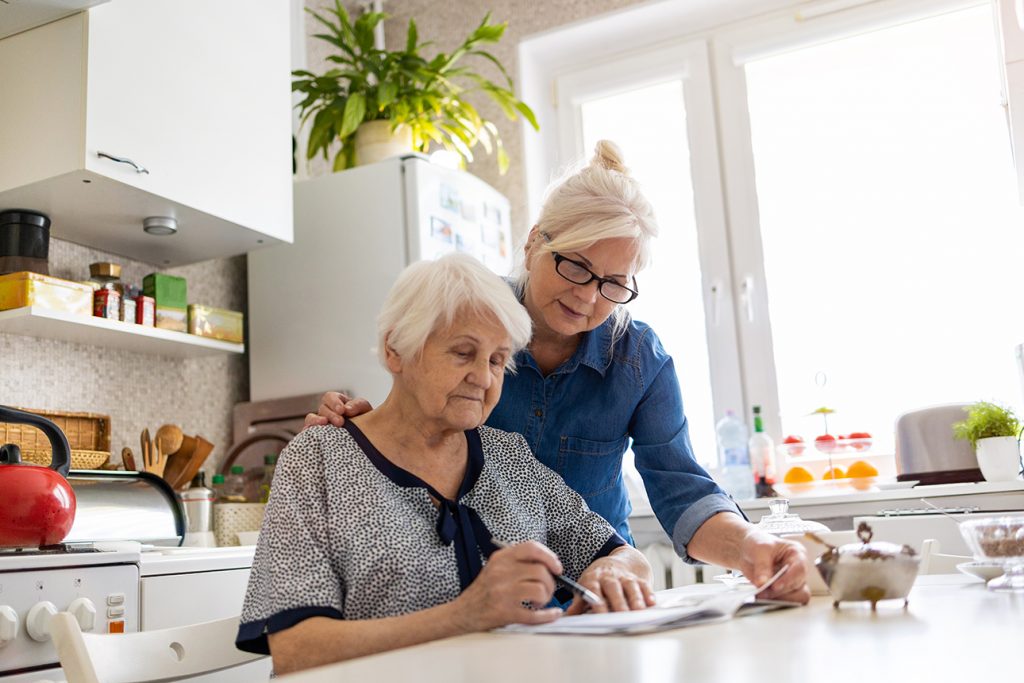 When you start your research, you'll find that there are different types of senior living. Learning the difference between these levels of care can help you pick the best solution and can help you both gain a better understanding of available options.
If your parent doesn't believe that they need a specific level of care, but you feel they do, it can be effective to have community care staff discuss which options would be best — as they can speak from a position of experience.
Here are two care options you'll likely want to look at when discussing senior living with your loved one:
Assisted Living
Assisted living is a long-term housing option for seniors that are able to live on their own but need added assistance. Residents are generally able to live independently but may need additional support with daily tasks such as medication assistance, assistance with personal care, mobility support and other care measures. Assisted living communities are staffed with specially trained employees.
Memory Care
For parents or loved ones with memory impairments such as Alzheimer's or dementia, a memory care community is an ideal fit. Many senior living communities offer licensed memory care services with trained staff to support seniors. Memory care communities often feature specialized programs and activities to help residents maintain independence as long as possible while also being equipped to support those in all stages of memory impairment.
Related: 10 Frequently Asked Questions About Senior Living
Consider Independence Village: We Help Build Connections
If you are actively searching for a new senior living community for your aging parent, Independence Village is here for your family. We have personalized living options that offer amenities and care options that suit every resident's wants and needs.
Our community specialists and care teams are ready to support and provide your loved one with a worry-free lifestyle. Call 1-844-403-6569 today to learn more about life with us or to schedule a tour.