Traveling keeps us young at heart. If you're looking to fuel your wanderlust by learning more about exploring the world, you've come to the right place. Long-term travel includes plenty of planning, resourcefulness and a spirit of adventure. 
Before you start packing, be aware of the advantages and disadvantages of long-term travel in retirement. Use our tips to help prepare you for your next great adventure.
What Is Long-Term Travel?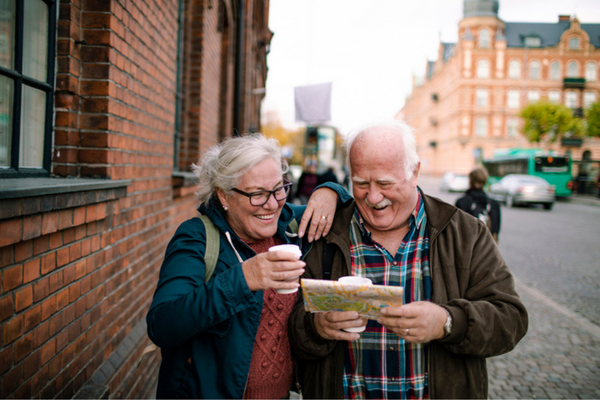 While there is no exact definition, long-term travel generally refers to traveling for 3-6 months or more. There's plenty of variety when it comes to long-term vacationing. Between flying, traveling in a motorhome or living on a yacht for 3-6 months, long-term travel is totally different from a one or two-week-long vacation. 
Before you book a flight, know that reading guidebooks and travel blogs won't 100% prepare you for the trip. But it will at least give you an idea of what to expect, and allow you to weigh the pros and cons more easily.
Pros and Cons of
Long-Term Traveling For Seniors
 Pros
Experience other cultures and cuisine.

Staying in a new place for a long time allows you to experience the destination as a local. You'll know the best places to eat and gain a deep appreciation of your new environment. 
Meet a lot of new people.

One of the best things about traveling is all the people you meet. Staying for a long time creates genuine relationships that can last for a lifetime.

Become closer with friends or family.

It's always more fun to experience a jaw-dropping sunset or savor a mouthwatering gelato cone with people you love. Traveling in a small group of other retirees or with family will be an experience you'll cherish forever.
Cons
It can be expensive.

Unfortunately, traveling costs money. Period. If you really want to stay on the road for a couple of months or more, you should create a budget, start planning and save money for travel. 

Traveling can be boring at times.

It isn't all lush forest hiking trails and historic landmarks. Most long-term travel tends to be sitting on buses, trains or planes. 

You can get burnt out.

Travel is challenging, tiring and it can be difficult always adapting to a new environment. When you don't have a routine, it's easy to crave home.
Three Smart Travel Tips
Research Vacation Ideas
Are you interested in lying on a beach, a serene walk through a botanical garden, or have you always wanted to explore a certain museum? When planning your next vacation, think about what vacation ideas excite or inspire you. 
Start Small
You don't have to go from zero to a year long adventure. You can start small by planning a week trip and checking your threshold for traveling. If you have a location in mind, take a short trip there first. Stay for a week or two and see if it's somewhere you'd really want to stay for three months or more. 
Stick To A Budget 
If you're planning to travel the world, explore ways to stretch your retirement savings. It may make sense to work with a financial advisor and assess your retirement planning. If you're comfortable managing your assets on your own, make sure you understand the overall cost of the trip. Remember, memories can't be counted in money!
Make StoryPoint The Next Stop In Your Life Journey
Love to travel but want a place to call home? Our StoryPoint communities frequently host day trips, nationwide adventures and more, making our communities the perfect place to arrange an exciting adventure with a comfortable space to call home. We love to help our residents get out and see the world, just like we helped Audrey achieve her dream of seeing all 50 states.
If you or your loved one want to learn more about your local StoryPoint community, reach out to one of our Community Specialists or find a community near you. With over 40 years of experience, our care team puts seniors and their families first. Call 1-855-407-8679 to learn more and schedule a tour.