As we age, it's important to keep our muscles strong and bodies moving. Regular exercise helps to improve balance, maintain energy levels and keep overall brain function sharp — all of which aid in making daily tasks and movements easier. Exercising as a senior can also help prevent common ailments like osteoporosis, heart disease and diabetes.
But how do you find the best exercise program? Low impact exercise for seniors can be key for older adults looking to challenge their body in different ways, avoid the muscle overuse injuries associated with high-impact exercise and improve overall health. 
Below are some low-impact exercises that are ideal for seniors looking to maintain or improve their fitness levels.
Balance And Flexibility Exercises At Home
It can be difficult to find the best low-impact exercise for seniors. Older adults are at a higher risk of falling or pulling muscles, which is why balance and flexibility exercises are important to keep your body in alignment.
Can't make a workout class? Here are a few low impact exercises for seniors to do at home:
Leg Raises: While standing and using a chair or table for balance, raise one leg behind you until you feel a stretch. Hold the leg for five seconds before switching sides, then repeat with each leg out to the side. Be careful to build up slowly, starting with only one in each direction until your strength increases.
Arm Stretch: Cross one arm across your chest, making sure to keep it straight, and hug it in to stretch your shoulders. Switch after 30 seconds. 
Chest Stretch: Bring both arms behind your back and link your hands together. Stretch your shoulders back. If you need more of a stretch, lean slightly forward and lift your arms upward.
Shoulder Rolls: This one is as straightforward as it sounds; stand up tall and gently roll your shoulders back 10 times, then reverse and roll forward 10 times.
Toe Lifts: Using a chair or counter for balance, plant your feet firmly on the ground, then lift your toes off the floor for five seconds, and release. Repeat two to three more times to stretch your calves and ankles.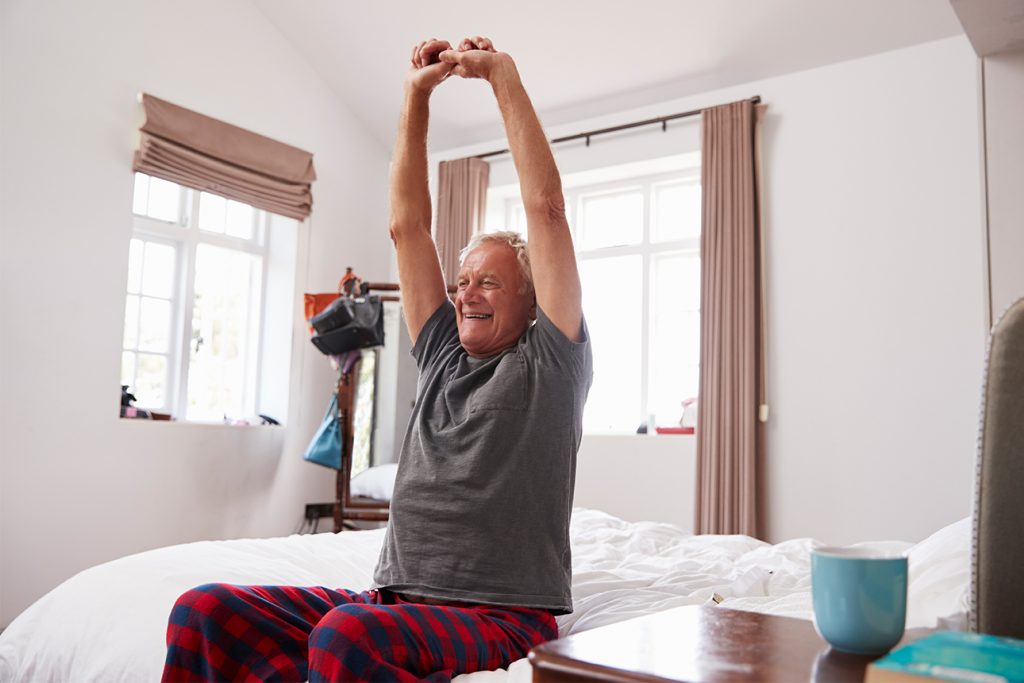 Low-impact Cardio 
The American Heart Association recommends that inactive people gradually work up to exercising three to four times a week for 30-60 minutes at 50-80% of their maximum heart rate. Low-impact cardio for seniors can help you reach that goal. 
Think cardio is only good if you are vigorously exercising? Think again. People can also experience cardiovascular health benefits from low-impact exercise. Moderate aerobic activity is great for getting your heart rate up and improving cardiorespiratory fitness.
Great low-impact cardio exercises for those 65 and up include:
Walking briskly 
Swimming laps
Low-intensity yoga
Water aerobics
Using an elliptical or exercise bike on low resistance
Biking outdoors 
Ballroom dancing
If you experience stiffness, arthritis or joint pain, low-impact water exercises, an elliptical or exercise bike can help reduce weight on your joints and lessen muscle strain. Low-impact cardio also reduces the risk of falling or irritating past injuries, which are two concerns you might have when starting a new workout plan.
Related: Tip For Reducing Inflammation For Seniors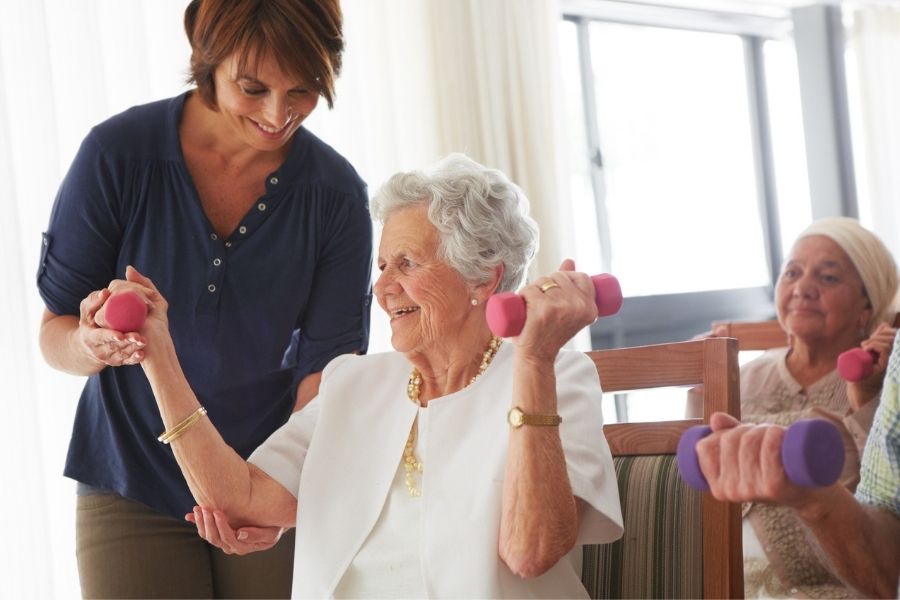 Weight Training
Seniors who want to continue living independently for as long as possible should consider weight training. Lifting items like groceries can help to maintain strength, but dedicated weight training with light dumbbells and/or resistance bands can also go a long way toward strengthening your muscles.
As a starting point, try using 1-5 pound weights and resistance bands that offer light or medium resistance. Start lighter and slowly increase weight or resistance while doing exercises that include:
Bicep curls
Shoulder presses
Sidearm raises
Forward arm raises
Lifting too heavy of weights or jumping too quickly into a new program could result in injury. When looking to kickstart a workout program, ask your health provider which activities are best for your goals and personal capabilities.
Start (Or Continue!) Your Fitness Journey At StoryPoint
At StoryPoint, health and fitness are a priority, which is why we offer personal training and group fitness classes to help you age successfully and feel your fittest. 
Reach out to us at 1-855-407-8679 to discover our full range of health and fitness options.