As you probably know, holiday travel will look a little different this year. However, ringing in the holidays with family can still be on your to-do list. Here are some travel tips for seniors that will help make your journey safer — yet still enjoyable.
Choose Your Travel Method Wisely
While you are planning and preparing for your trip, there are many different ways to get from point A to point B. Though airplanes may be your preferred travel method, seniors can also travel by bus or train and still receive senior discounts.
While practicing social distancing, buses and trains have reduced capacity limits and often block off middle seats to ensure enough distance between passengers. Be sure to reach out to your local train or bus station to discuss what precautions they are currently taking to keep all their passengers safe and healthy.  
If you choose to travel by airplane, be sure to ask about senior flying discounts. Many airlines like American Airlines, Delta Airlines and United Airlines offer senior flying discounts. Still, sometimes discounts can vary based on flight length and which markets you are flying to and from. It may be best to contact the airline you hope to travel with by phone to get the best price possible.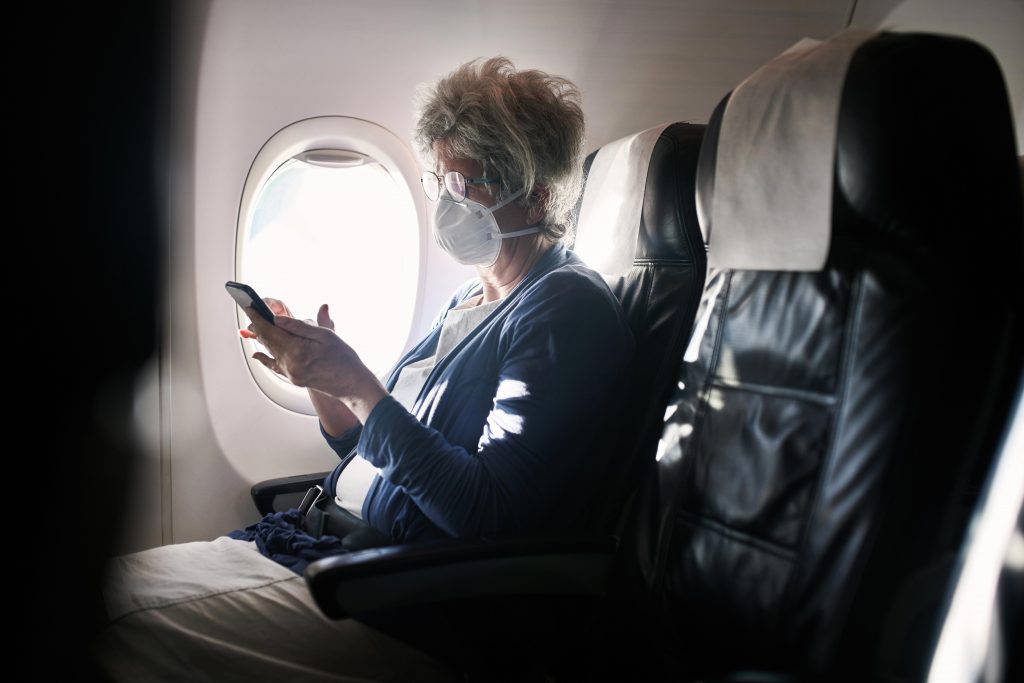 Ask For Special Accommodations Ahead Of Time
Aside from senior flying discounts (though they are a great perk), be sure to explore additional options like extra assistance with baggage and further personalization options like choosing your seat or early onboarding. Boarding ahead of time can help ensure you have enough time to get comfortable, all while helping you keep an appropriate distance from other travelers. 
Another tip: Be sure to wear your mask while at the airport and for the duration of your flight, and limit contact with other travelers as much as possible.
Make Sure Your To-Go Bag Is Packed With Essentials
One of the most important holiday travel tips for seniors is packing your to-go bag correctly. Be sure to bring an extra mask or two and include hand sanitizer, an activity to help pass the time and any medications or toiletries you will need during travel. 
It is easy to forget to bring your day-time pills, important medical documents or medical alert jewelry like bracelets and necklaces, so check your bag twice for these items. And finally, don't overpack your to-go bag. Be cautious of the weight and size in order to help make travel more comfortable. 
A good travel "rule" is to pack any essential items you wouldn't want to lose in your to-go bag so that you have it with you in the event your actual luggage gets lost or delayed for any reason. While it would be unfortunate to have to part with a few clothing items, losing your daily medication could be detrimental.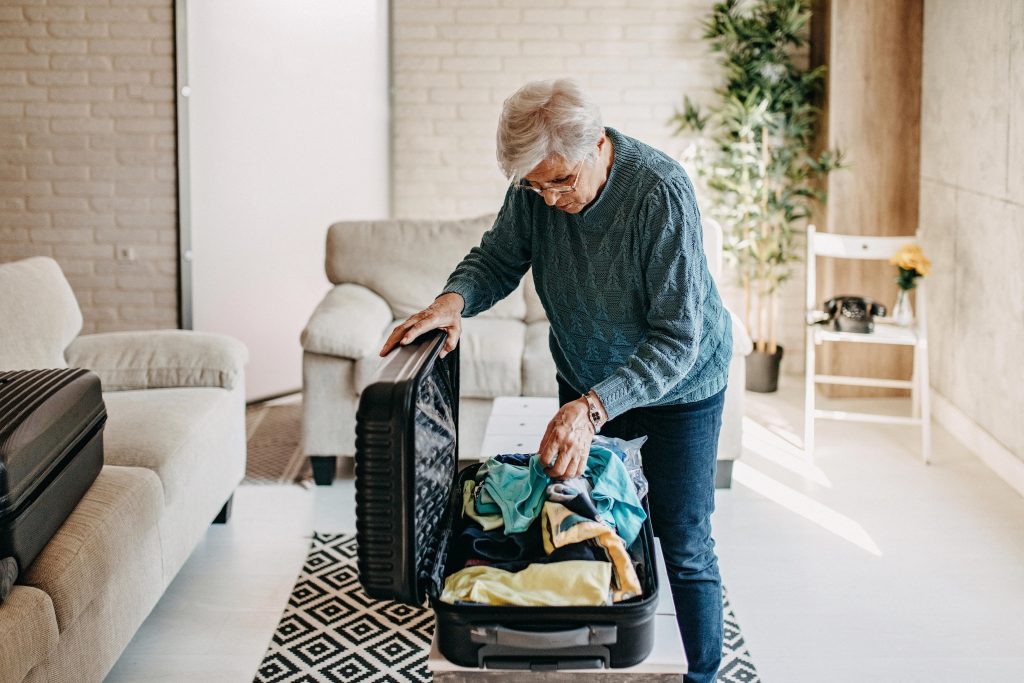 Take Health Precautions Prior To Your Travel
Traveling during the holidays is exciting, but you must try to stay as healthy as possible before leaving on your trip. Here are a few recommendations to help you protect yourself from getting sick before you travel:
Only drink water from safe sources
Wash your hands or use hand sanitizer after touching public surfaces like counters and screens
Don't overexert yourself by packing at the last minute. Give yourself time to not only pack but to double-check your bags
Wear a mask anytime you leave your home
Limit the number of people you come into contact with and be sure to evaluate yourself for COVID-19 symptoms before you leave
Eat nutritious meals and get plenty of rest to ensure your energy levels are where they need to be during holiday travel
Your Health Comes First
As you prepare for your holiday travels, be mindful of cleanliness and social distancing. Though seeing friends and family is important, your safety and well-being should come first. Wear a mask, wash your hands as often as you can, and don't forget to self-quarantine when you return from your travels. To see how StoryPoint is navigating through COVID-19, check out our response page. 
Related: Healthy Eating And Nutrition Tips For Seniors