Whether it's your child showing off their soccer trophy to Grandma and Grandpa or a call just checking in, it's always uplifting to see your elderly loved one over video chat. 
Finding the right technology to video chat with our aging parents keeps them connected to family members and friends, but it isn't always a simple task. 
Use our expert list of the best video calling devices for seniors in 2023 to make an informed decision on the best video calling device for your family.
How To Choose The Best Video Calling Device
Here are a few of the top things to keep in mind when it comes to finding the best video calling device for your elderly loved one:
Video and audio quality:

Does your loved one need a new tablet or does their TV or smartphone have good audio and video quality? 
Privacy:

Is it important to you that only you and your family can call your loved ones, ensuring there are no spam callers?
Ease of use:

Would your loved one prefer a simple device or a video chat tablet that can do more?
Compatibility: Would the devices or TV your loved one already owns be sufficient?
GrandPad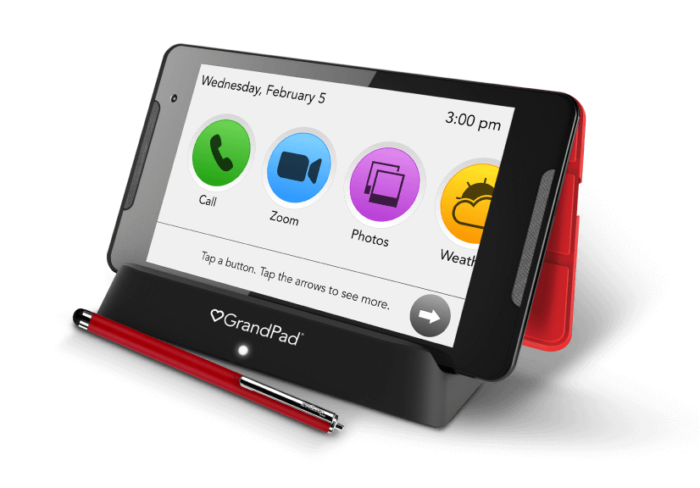 Image courtesy of Grandpad.net
GrandPad is a smart device specifically designed for seniors, making staying in touch with your elderly loved one easy. A GrandPad subscription comes with a user-friendly tablet for your loved one and a downloadable app for you to keep in touch with them. 
You can use the GrandPad app to upload photos to your loved one's tablet, video chat with them and more. Use the app to upload pictures of your recent tropical vacation photos or kid's piano recital for your aging parents to see, right on their tablet! 
With an easy-to-use, enlarged interface made for older adults, it's easy to see why this device is the most popular video calling device for seniors. It can be expensive though, so it's important to weigh the pros and cons before purchase. 
Pros
Easy-to-use interface made for seniors

Zoom call support

Interactive brain games

Complete solution that comes with a tablet
Cons
Expensive option that requires a m

onthly subscription 

Wide variety of features may be confusing to new users
Price
According to their website, GrandPad is $89/ month. If you prepay annually, the premium is $69/ month.
CallGenie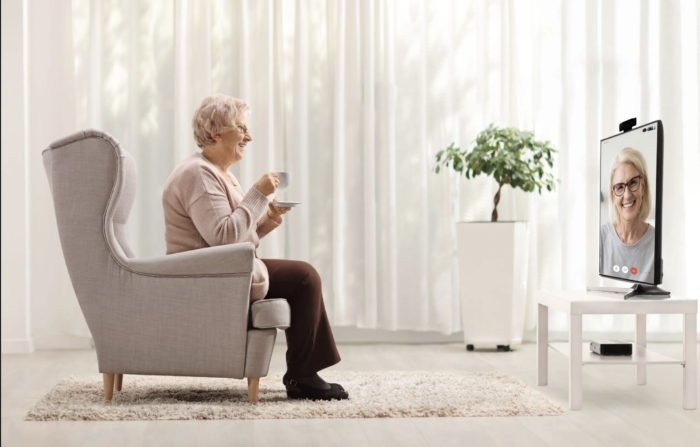 Image courtesy of Callgenieusa.com
Not all video calling devices for seniors have to use tablets. CallGenie allows your elderly parents to accept video calls directly through their TV, without them needing to press a single button!
CallGenie uses the Skype video calling system to make calls, displayed on the user's TV screen. If you call them, their TV automatically picks up the call. They don't even have to answer or end a call, it all happens automatically. 
A couple benefits of the CallGenie:
Uses technology your parents are already familiar with

Can help protect against scams. Only allows calls from known Skype contacts, so it can help

protect your parents from scams

and unknown numbers calling them. 
CallGenie requires setup and a bigger upfront cost for the webcam, but it doesn't require a monthly subscription. 
Pros
Answers and ends calls automatically. CallGenie will turn on the TV (if needed) or will connect the call automatically without your elderly relative needing to do anything.

Only calls from known Skype contacts are answered

Using the TV ensures your loved one has a large screen that's easy to see

No ongoing fees

Remote installation support
Cons
Uses Skype (Zoom and other video chat software is not supported)

Requires setup 

Expensive 
Price
The price on the company's site start around $500, and there are multiple options to choose from. 
Onscreen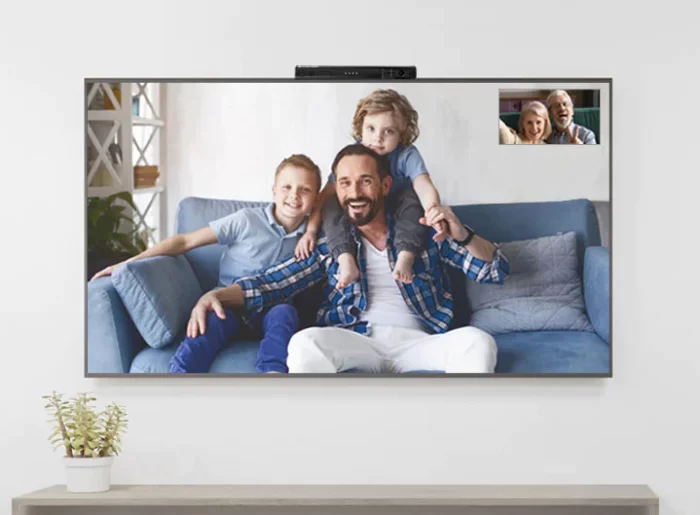 image courtesy of Onscreen.com
Onscreen functions work the same way as the CallGenie, allowing older adults to answer phone calls from friends and family through their TV.
It comes with a small smart box along with a webcam that hooks up to their TV, allowing you to gather the kids to wave to Grandma and Grandpa right in their living room! 
Onscreen is a great affordable option for older adults that don't like to use technology or don't need a ton of apps like a tablet. This option even has an "Easy Mode" which allows seniors to place calls with a single tap. 
Just like CallGenie, Onscreen works on a closed network that only your family has access to, ensuring no spam callers. 
Pros
Most affordable option

Ability to set up an automated wellness check that allows your elderly loved one to record a 30-second video

The system is simple and can be entirely hands-off

Using the TV ensures your loved one has a large screen that's easy to see
Cons
You don't own the Onscreen smart device.

It only functions when you're paying the monthly premium (and must be returned if you stop.)
Price
The biggest benefit of this option is that it's only $20/ per month, but keep in mind, the device must be returned if you stop using it. 
Amazon Echo Show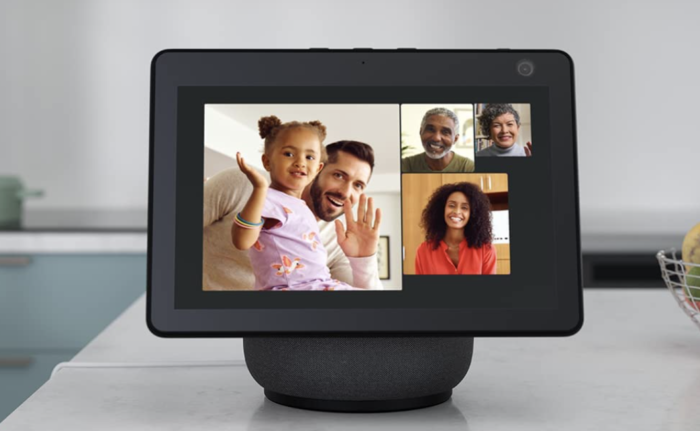 Image courtesy of Amazon.com
Would your loved one like a tablet that can do more than just make video calls? The Amazon Echo Show makes our list of the best 2023 video chat devices because of its great functionality.
Not only does the Echo Show give your loved one the ability to start a video call with voice commands, this Amazon tablet can give your relative the latest news, play TV shows and movies, and it can answer questions like a traditional Alexa. 
With its neat voice-activated tech and additional features, the Amazon Echo Show is best suited for tech-savvy older adults.
If you know your elderly relative would struggle with a touch screen or if they're skeptical about technology, they would likely be better suited for a simpler option like the GrandPad or Onscreen.
Pros
Multifunctional device allows you to stay up-to-date on news, ask Alexa questions and play TV shows

Uses the TV for visual and audio

Remote installation support
Cons
Can only receive calls from others who also have an Echo device with a screen, or the Alexa app on their phone

Robust features may be overwhelming for some seniors

Requires setup
Price
You can purchase an Amazon Echo Show starting at $250 on Amazon.com. Add ons like a larger webcam and speaker will cost extra. 
StoryPoint Group Communities
We understand that little changes and added support, like finding the right video calling device, make all the difference for our residents and their families.
For over 40 years, our StoryPoint Group senior living communities have been dedicated to supporting our residents and helping them shine every day. 
If your loved one could benefit from added support with the day-to-day, schedule a tour of your local StoryPoint Group community or call us at 1-844-275-9990. We can't wait to get to know you!