Spring has officially arrived, and brings with it warmer weather, sunnier days and the start of gardening season. If you love to garden outdoors but find you no longer have the space or energy, indoor gardening is a great alternative — especially for those in senior living communities. 
Indoor gardening is just as fun and rewarding as its outdoor counterpart — and because you can control the temperature, it also can be much easier. The benefits of living with indoor plants are many, some of which include:
Versatile And Colorful Decor: Growing plants indoors is a wonderful way to bring nature and color into your living space, no matter the size. Let your imagination build the perfect indoor garden. With so many different varieties of plants to grow and containers in which to grow them, the choices are nearly endless. Balconies and patios also make great areas to grow potted fruits, vegetables or herbs and can add color and ambiance to those spaces.
Something To Look Forward To: Indoor gardening is a meaningful hobby to take up, and if you recently downsized to a senior living community, it also gives you the opportunity to continue to enjoy a beloved activity. Building and caring for an indoor garden can give you something cheerful and rewarding to look forward to throughout the year.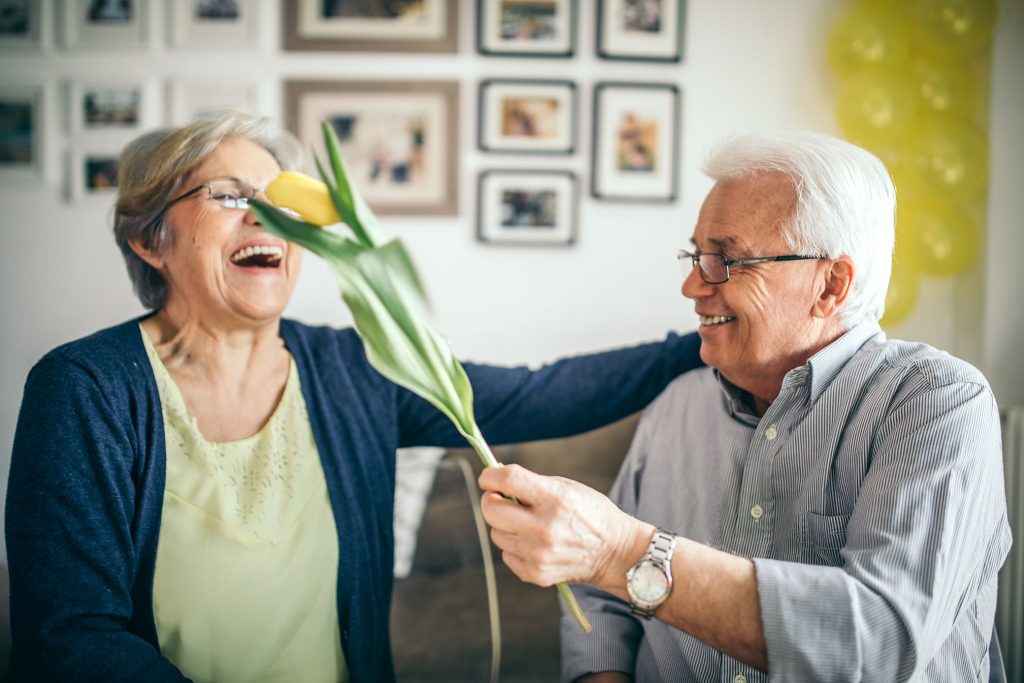 A Great Way To Make New Friends: There are many ways to bond with others over plants. To start, think of the many opportunities you'll have to brighten someone's day by bringing them home-grown vegetables, herbs or colorful flowers. Another fun idea is to get together with fellow friends or neighbors who garden and swap your produce. It's like hosting your own personal farmer's market.
Healthy Snacks And Healthy Moods: When you garden indoors, you get the added benefits of having fresh and healthy snacks available to you whenever the mood strikes. Another mood benefit: numerous studies (such as this one from the Journal of Physiological Anthropology) have shown that indoor plants can alleviate stress and improve overall mental well-being.  
Related: What To Eat To Boost Your Immune System As A Senior  
If you're ready to start reaping the rewards of indoor gardening, here are some of the easiest vegetables to grow indoors. You'll also find a few fruit and herb recommendations as well.
Ideal Vegetables For Indoor Gardening 
Peppers
Add a little spice to your life by growing a beautiful and bright pot of hot peppers. If you have a window that gets full sun, peppers are an ideal vegetable to grow. 
Salad Greens
Grow your greens and eat them too! Leafy green vegetables are so good for us and couldn't be easier to grow indoors. With a diverse variety — from sun-loving lettuce to shade-tolerant arugula — you have plenty of options to choose from, all of which look beautiful when growing indoors.
Carrots
Carrots grow very well indoors if potted in a deep enough container to allow them room to grow. Smaller carrot varieties are best, as they are easier to plant and grow faster.  
Celery
When you plant celery from seed, it's slow growing (120 days), but you can speed up the time it takes you to reap a delicious, crunchy reward by using the stump of a store-bought bunch. Getty Stewart has a helpful step-by-step guide on how to do this successfully. 
Radishes
You won't have to wait for a healthy snack when you grow radishes. This easily grown vegetable will be ready to harvest in a short 30 to 40 days. Radishes are a great container plant, because you can ensure the soil is soft and free from rocks or other natural materials that could prevent growth.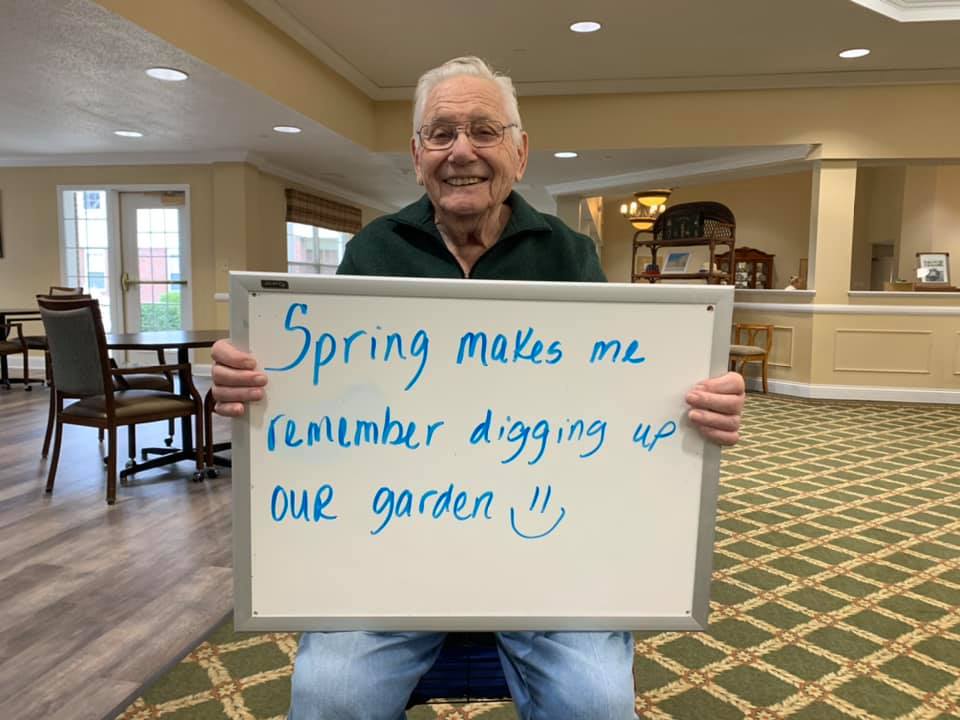 Fruits And Herbs To Grow Indoors
Tomatoes
Tomatoes love the sun and therefore do require a space that gets ample light. Choose cherry tomatoes that grow easily and abundantly in a pot. Cherry tomatoes are tasty on their own, or make for a zesty and easy-to-make Caprese salad. 
Mint
A fragrant and flavorful herb to add to tea or other mixed drinks, salads and more, there are many types of mint to choose from, depending on your desired use. Mint needs moist soil and medium to full sun, and as a hardy perennial, you can enjoy it all year long.
Citrus
Whether you favor lemons, limes or oranges – the choice is yours – all three can be grown indoors. Citrus fruit is filled with good-for-you Vitamin C, and is versatile to use in many dishes or drinks. Choose the dwarf varieties that self-pollinate like the Meyer Lemon and offer them plenty of light.
Ready to get started?
Download our guide and start your indoor vegetable garden today.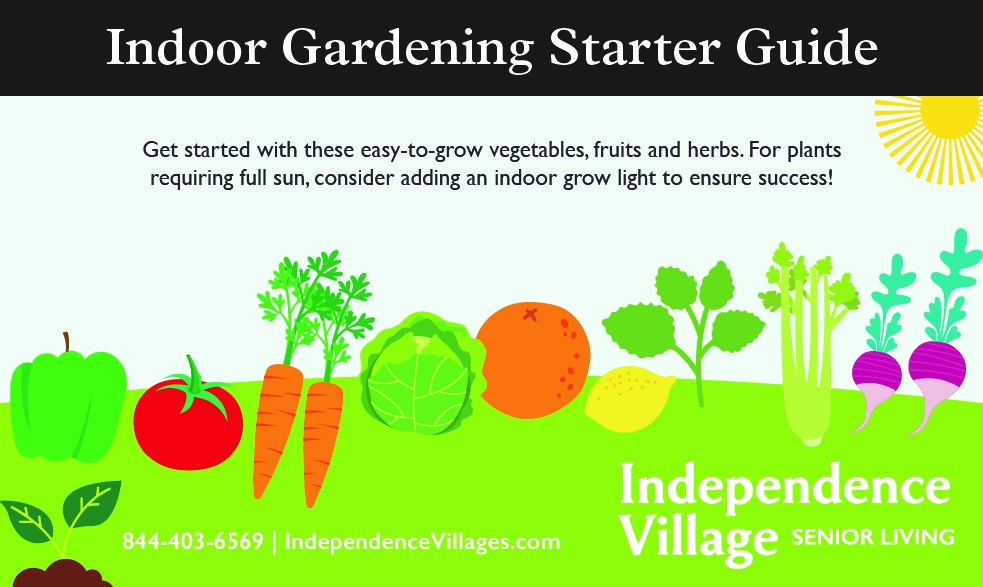 Join A Community Where Hobbies And Friendships Abound
If you're considering a senior living community, explore the many benefits of Independence Village. Not only will you have great space for your indoor (or outdoor patio or balcony) garden, you'll also have the added benefit of maintenance-free living, and ample opportunities to connect with others over favorite hobbies or new interests.
To get started, fill out a contact form, give us a call or stop by your local community so we can show you what the good life looks like at Independence Village.