Transitioning to a senior living community is a big move that requires thorough planning. The best way to ensure you find the perfect fit is to conduct research and schedule visits to several different locations.
Touring a senior living community allows you to meet its staff and residents, see how the interior and exterior are kept, and ultimately decide whether it would be a great home for you or your loved one.
When searching for the right community, it is important to ask questions and to know which questions to ask. Here is a guide for what to ask when touring senior living communities.
Related: The Best Times To Visit Senior Living
Can I Choose From A Variety Of Floor Plans?
Ask about floor-plan options to determine if the community offers the style you are looking for. If possible, tour a variety of floor plans to get a feel for each one's size and potential. Make sure to look at appliances and storage space, as well as the room's layout and dimensions.
When touring different floor plans, additional questions to ask could include:
Will I have my own room?
Can I decorate and/or paint my space?
Is there additional storage space available?
What safety features are installed?
Who handles repairs?
What is security like?
Is this a pet-friendly community?
Related: Senior Living Tour Advice
Do You Offer Events Or Activities?
One of the best perks about moving to a senior living community are the activities offered, as they provide opportunities to make friends and have fun. Ask for an events calendar to get a feel for whether you'd enjoy the community's programs. Also ask:
Where do the events take place?
How often do events occur?
What kind of events are offered?
Do the residents have a favorite event?
How many staff members are present during events?
What safety precautions are in place to prevent the spread of COVID-19 and/or other illnesses?
What Are The Staff Like?
Staff members are an important part of choosing a new community. During a tour, try to meet some of the team members to get a feel for who they are and what your experience will be like.
Asking questions regarding the staff, including what the required training is and what the staff-to-resident ratio is, can be a helpful part of your research as well.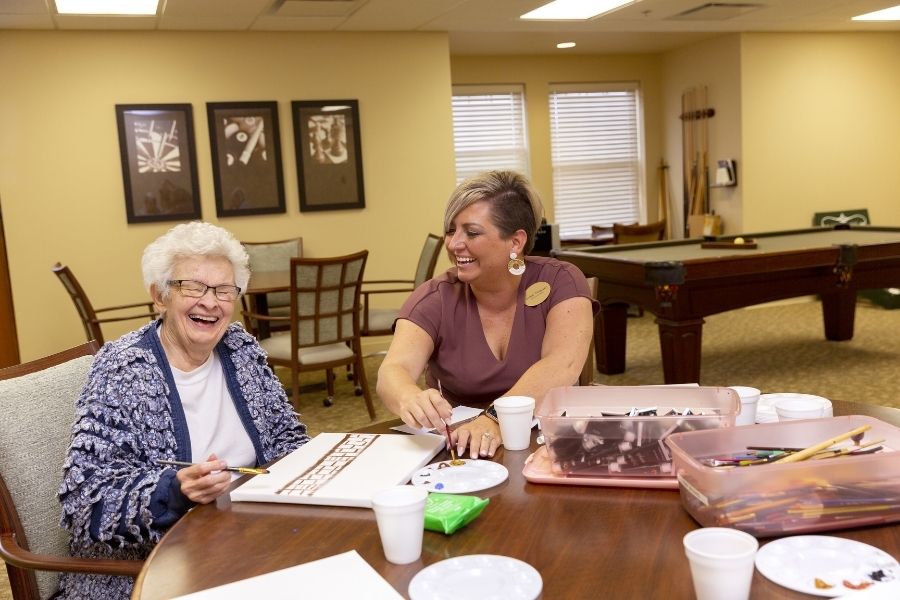 What Amenities Are Included In My Rent?
Senior living communities typically include some amenities in the monthly cost. Check with those you are touring to see which amenities are covered. Examples can be:
Housekeeping
Transportation services
Meal services
Pet fees
WiFi/internet
Cable television
Utilities (heating/cooling, etc.)
Are Additional Services And Amenities Available?
Ask your prospective senior living community whether additional care services or amenities are available. These could be in the form of care packages or à la carte services.
Keep a list for yourself of the services available at each community after each tour. This could help you make your final decision if you're torn between two communities.
Do You Offer Assisted Living And Memory Care?
If you or your loved one requires assisted living or memory care, you may already know the answer to this question prior to touring. If you are looking at independent living services, it may be beneficial to know which other living options are available.
Assisted living and memory care communities must be secured and licensed. Make sure the staff is specially trained and able to handle any challenges associated with memory impairments. Here are examples of what to ask assisted living or memory care communities when conducting research:
How does the staff support and engage with residents?
Is 24-hour care available?
Is the care staff certified?
What types of training have staff completed?
Will my loved one have the same caregiver every day?
Is the community able to meet a wide range of health needs? If so, is there a list for reference that I can take home with me?
If my loved one does not currently need a specific service but may in the future, can I add additional care services when needed?
Related: What To Look For In Assisted Living And Memory Care Communities
What Are My Dining Options Like?
A big decision maker for senior living can be the quality and availability of food. If you plan on using the dining services, make sure you see the menus and try a few meals. Some questions you can ask include:
Is the food healthy and fresh?
What time of day are meals served?
How often do the menus change?
Do you cater to dietary needs?
Are you allowed to invite guests?
Related: Touring Memory Care Communities: A Checklist Of What To Ask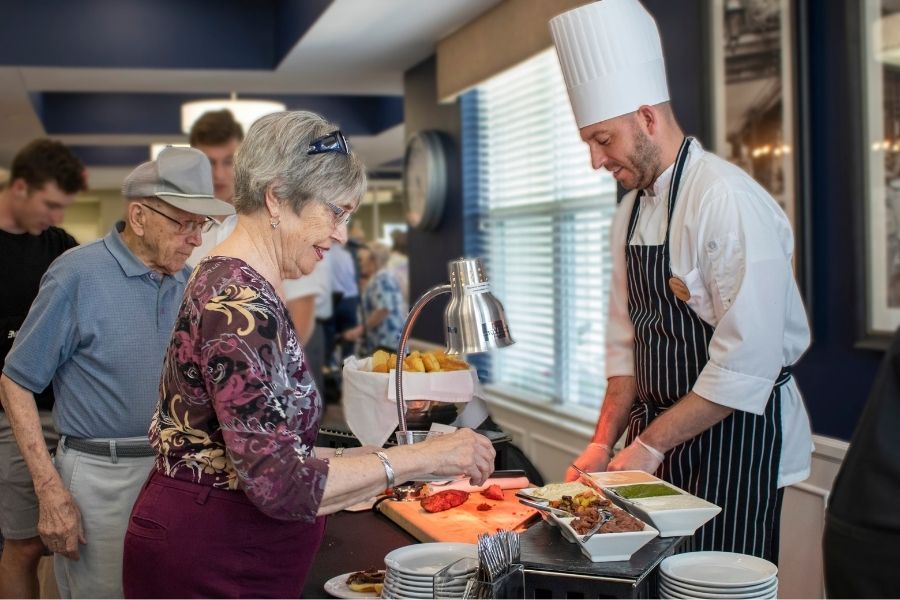 Make The Most Of Your Tour
Choosing a senior living community is a big decision. Make the most of your community tours by being prepared, knowing what questions to ask, and making notes of anything important to you. With these questions and tips in mind, you'll be able to get the most value from your tour and thereby make your decision process easier.
Download our Questions To Ask When Touring A Senior Living Community Guide and bring it with you during your tour. Interested in touring a StoryPoint community? Call us at 1-855-407-8679 to schedule a visit today.