Retirement can be a really exciting time. It's one of the first opportunities we get, as adults, to experience daily relaxation and enjoyment of our hobbies. By living independently in a friendly community, you can experience all the joys of retirement while maintaining an active and healthy lifestyle. Here are a few benefits of choosing independent living at StoryPoint Fort Wayne.
1. Daily Activities & Community Outings
Senior retirement communities offer ample opportunities to meet new friends, build new relationships and make lasting memories. One of the best ways to do this at StoryPoint Fort Wayne is to participate in our daily activities and community outings.
We offer lifelong learning opportunities where you can understand more about the things you love. If you like reading, try joining a book club where you can hear others' opinions and insights on your favorite reads. See monthly activity calendars by visiting our community page.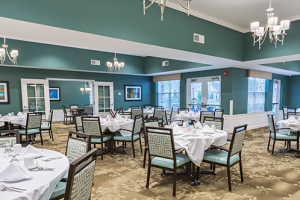 2. Spacious Floor Plans & Common Areas
At StoryPoint Fort Wayne, our residents enjoy spacious, private apartments fit for each unique resident's likes and needs. Just outside each apartment, we offer a wide variety of common areas, including:
The Library
The Massage Room
Beauty & Barber Shop
The Candlewick Bistro
Media Center
3. Pet-Friendly Apartments
Unlike some retirement communities, StoryPoint Fort Wayne offers pet-friendly, independent living apartments so you and your fur-ever friend can enjoy your retirement together. Meet some of the adorable pets of StoryPoint here.
4. Amenities
Having reliable transportation is a wonderful benefit of living at StoryPoint Fort Wayne. Take trips downtown, to your local park or have a shopping spree all with dependable transportation to and fro.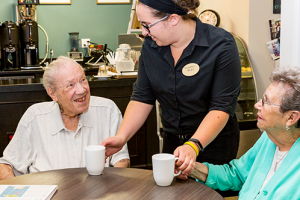 Here are some additional amenities you can take advantage of at StoryPoint Fort Wayne:
Housekeeping services
Nearby medical facilities
Medication reminders
Multiple in-house dining options
Various apartment spaces to fit your needs
Learn More About StoryPoint Fort Wayne
Looking to make the move into independent living? Start your search with StoryPoint. To learn more about our community visit the StoryPoint Fort Wayne North community page.