Residents across various StoryPoint Group senior living communities participated in the first-ever Ageless Talent Show. Throughout the communities nationwide, residents rehearsed and perfected their acts, hoping to showcase their unique talents and passions during this talent show for seniors.
After weeks of practice and tough competition, the Ageless Talent Show finale at Independence Village of Brighton Valley was finally here. Five first-place winners had secured their spots, each bringing unique and exciting talents to the showcase.
Read on to find out who was named the final winner!
Yodeling To First Place In Senior Citizen Talent Show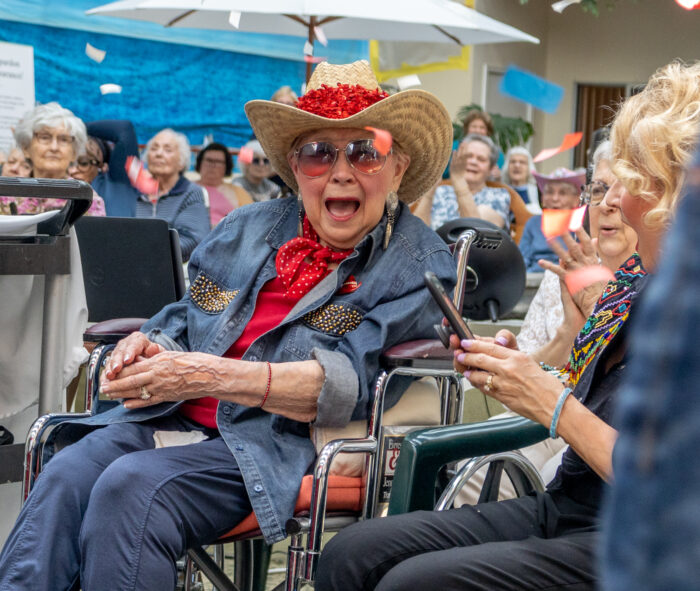 The finale was well-attended by residents and friends and featured a short video highlighting the talents and performances of the finalists.
And it was time to crown the winner.
To everyone's surprise and delight, Bootsie Kawa of Independence Village of Brighton Valley was announced as the champion of the Ageless Talent Show. All five participants brought immense talent to the stage. It was a close competition, but Bootsie's yodeling and acapella version of "I Want to be a Cowboy Sweetheart" with her daughter, Linda, won over the hearts of the judges and audience.
Bootsie grew up with a love for music. As a child, she would hear her mother yodel around the house and, eventually, learned to yodel herself. Bootsie's passion for music continued throughout her life. She joined a senior citizens center and took her talents on the road with their singing group, performing at various venues. She was married for 67 years and had three children. Now a resident of Independence Village, Bootsie was honored to bring her talents to the Ageless Talent Show.
Her victory is a testament to the fact that age is just a number, and anyone can pursue their passions and hobbies at any age. Her success has also brought joy and inspiration to other seniors living in StoryPoint Group communities.
Meet the Other Finalists
There was great applause for the talent the other contestants brought to the stage. Everyone was a winner — as first-place contestants at home and finalists at the finale — and could take home boasting rights to their friends and families. Meet four finalists who brought fierce competition to the talent show.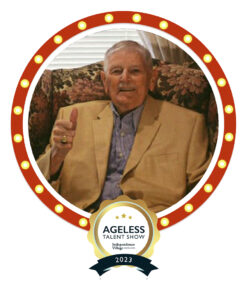 Ken Schell, a resident of Independence Village of Plymouth, played and sang some old favorites on his ukulele. Growing up, Ken was always involved in choirs and singing groups. He eventually learned to play the ukulele. While in Florida, Ken would share his talents with others and even joined a senior ukulele choir. Ken is known around Plymouth not only for his abilities on stage but as a proud Army veteran, a poker ace and an absolute striker in bowling.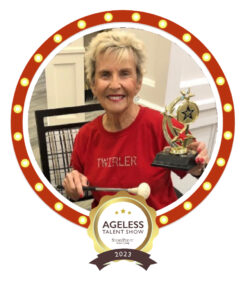 Verilyn Hauss, a resident of StoryPoint Collierville, began baton twirling at 15 and performed with twirling groups and in many competitions. She met her husband, Edward, in high school, and when they married, Verilyn used her baton-twirling talents to help put him through college. She taught 100 little girls to twirl for $1 each per week. "We thought we were rich!" Verilyn shared. Today, Verilyn and Edward have been in wedded bliss for 63 years with three sons and a big, wonderful family.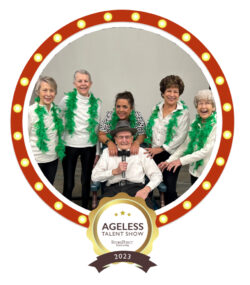 Having taken a break from their Midwest Tour, The Cliffettes of StoryPoint Rockford returned to give a hometown show. The group of five talented individuals, and each brings something unique to the group: Cliff Cuneo has always had a knack for spotting talent, Rose McManus is an award-winning choreographer, Charlotte and Judy have been working the circuit together for years and were too happy to pair up for the reunion show, Vangie brings immense energy to every show and Sommer is the glue that gels these youthful seniors together.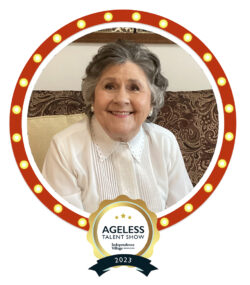 Tommye Beavers is an Independence Village of Fishers East resident who is a singer and all-around talent. In hopes of winning a college scholarship, she entered Miss Plymouth only to become the first and two-time winner. In 1960, she went on to win Miss Indiana. As a contestant at the 1961 Miss America, Tommye sang "Una Voce Poco Fa" from The Barber of Seville. She was fourth runner-up to Miss America and used the scholarship to complete her music degree at Indiana University.
There's Always Something Exciting Going On
The senior talent show is just one of the many activities and events residents can participate in at StoryPoint Group senior living communities. Each offers various recreational and social activities to keep residents engaged and connected.
If you'd like to learn more about upcoming events and tour one of our communities, give us a call!