"I can't say enough about the staff, residents, and families — everyone who's made this community what it is," shared Betsy Warburton, Executive Director of Independence Village of Ames.
At the official ribbon-cutting ceremony, the Des Moines Chamber of Commerce, community leaders, residents, families and neighbors alike came together to applaud the opening of the community's memory care neighborhood.
This memory care neighborhood will provide even more opportunities to support the seniors of Des Moines, Iowa — and that's something worth celebrating!
While they mingled, enjoyed the live music, and had their share of drinks and chef-prepared hors d'oeuvres, guests at the event also had a chance to learn more about all that's included in the community's memory care neighborhood.
Here's a closer look at the thoughtful elements offered through memory care at Independence Village of Ames and what this neighborhood will mean for residents and their families.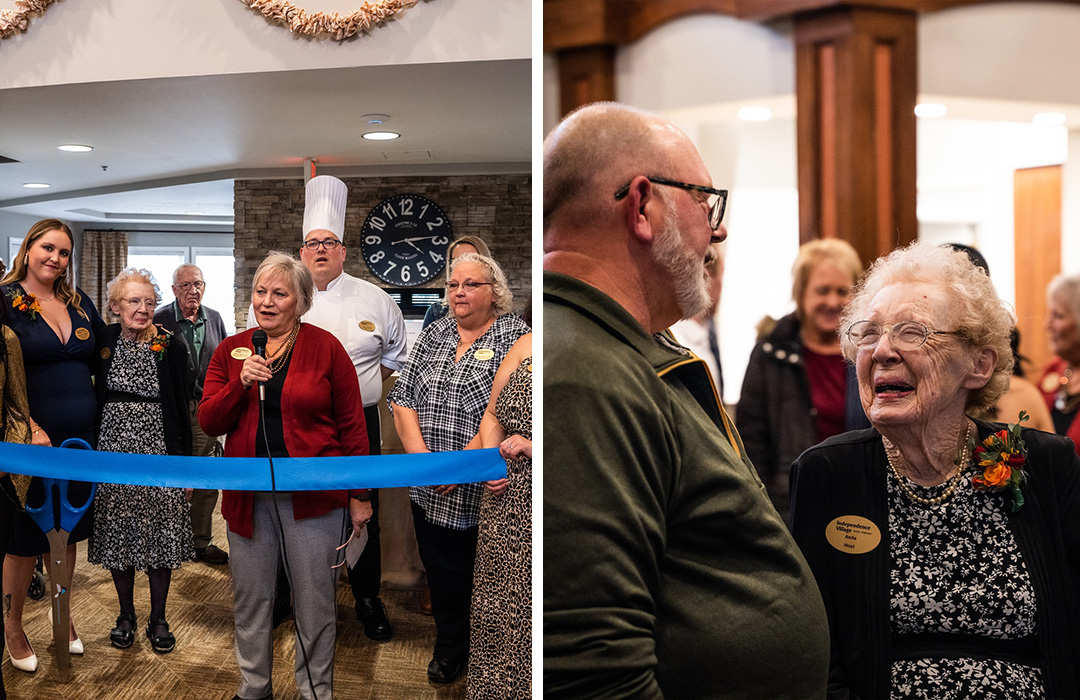 What Is Memory Care?
At Independence Village of Ames, our memory care neighborhood is intentionally designed to support those experiencing dementia, Alzheimer's and other memory impairments.
Our memory care community includes:
Thoughtfully designed elements such as high ceilings and enlarged windows to combat the effects of memory loss and dementia.
Specialized programming that meets residents where they're at to ensure comfort while promoting the utmost dignity and personal success.
Specially trained employees equipped to navigate the effects of memory impairments.
24-hour licensed support in all areas of living, wellness, dining and more.
Every employee at our community, from our Executive Director to our housekeepers, receptionists, wellness staff and more, is specially trained on how to connect with residents in memory care.
We lead with compassion. We lead with patience. And, in addition to caring for residents like they're family, we know each element of our memory care neighborhood is backed by data from leaders in dementia care.
Our Director of Aging and Dementia Services is continually researching and developing memory care initiatives that are shared across all our communities, so we're always up to date on the latest research and findings.
We use that knowledge to create a memory care neighborhood filled with thoughtful elements throughout everyday life.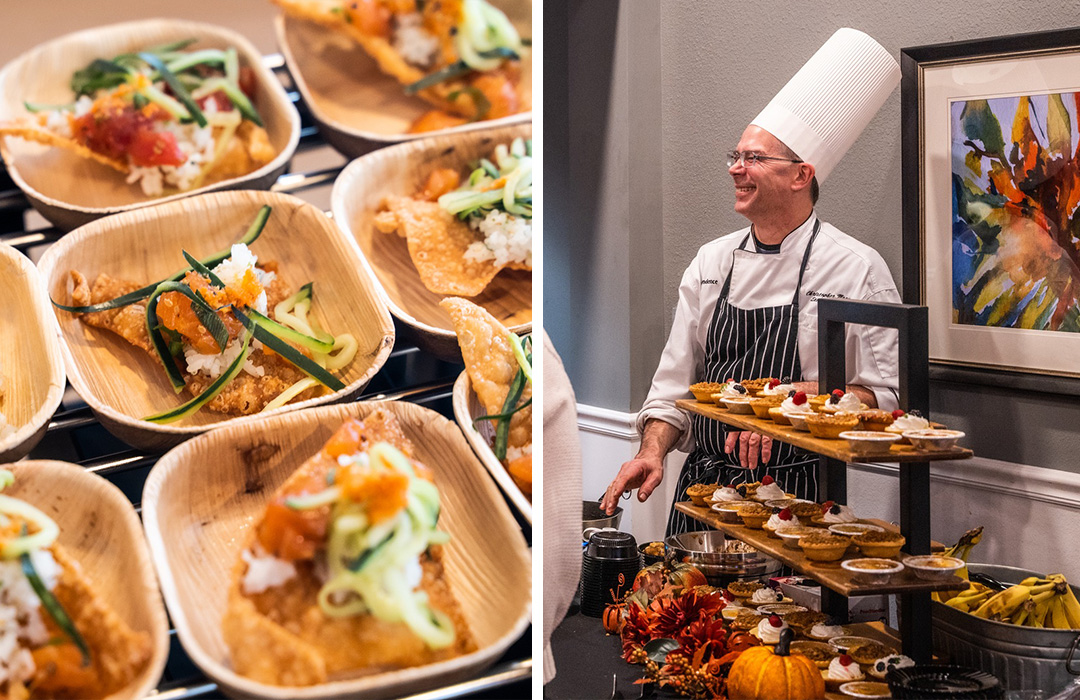 The Power Of Our Plates
Our culinary teams are trained by chefs and dietitians to execute special diets that are designed with our memory care neighborhood residents in mind. Our standards for these diets are elevated, taking into consideration plate presentation, taste and correct textures to ensure our residents are safe and enjoy what they're eating.
Does that mean that food shouldn't taste great?
Our culinary team says, "No, it doesn't!"
Residents living with dementia often have difficulty using silverware because of decreased dexterity in their hands and other symptoms. So, our chefs work to take foods that our residents enjoy and serve them in an accessible way — as finger foods!
The options offered for memory care residents is so diverse (and so tasty!) that we even served dishes that are provided in memory care at our official ribbon-cutting event.
Every hors d'oeuvre offered at the event was similar to what a resident in our memory care neighborhood would really have on their dinner plate. Upscale, handheld food options like these allow residents to eat independently without needing silverware.
Between meals, just like anyone else, our residents living in memory care may get hungry for a snack throughout the day.
Keeping dietitian approved snacks readily available is another way we incorporate thoughtful elements into our culinary program. Several health benefits of snacks in memory care, include:
Ensuring residents have nutrient dense, high calorie, high protein foods whenever they need it.
Encouraging independence.
Helping residents to maintain their weight.
Promoting muscle strength and immune system health.
Similarly, dehydration can cause fatigue, falls, urinary tract infections and ultimately lead to illness and hospitalizations. That's why having self-serve, accessible water stations available to our residents 24/7 is standard at our community.
These elements and more are a part of what make the culinary program offered in our brand-new memory care neighborhood so special.
Everything Is Designed To Brighten Their Lives
When asked if she loved her life at the community, Anita, the resident of honor at the ribbon-cutting event, gave a resounding, "Yes!"
Anita along with every resident at Independence Village of Ames memory care neighborhood will find that every aspect of the community is designed to brighten their lives.
Here's a closer look at a few of the thoughtful elements we've incorporated into everyday life in our memory care neighborhood:
Private Apartments
The private apartments in our memory care neighborhood all have scenic views of the surrounding nature. Each apartment also has its own private bathroom with a pullcord for safety.
High Ceilings
Dementia can cause a "shrinking" feeling, and the high ceilings in our memory care neighborhood help to combat that effect and create a spacious environment.
Secured Neighborhood
Our memory care neighborhood is secure so that residents can safely and independently move about in a supportive environment.
Peaceful Patios
Residents can enjoy the fresh air and even catch a glimpse of wildlife in the courtyard on our neighborhood's private, secure patio.
Essential Oils
Essential oil diffusers are used daily to stimulate the senses and promote a holistic well-being.
Destination Stations
Our destination stations provide a space for residents to engage in familiar, comforting household tasks like folding clothing, flower arranging, etc.
Signature Program: Morning Power Up
Routines can provide a sense of comfort to those with memory impairments. Every morning, our morning Power Up program helps residents get energized for their day of sharing in daily activities, attending our regular spiritual programs and more.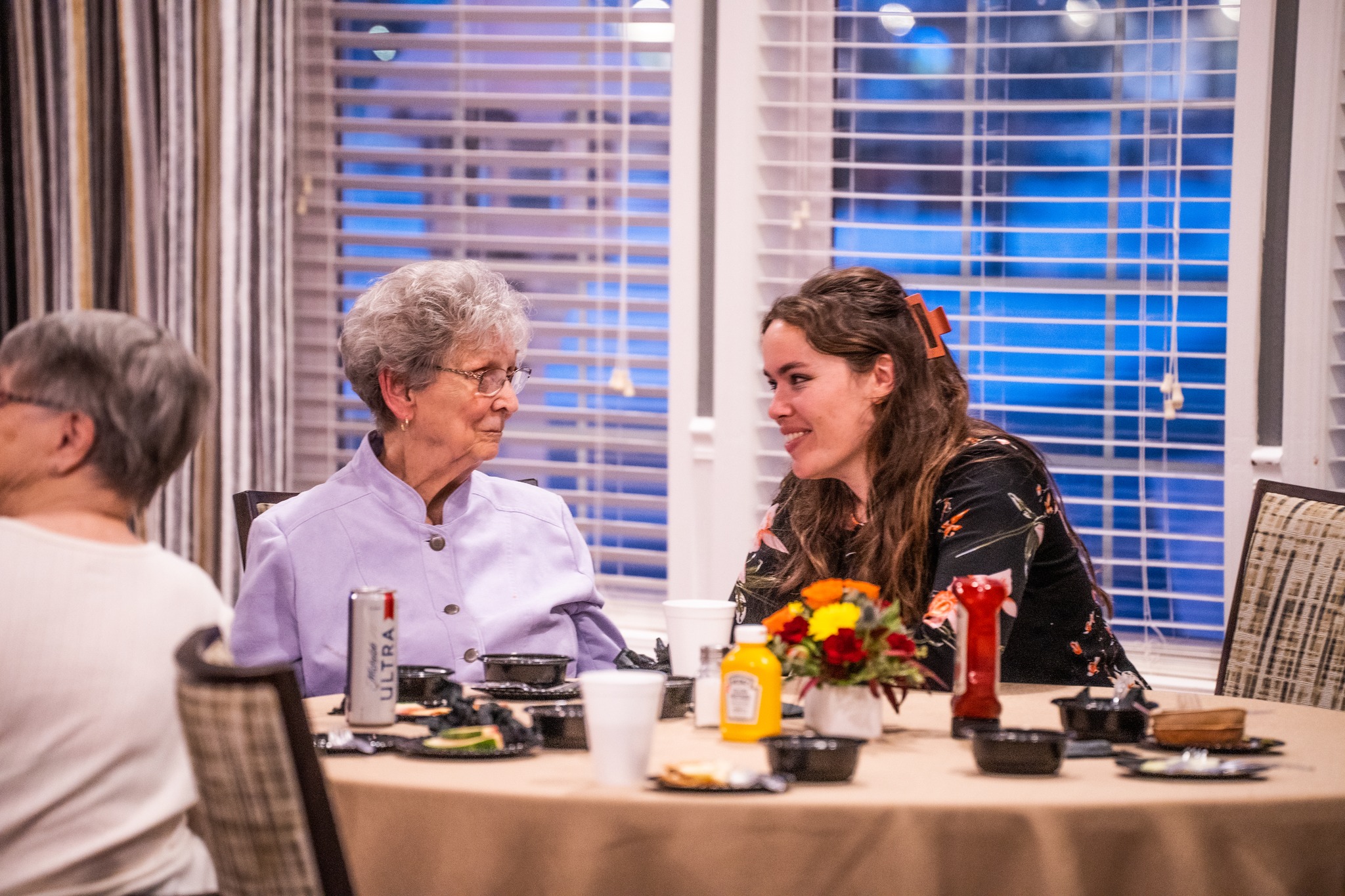 Life At Independence Village Of Ames
In addition to memory care, Independence Village of Ames also offers Des Moines area seniors assisted living and respite care services.
We can't wait to share more with you about what makes life at Independence Village so special. Whether you're looking for senior living for yourself or your loved one, we're here to guide you to the living option that's right for you.
For more information about Independence Village or to find the StoryPoint Group community nearest you, give us a call today.