These veterans might not be able to catch a flight to Washington, D.C., but they still deserve to be celebrated! By hosting the Flightless Honor Flight, StoryPoint Fairfield honored local veterans who served their country right at the community.
What is the Flightless Honor Flight? How do StoryPoint Group communities like StoryPoint Fairfield honor veterans every day?
Keep reading to learn more and see a short video of the Flightless Honor Flight celebration.
Flightless Honor Flight At StoryPoint Fairfield
Every year, Honor Flight Tri-State honors veterans by flying them to Washington, D.C. to experience the monuments, memorials and a day of celebration in their honor. StoryPoint Fairfield has partnered with the organization to offer veterans who are unable to make the journey to D.C. a Flightless Honor Flight.
Veterans of honor "checked-in" at our community and participated in a flight simulation complete with boarding passes, airplane snacks and flight attendants to mimic the journey.
Once they "arrived," these select veterans were met with a reception of cake, drinks and surprises from their families. The celebration also included performances from bagpipe performers and a local color guard.
Veterans Have A Special Place In StoryPoint Communities
Veterans have a very special place in our community. To honor their service, we offer unique veterans' programs, military-focused activities, guidance with VA assistance and more. Here's a closer look at how StoryPoint Group celebrates veterans every day.
Activities and Events
At StoryPoint Group communities, we look for any excuse to celebrate our veterans. Whether that's by encouraging resident-led veterans clubs, volunteering to support active duty military, or with events like the Flightless Honor Flight, veterans are highly regarded in our communities.
The Honor Wall
The Honor Wall features a photo and short biography describing our residents and their service as veterans and former police officers, firefighters or first responders. The wall serves to honor our veterans, encourage connections for those with shared experiences, and be a reminder of the heroes in our community.
Veterans Assistance Programs
Navigating the cost of senior living is often a large concern, and for those who served in the armed forces, accessing available financial assistance can add an extra layer of difficulty.
At StoryPoint Group communities, we help veterans by connecting them with the resources they need to begin the application process and access the benefits they've earned. To show our appreciation, we're ready to help guide you through the process of understanding and qualifying for VA benefits for assisted living (or other senior living options) and more.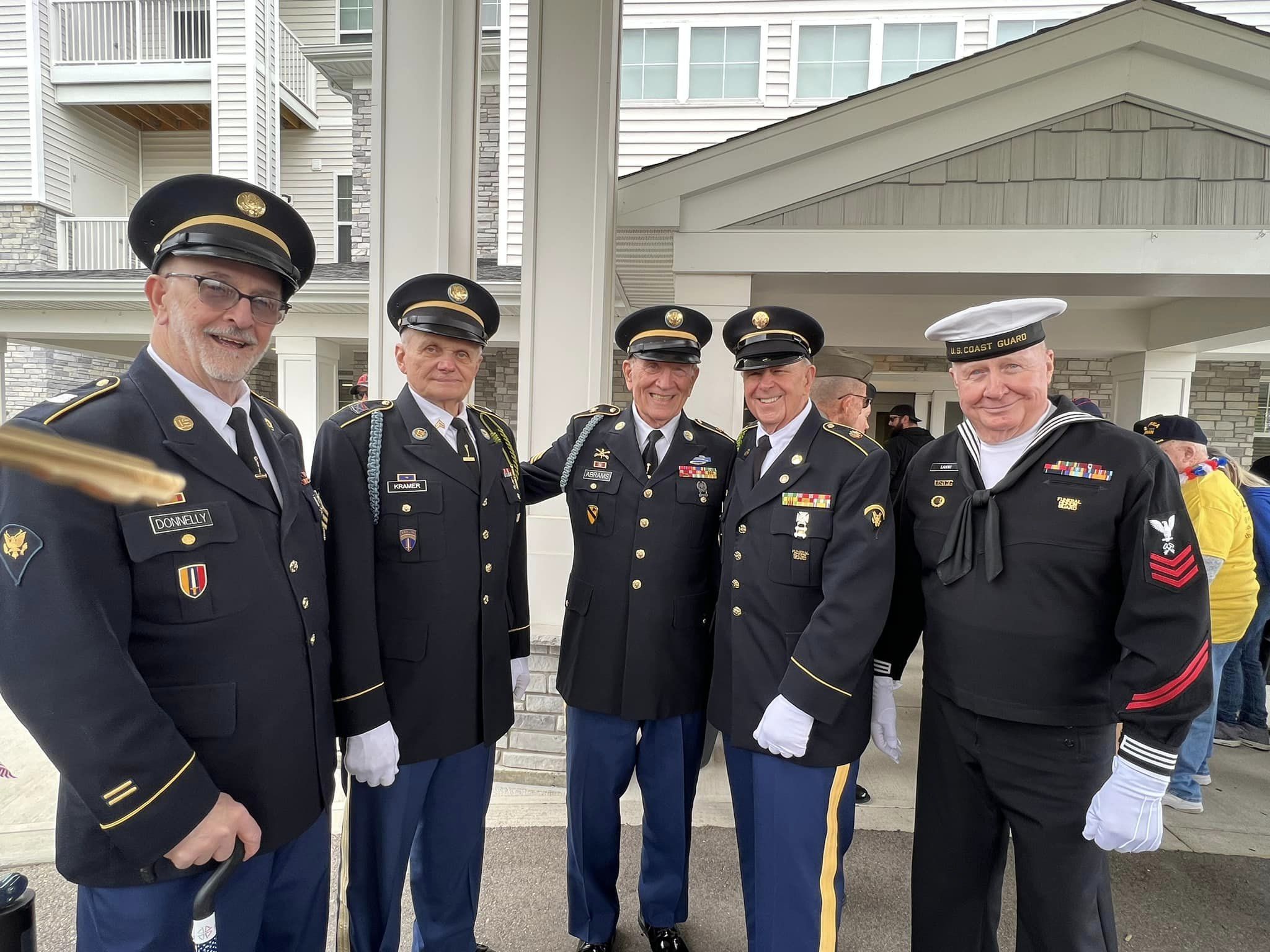 You Served Our Country, Now Let Us Serve You
We'd love to show you around, introduce you to some of the veterans of our community and share more ways we celebrate veterans every day. For more information about life with us and how StoryPoint Group communities honor veterans, stop by for a tour at our community nearest you.