Every StoryPoint Group employee has a hand in creating an environment where residents know they belong and they matter. Still, no one is more of an expert in enhancing residents' lives than our life enrichment directors.
Through our unique life enrichment programming, StoryPoint Group senior living communities offer residents a chance to get involved, explore their passions and foster meaningful connections every day.
Keep reading to learn more about life enrichment at our senior living communities and what makes life at StoryPoint Group communities so special.
What Is Life Enrichment?
Life enrichment programming at a senior living community aims to enhance the quality of life for residents. By offering a wide array of opportunities and activities on the activity calendar, senior living communities create a fulfilling and engaging environment that supports residents as they age.
Life enrichment programs are designed to provide residents with opportunities, activities and services that promote physical, emotional, social and intellectual well-being.
Every senior living community is different, but many life enrichment programs offer:
Social Engagement: Senior living communities often organize a wide range of social activities and events, such as group outings, game nights, resident-led clubs and holiday celebrations. These opportunities encourage residents to expand their social life, build friendships and combat feelings of isolation or loneliness.
Physical Well-Being: Life enrichment programs may include fitness classes, wellness programs and accessible activities that cater to residents' physical abilities and interests. These activities can help seniors maintain their mobility and overall health while offering social connection.
Lifelong Learning: Some senior living communities offer opportunities for residents to continue their education or pursue new interests. Many StoryPoint Group communities invite local experts to speak on relevant topics, like veterans' assistance, care management, cybersafety and more.
Creative Activities: Crafts, music, dance and other artistic programs can be a great way to express yourself and enrich your life. Through life enrichment programming, residents may have opportunities to create art, enjoy musical performances or participate in events to discover their creativity.
Nature: Spending time outdoors has many benefits for seniors and can contribute to overall well-being. That's why many senior living communities incorporate gardens, walking paths and opportunities for outdoor activities.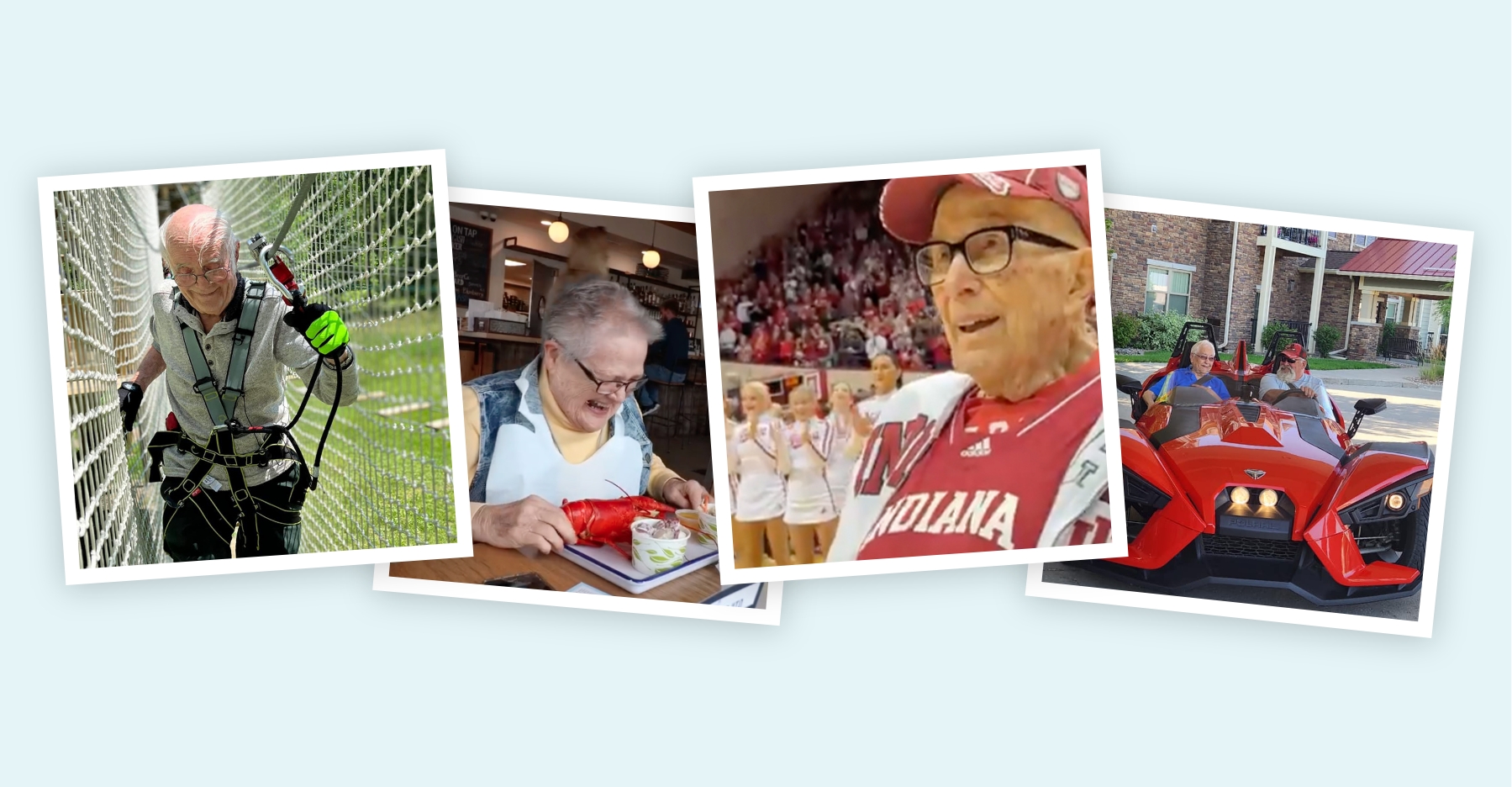 Life Enrichment At StoryPoint Group Communities
"What would make residents smile today?"
At StoryPoint Group communities, life enrichment directors ask themselves that question every day. Whether they're hosting big events, making holiday celebrations special or stopping by a resident's apartment for a cup of coffee, if it makes a resident's day, they make it happen.
By fostering everyday moments where residents shine, creating Dream Big experiences and hiring the absolute best team members for the job, our life enrichment programming gives residents the tools they need to live a full, rich life.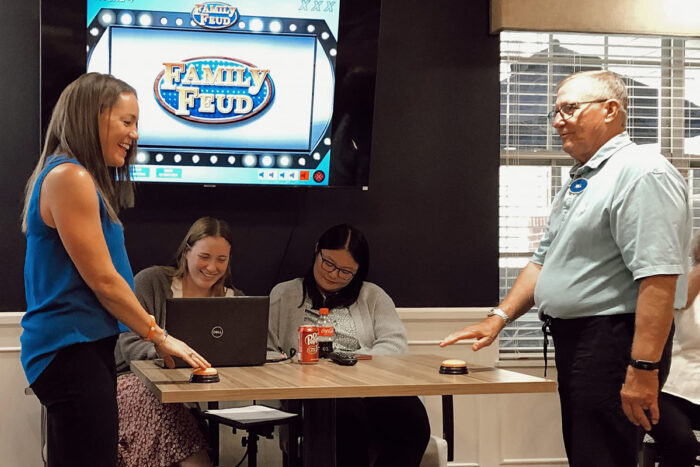 StoryPoint Group Residents Shine. Every Day.
At StoryPoint Group communities, the everyday moments aren't so ordinary. They're filled with fun, friendship and a whole lot of creativity from our life enrichment team.
Attending a fitness class? How about balloon volleyball at Heritage Hill. Instead of simply stretching or lifting weights, residents at this StoryPoint Group community hit a balloon back and forth over the net with pool noodles. This creative activity is both physically engaging and accessible — while also being a lot of fun!
You could eat dinner, or you could attend a full culinary showcase! At Independence Village of Avon Lake, Chef Adam wowed our residents by showcasing his incredible salmon filleting skills. From start to finish, he demonstrated the art of filleting, and everyone savored the delicious results.
Why watch a game show like Family Feud when you can be a contestant? Residents at StoryPoint Collierville competed in their own version of Family Feud, and they had their very own Steve Harvey to host! It was a time of bonding, shared moments and endless smiles.
These are just a few events that might be found on a community's life enrichment activities calendar. But StoryPoint Group Life Enrichment Directors don't just stop once they've filled their calendars with fun events.
They go above and beyond what's expected, foster meaningful connections with residents before, after and during events. That could mean grabbing a cup of coffee or watching a resident's favorite movie with them. It might be stopping by for a visit to check in or hand-delivering an extra serving of dessert.
Whether it's an everyday event, unique activity or the moments in between, our Life Enrichment Directors are there to ensure residents know that they belong, and they matter.
Dream Big With StoryPoint Group
At StoryPoint Group communities, we encourage residents to dream big. Not only do we encourage it, but we help to turn those dreams into reality through our Dream Big initiative. With this initiative, our communities sponsor residents' dreams (both big and small!), and we help to enrich their experience to make it a true dream come true.
Here's a closer look at what our residents were able to do through their Dream Big experiences.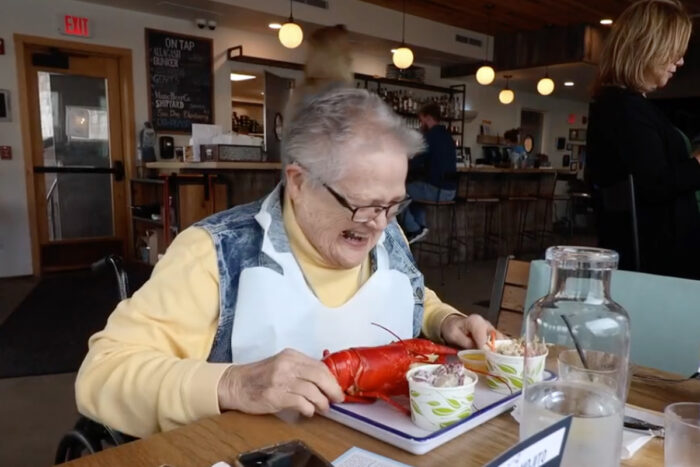 Audrey Traveled To All 50 States!
Audrey of StoryPoint Chesterton had a goal: visit all 50 states. The only state she hadn't visited was Maine, so we packed her bags and flew her out! She explored the beauty of the state, visited Acadia National Park, and enjoyed lobster every day. Here's a closer look at their fun-filled trip.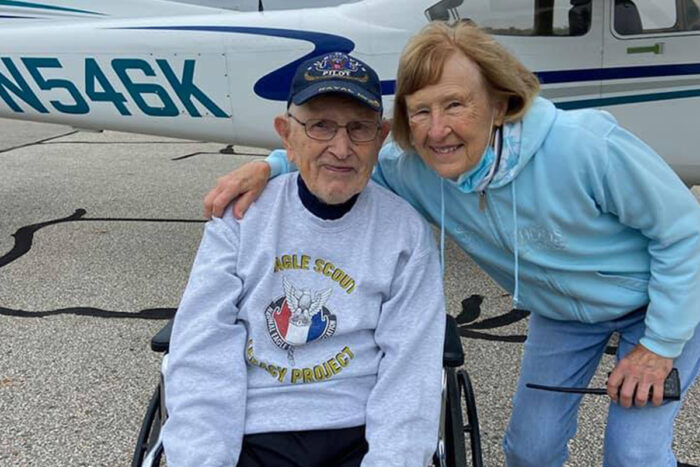 Bill Flew A Plane At 100 Years Old!
The team at Independence Village of Midland gave 100-year-old Bill the chance to fly a plane again! Bill is a WWII veteran and former Navy pilot. He flew an F4F Wildcat and an F6F Hellcat in WWII. When asked how his flight was, he responded with a smile and said, "A little slow!"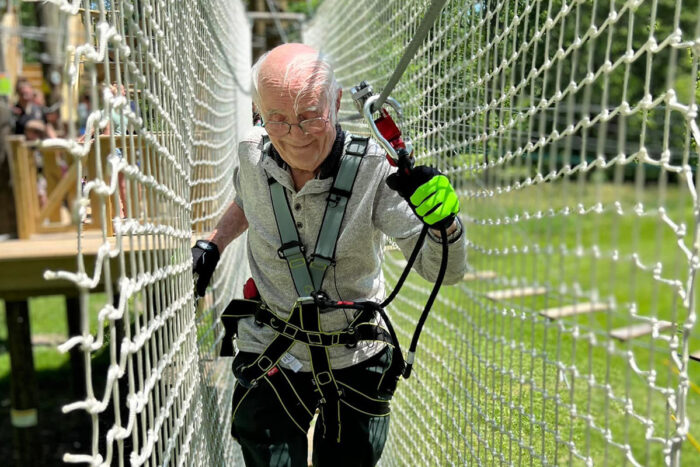 Chester Went Ziplining!
Chester, a 90-year-old resident from StoryPoint Medina, had been talking about this particular park in Strongsville for months. It had zip lining and a high ropes course that caught his eye. In the past, he would visit Mill Stream Run Reservation with his late wife, and they would watch people go down the toboggan chutes. Chester has such an adventurous spirit we just knew we had to make this day happen for him. So, we did!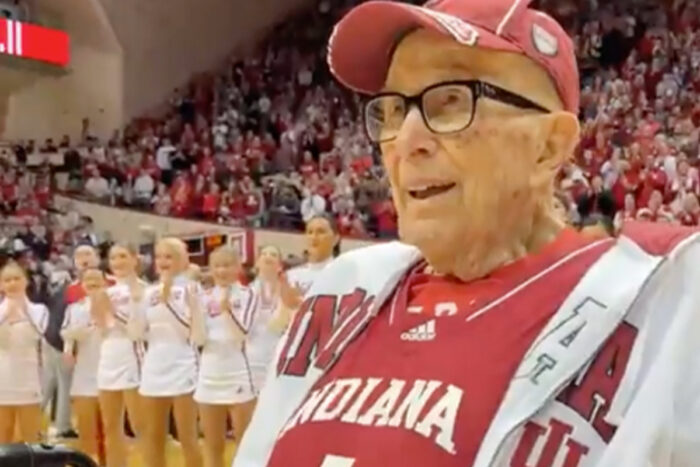 Earl Was The Fan Of Honor!
Earl, a WWII Veteran and founding resident of StoryPoint Fort Wayne North, has been an IU fan as long as he can remember. He mentioned to his favorite culinary members that all he ever wanted to do was see an IU Basketball game at Assembly Hall, but he was worried he was running out of time and that it'd never happen. That's when we stepped in to make his dream come true!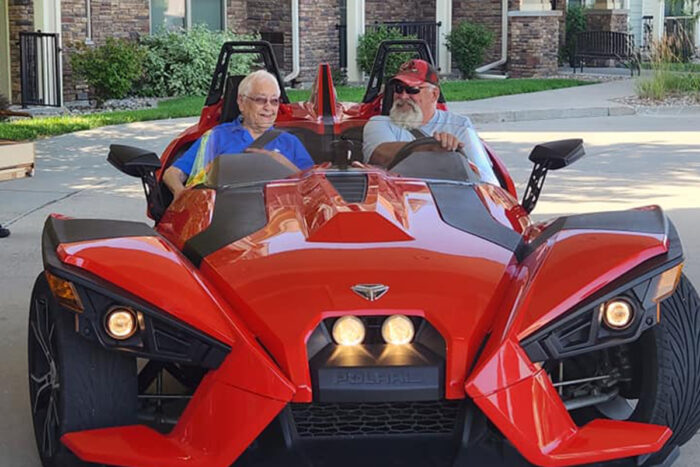 Elsie Got Back On A Motorcycle!
Elsie, an Independence Village of Ankeny resident, used to ride with her husband on their Indian motorcycle. It was her dream to go on a ride one more time. Seeing the smile on her face when she saw her ride was the best!
We Hire Life Enrichment Experts To Help
It takes a special kind of person, with a whole lot of heart, compassion and care, to create experiences like these for residents. That's why we hire experts in life enrichment who will deliver nothing but the best for the residents we serve.
Get to know one of those experts, Clinton Spaulding, our Life Enrichment Director at StoryPoint Union.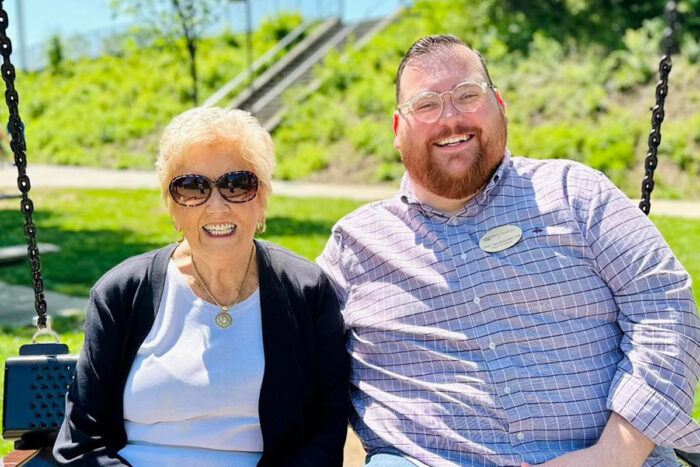 Clinton Spaulding has been part of the senior living community for 15 years. His out-of-the-box planning and programming earned him recognition and features in various news segments and publications. In 2018, LeadingAge Kentucky recognized him as Activity Director of the Year, which inspired him to help other activity professionals through consulting and training.
Clinton's service to others expands beyond work. For his volunteer work with veterans, he received a Kentucky Colonel designation in 2016 and, in 2022, was named Kentucky's Volunteer of the Year. His recent work has earned him the Young Professional Award from the Prospect Chamber of Commerce. Clinton is excited to bring his passion and dedication to StoryPoint Union and create new experiences for all!
We Can't Wait To Meet You!
At StoryPoint Group communities across the country, our talented team members can't wait to get to know you and your loved ones.
To learn more, just click here to find the community nearest you.