It isn't every day that two organizations can come together in a shared mission of impacting lives across multiple generations. When StoryPoint Troy first opened, we reached out to the preschool right across the street, Kids Learning Place, to see if we could partner in a way that would impact both our residents and the children.
Kids Learning Place has 19 locations in West Central Ohio that care for and enrich the lives of children under the age of five. Our Life Enrichment Director, Brooke Schutte, got in touch with Christina Gerken, the Director of Kids Learning Place, to start a weekly program between our residents and their wonderful preschoolers.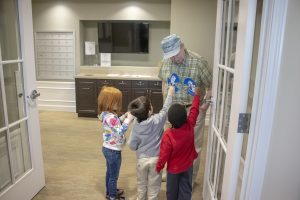 Weekly Kindness
Fast forward a few months, and the program is still going strong. Sometimes the preschoolers visit our community, and sometimes our residents go across the street to the daycare. On the weeks that the residents go to the daycare, they lead circle time, play games, read and even rock the babies in the infant room.
On the weeks that the children visit StoryPoint Troy, the residents and kids will bake, craft, color and then parade their artwork throughout the community for everyone to see.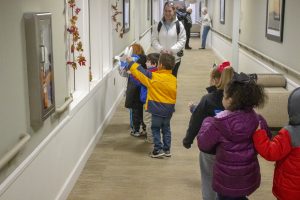 New Family
The response from the residents has been overwhelmingly joyful. Here are some kind words from Brooke:
"It makes me so happy that our residents get to spend quality time with these young children. Many of our residents don't live near their grandchildren and don't get to see them as often as they would like to. This program allows them to spend time with kids that remind them of their own families."— Brooke Schutte, StoryPoint Troy Life Enrichment Director
We are so lucky that StoryPoint Troy has been able to form this close bond with their neighbor. The residents find it fun and incredibly therapeutic, and the preschoolers are always welcomed with plenty of smiles. It's a great way to spend time for both parties. There will be more fun to come as the holidays approach.