Charming historic buildings, bike rides along the River Walk, fun festivals, exciting events and more?
That's Owosso, Michigan.
This mid-Michigan city is home to nearly 16,000 residents. It's the largest city in Shiawassee County and both a great place to live and to visit.
For seniors and families searching for a senior living community that's right for them, all of us at Oliver Woods are happy to welcome you to our city and our community. Keep reading to learn more about Oliver Woods and some of our favorite places in Owosso.
Things To Do In Owosso
Though there is plenty to do in Owosso, these are a few of our Oliver Woods residents' favorite places to be:
Downtown Owosso
Did you know Owosso, Michigan is a nationally accredited main street community? It's true!
Owosso Main Street's mission is to foster a thriving downtown that is the heart of the community. They do so by promoting historic preservation and drawing both local residents and visitors to our city with some pretty exciting events.
Some of our favorite downtown events are the annual holiday market which features talented artisan vendors, the downtown chocolate walk, and, of course, the farmers market.
Shiawassee Arts Center
According to the Shiawassee Arts Center, art inspires our innovative spirits, allows us to celebrate our cultural diversity and encourages community involvement.
We've found that to be true! Oliver Woods often partners with the Shiawassee Arts Center, and our residents always look forward to it. We've created holiday-themed crafts, tried watercolor painting and even participated in creative programs with the center.
Curwood Castle Museum
On the banks of the Shiawassee River, you'll find the Curwood Castle Museum. This historic building served as the writing studio of James Oliver Curwood who was one of America's best-known action-adventure novelists and an early advocate of environmental conservation.
The beautiful castle was used by Curwood until he died in 1927. Now, the museum retains the legacy of his life as a writer, adventurer, explorer, conservationist and pioneer. And it's absolutely beautiful in the snow!
Wrought Iron Grill
Whether you're in the mood for a Big Daddy Burger, a Fried Green Tomato Sandwich or delicious Bacon Wrapped Shrimp, you've got to stop by the Wrought Iron Grill.
WIG is one of our favorite stops for lunch. It's always great to catch up with friends — and share some tasty food, too.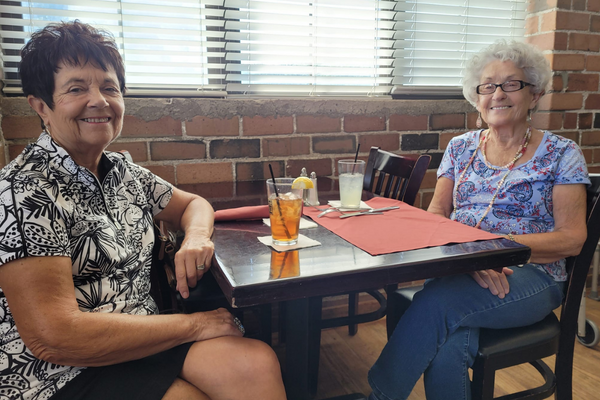 Lebowsky Center for Performing Arts
Everyone deserves to be treated to dinner and a show! At the Lebowsky Center for Performing Arts, Owosso residents have all the excitement of the theater right in their backyard.
Residents at Oliver Woods visited the theater and saw Something Rotten, a musical comedy that follows two brothers who struggle to find success in a Shakespeare-dominated theatrical world. We shared some laughs and had a great time!
Serving Seniors At Oliver Woods
Whether we're hosting a community open house or enjoying a nice quiet evening in our community, life at Oliver Woods is something special.
Our community has unique amenities and features, including delicious chef-prepared meals served in our restaurant style dining room, a beauty salon and barbershop, community library, and more. And with various living options, peace of mind is included with every resident's apartment.
Not sure which living option is right for you or your loved one? Oliver Woods offers assisted living and memory care. Here's a closer look at both:
Assisted living
Could you or your loved one benefit from around-the-clock care? From assistance with activities of daily living (ADLs) to medication reminders, mobility support and more, assisted living at Oliver Woods meets residents where they're at — wherever that may be.
This support, plus our unique amenities and community features, allow our residents to maintain their independence and make the most of each day.
Memory care
Our memory care neighborhood focuses on caring for seniors who are experiencing memory impairments, including Alzheimer's and other forms of dementia. We know that, while it's important to be an expert in dementia, it's just as important to approach memory care services with compassion and empathy.
That's why we utilize intentional, specialized programming based on the latest dementia research to ensure that residents receive the absolute best care — with a personalized touch.
Choosing A StoryPoint Group Community
When you choose a StoryPoint Group Community for you or your loved one, you're choosing a senior living community that's more than just a place to live.
At Oliver Woods, we take the time to get to know the residents we serve. We know who has the brightest smile at community events, who's the best puzzle-companion, who is proud of their military service and who will happily chat your ear off when you pass them in the hall.
Our residents get to know one another, too, and they form new once-in-a-lifetime friendships that many thought were behind them.
Everyday activities become something special at Oliver Woods because they're shared with people who really care — people who feel more like family!
To learn more about Oliver Woods and how we can serve you or your loved one, stop by or give us a call today.