As Americans, we often believe that there is a significant amount of gratitude that needs to be shared with veterans in honor of their service. Sean Tracy, our Veterans Project Coordinator, is a firm believer of this fact and spends a majority of his time showing gratitude to resident veterans in many different ways.
Educating Others
One of the ways that Sean is able to not only honor veterans but educate everyone is through his "History Uncovered" presentations. One day, Sean was chatting with a couple of residents at Independence Village about World War II and was shocked to find out how much they knew.
The residents asked if Sean could give them a more detailed presentation on the war and its effects. Sean obliged and found that his presentation was hugely appreciated by the residents and thus "History Uncovered" was born.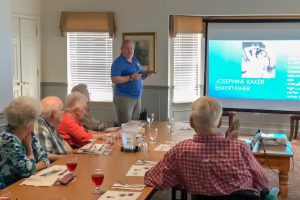 History Uncovered On The Road
Sean makes trips to all of our communities giving these themed World War II presentations and has over a dozen under his belt already. Here are a couple of the themes that he so eagerly presents:

The D Day Preparations – 100,000 men. 5,000 ships. 2,500 aircraft. One plan. Learn about the greatest invasion undertaken in the history of mankind.
This Flag of Mine – Red, white and blue. What is the significance and history behind the United States flag? What is the importance of the Fourth of July in our history?
The Home Front During World War II – The two most commonly associated battlefronts during World War II were the European Theater and the Pacific Theater, but many forget the importance of the Home Front.
Secrets, Spies and Deception – "Loose lips sink ships" was a common phrase to stress the importance of discretion when military information was at play. Who were these spies? How did we outsmart them?
The Arsenal of Democracy – America was involved in aiding England and the Soviet Union before the attack on Pearl Harbor. Learn how Detroit's auto plants transitioned into assembly lines to support war efforts.
Sharing Veteran Stories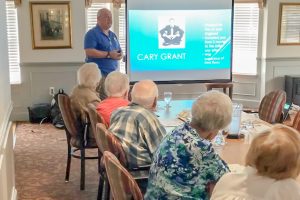 In addition to these enthralling presentations, Sean has the opportunity to connect with resident veterans and document their biographies. He's even been able to build exact model replicas of their associated war equipment with them.
Talking about the past and sharing memories has been a staple of how people connect and communicate for centuries. Having someone, like Sean Tracy, who is able to foster a space where people can learn and share stories from our shared history provides a stronger sense of community among the residents.