Honoring Independence Village of Petoskey
What do you think of when you think of Petoskey, Michigan?
Hunting for Petoskey stones amidst crashing waves? Spending the day on the water with family? Shops, live music, local restaurants and festivals?
For those of us who know Independence Village of Petoskey, we think of one man – Rev. Dr. Wesley Hager.
Not only did Wesley have an impact on the creation of our community, but he left his mark on the city of Petoskey. And most importantly, he left his mark on the hearts of those who live here.
As Independence Village of Petoskey approaches its 25th Anniversary of serving seniors in community, we're honoring the man who made it all possible. Here's his story:
Wesley's Early Years
Wesley Hager was born on August 5, 1905, in Minneapolis, Minnesota, and later married a compassionate woman, Charlotte Hager.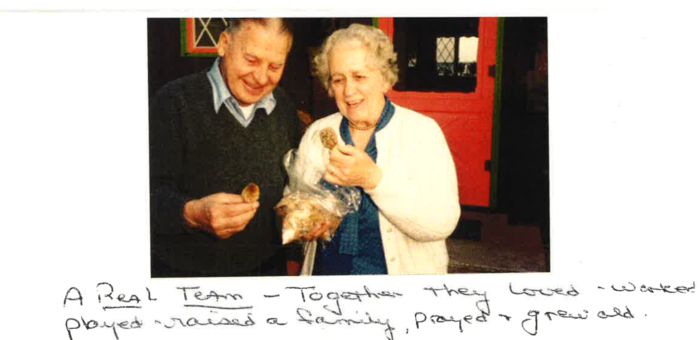 "No matter how busy the Hagers were, they always found time for you in your time of need or support," a family friend said. "The Hagers made us feel like the most important people in the world, and I'm sure those who knew the Hagers would not be surprised by the statement."
Wesley earned a Bachelor of Divinity from Hamline University, and later, he also held a masters in Christian Education from Union Theological Seminary and a doctorate from Hamline University.
Throughout his life, Wesley held several prestigious positions as a pastor, and his parishioners admired him for being the "most wonderful listener."
Wesley was also an author, and he wrote devotional guides, including "Mastering Life with the Master," "Conquering," "They Were There," and "Whom God hath Joined Together."
Wesley's Retirement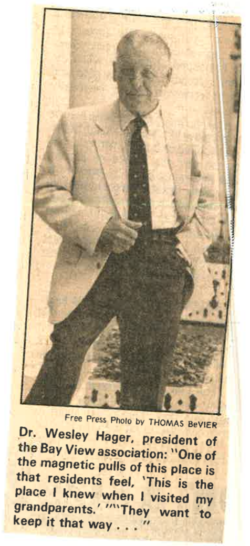 When Wesley eventually retired in 1975, he and Charlotte moved to the Petoskey-Bay View area, and the pair were very involved in their community.
Wesley was honored to serve as president of the Bay View Association in 1975, a historic, summer community founded by members of the Methodist Episcopal Church. According to other members, when Wesley eventually retired from the presidency, it took two people to do his job because he was just that hardworking!
His contributions to the community as trustee, president, pastor, neighbor and friend, are still remembered today. In fact, the idea for a weekly newsletter for the community was founded in 1976 when Wesley Hager suggested that a friend, Rev. Bill Perkins, should dress up and act as a town crier, like from the old English days.
Rev. Bill walked the streets of Bay View (with Wesley chuckling behind him, no doubt!) ringing his bell and calling, "The town crier is here!"
To this day, the newsletter is still called "The Town Crier," and it's just one way that Wesley's bright mind, innovative ideas and thoughtful nature made its mark on those around him.
Bringing Senior Living To Petoskey
Sadly, Charlotte Hager passed away in 1983. Her life and memory (and later Wesley's, too) are honored at The Petoskey Area Garden Club in Memorial Park.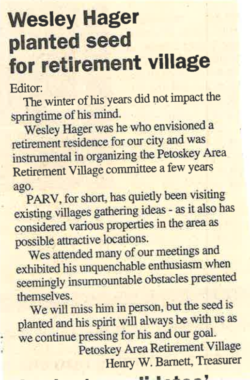 Around the time of her passing, Wesley noticed that many of his friends and parishioners were having to move to Grand Rapids, Saginaw or Bay City to find a senior living community. There just wasn't a community to support them that was closer! His concern for his community drove Wesley to enlist the support of colleagues like Rev. Bob Kyser, Rev. Stan McDougal and more to create Petoskey's own senior living community.
During the 10 years before construction began, the group combed through every detail. They dreamed of unique amenities and features like a library, barbershop and beauty salon, exercise and crafts rooms, religious space and more.
They looked at countless locations and eventually chose the perfect scenic setting with an eastern view of the surrounding countryside and breathtaking Bear River Valley.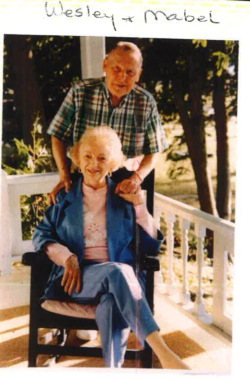 Love found Wesley again, and he married Mabel Hager. Together, they hoped to one day see the senior living community they dreamt of finally completed.
When Patty Patterson, president of the group that worked to build the retirement community, would visit the Hagers, Wesley's face would light up as he eagerly asked about the progress.
"We didn't compromise on what we wanted to build," Patty said.
After more than a decade of studying and planning, construction finally began. Sadly, Wesley did not live to see that dream realized, and he died on October 13, 1994.
Keeping Wesley's Dream Alive
Wesley's wife, Mabel, and the other members of the community refused to let Wesley's death also be the end of his dream. After all, Wesley had spent his life always putting those around him first.
"He was a great man and brought ten years of heaven to me," wrote Mabel Hager.
After his passing, Mabel and her family asked that donations be made to Clinic Foundation in memory of Wesley Hager, earmarked for the construction of his retirement community.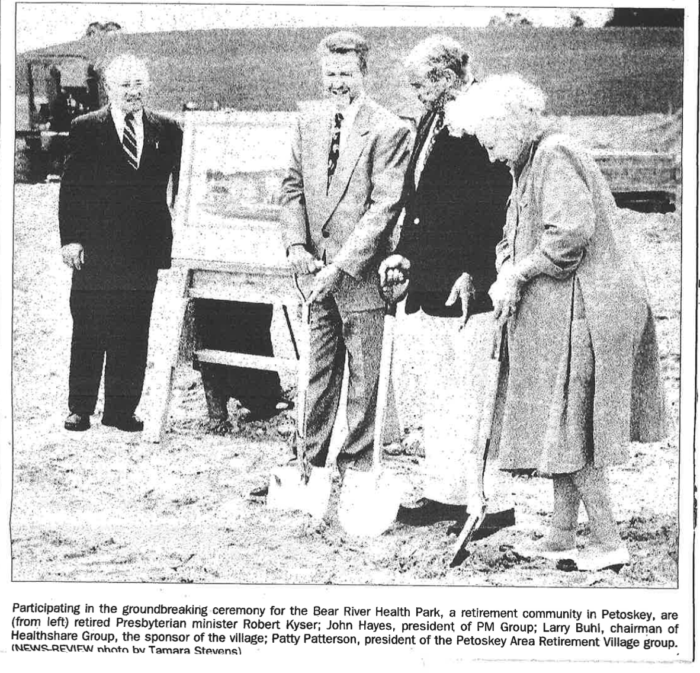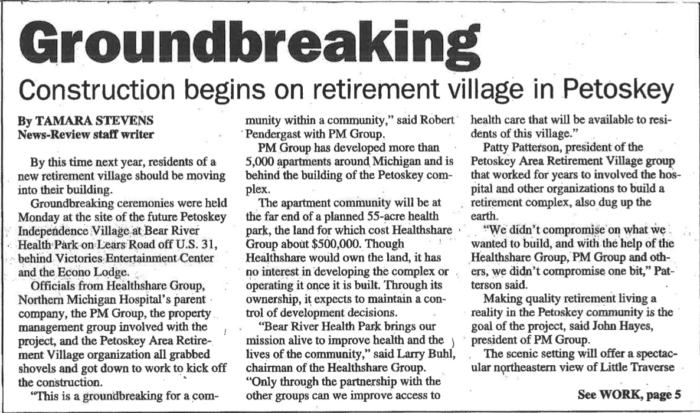 When the community finally was completed, there was one surprise for Mabel. The community, now named Independence Village of Petoskey, had one specific feature that Wesley didn't plan.
What was it?
The road running through the community was named in honor of the idea, the man and the family that started it all: Hager Drive.
Independence Village of Petoskey, Celebrating 25 Years Later
25 years after Wesley Hager's dream was realized, the community at Independence Village of Petoskey looks forward to celebrating their silver anniversary.
Since opening their doors, the community has grown into all that the Hagers hoped for and more. Wesley's contributions to the community are present in every turn, with plaques in his honor, pictures of him on the wall, and love in residents' and employees' hearts.

To learn more about Wesley Hager and what makes life at Independence Village of Petoskey so special, call 231-487-6183 or stop by today to experience the community yourself.