A Daughter's Testimonial:
Julie shares her story about moving Mom to StoryPoint Saline 
Moving my Mom, Vivian, from her town of 51 years, where she and my Dad raised 8 children was not an easy feat. Vivian loved her Independent Living apartment in the community much like StoryPoint, the prettiest in the city and the reputation of the "place to be" if you were fortunate enough to be able to live there. In the last year, it became apparent to her children, that Vivian really needed to live in a city where one of "us" lives for more family time and a better eye on her care, however, there was no sense of urgency. While visiting our Mom prior to a surgery, my sister discovered and the care staff admitted that they were not giving the medication as prescribed by her doctor for close to year. Clearly, we needed to move her from that community post surgery. She also needed to be on board with the move; it's her life. The eight of us began having weekly conference calls and eventually all came to the same conclusion that Vivian should move to Ann Arbor where I, my husband and two daughters live and where we can transfer her care to the various specialists at UM's Turner Geriatric Center.
Short version – Vivian is actually in very good health; she just need a little extra help as short term memory loss and. Before her surgery, she was walking with a cane. Six weeks of very poor post surgery PT/OT/ST rehabilitation on the same campus as the community where she lived was a huge set-back for her physically, to the point of using a wheelchair only. Numerous meeting with the staff, physicians, care givers who said she had "plateaued" and would not improve further, proved to be unproductive and the need for a move more evident.
Now wiser from experience, my siblings and I knew more questions to ask and what we wanted for our Mom in care and community. While she was still rehabilitating, we began researching, visiting places and reaching out to friends, colleagues and anyone who may have worked for or had a family member in one place or another in Ann Arbor. The consistent, crystal clear message was the great need for better care and choices for seniors everywhere, even in Ann Arbor where we think we have it all.
I learned about StoryPoint from a woman named Sandy, who had cared for her parents for 12 years in various places in Ann Arbor. She and a few others were incredibly knowledgeable about so many different places and I learned a lot. Sandy didn't' have the opportunity to move her parents to SP before they passed away, but she had been working with a couple of social workers at UM TGC, who told her about the place when it was under construction. She said they told her that the owners approached the social workers to ask for their input on the future needs for seniors so they could implement them into the design of their building and care programs.
l looked through the StoryPoint website, reached out to Beth Conway, met with her, took a tour and reported back to my sibs. There was a short list of places, but only StoryPoint really had the perfect amount of care for our Mom, with the "Enhanced" Independent Living. This was a great option, but we still had to figure out the finances, have a few more siblings visit, meet with Jennifer Finley, review the details and most importantly, Mom needed to say, "yes".
Mom visited StoryPoint, twice before we moved her there. She really wanted no part of moving anywhere. She really liked her apartment, many of the care givers, her friends, her church, her community…this was not going to be easy. After several discussions, she relented and we planned her move within two weeks of her being released from rehab back to her apartment. The most difficult part in all of this is the short term memory loss that Mom suffers from. My siblings and I would have the discussion about the move over and over and Mom wouldn't remember having the discussion at all.
We had the answers from Beth Conway, Jennifer Finley and Marc Schwerin that we needed, but would my Mom's move and care at StoryPoint really pan out or was this just sales? We weren't going to really know, until Vivian moved in, but we knew what to watch out for now.
As a full-time Realtor of nearly 25 years in Ann Arbor, the logistics were the simplest part of entire move. In my humble opinion, Jeff Thomas and the teams from Frisbie Moving & Storage is the absolute best moving company on the planet. Jeff met my Mom at her old place and sat down with her and promised to wrap every item with complete care and they did. They packed her on Thursday, moved her in on Friday.  We had her entire apartment, garage and storage lockers completely cleaned out in one day. Because Mom also needs to be in charge of the decision making of whereabouts of her own things, we couldn't sort out everything to keep/give/trash/donate before we needed to move her. So we we rented a storage unit at Devon Storage on State Street and moved everything to Ann Arbor/Saline all at once.
Fast forward…
Vivian moved into StoryPoint on April 15th, one day after the Grand Opening and a week exactly before her 86th Birthday. This picture was taken on the day after my Mom moved to to SP in her new apartment. My Mom likes dogs, so we gave her a dog themed BD party in the multi purpose room. The stuffed dog's name is "Bert" — she named him after her Father, Albert Milley.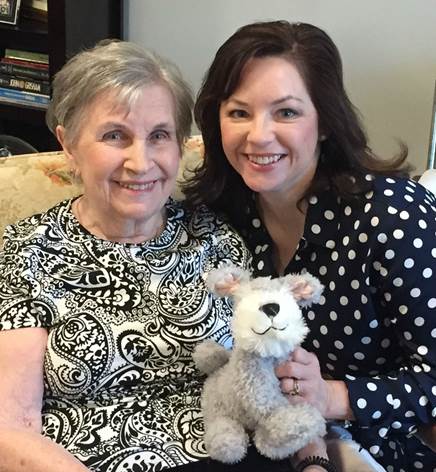 So far, this is what we've learned from this move to StoryPoint:
Every StoryPoint (SP) staff member my Mom comes in contact with first addresses her with a smile and respectfully by her name.
The director remembers not only my Mom's name, but my name, too.
Marc made a connection St. Andrews Catholic Church to bring Communion weekly to SP which was one of my Mom's biggest concerns about moving from her old place. The activities that he plans are thoughtful of each Resident, a good variety, engaging and fun.
Beth Conway, still connects with anyone who needs her to connect with — she isn't just a sales person.
The Resident Assistant's in the Enhanced Independent Living area are all here because they want to be here — it's not just a job. Each one of them are in some type of nursing program and/or toward advanced degrees in the field. They are well trained and truly try to do the right things for my Mom. I see them working with all of the Residents in the same way – saying the simplest things that makes someone laugh or smile in times when words may be hard to come by for the Resident trying to remember something.
All of the Residents are new to StoryPoint – everyone is welcoming, supportive and friendly. They have watched my Mom go from a wheelchair to a walker and cheer her on, reminding her to move her left foot with a bigger step.
Jennifer Finley, so far, has been incredibly helpful:

She coordinated PT/OT/ST with my Mom's primary care doctor and the in-house company, Genesis Rehab Services and my Mom is now walking with a walker, better than she was walking with a cane prior to surgery — better every week!
She answers all of my e-mails and messages in timely and thoughtful manner
She listens intently to any issues that I/we have had and addressed them
Jennifer connected us with Dave from "Hear Clear" for hearing aids which my Mom had always refused to consider. All the testing was right in her apartment, he was so easy to work with, reasonable on pricing and not pushy. My Mom now participates fully in conversations and the quality of her everyday life is better
Jennifer has had great suggestions for simple ways to deal with everyday life for Vivian and so far has been approachable, smart, funny and kind and my Mom really likes her.

We love all of the light and windows
We love the music on at all times in the building
The hydration stations are fabulous
The Cafe, Bistro with pub are great — offers choices
The once a month brunch is outstanding  — comparable to the Gandy Dancer
The air inside is FRESH and not stale or smelling like a steam table … or worse
And so much more!
Memory loss is really hard to get familiar with and some days are tough. As we are on to this new adventure with our Mom, we are looking for a little guidance in an unfamiliar, sometimes uncomfortable area. So far, everyone here seems so approachable and genuinely interested in making my Mom at home, in a new community. I would absolutely recommend StoryPoint to anyone looking for care for their loved one. As a matter of fact, I already have on several occasions – twice without realizing there is a referral program here that earned my $1,000 per referral off of my Mom's monthly rent – $2,000!
A fair amount of family coordination and cooperation was needed and I hope my Mom is proud of her 8 kids that all worked well together and always with her best interest in mind.
— Julie S.
---
Thank you for your story Julie — we appreciate your compassion, knowledge and feedback to our team and the many other daughters and sons who are reading this.
–  The StoryPoint Team