As you plan for the future with your aging loved one, you may be surprised — there are a wide variety of senior living options to choose from! 
A nursing home offers residential care for elderly or disabled people. And, while you may think of nursing homes as the first option for their aging parents, there are great alternatives to nursing homes you should consider. 
Choose the perfect senior living option for your loved one by weighing the pros and cons of the following nursing home alternatives. See all the ways senior living solutions can improve your loved one's quality of life and help them thrive.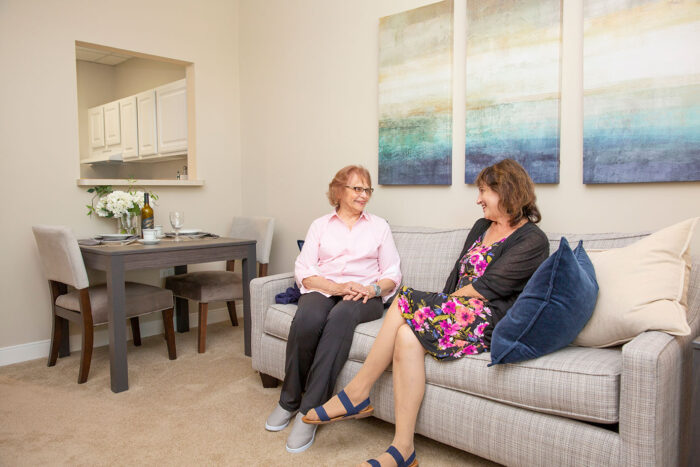 In-Home Care
In-home care is an option for seniors who are still independent but could benefit from extra assistance. Home health professionals are available to go to a senior's home to provide support with the activities of daily living (ADLs) like medication assistance, bathing, meals and light household chores including vacuuming or doing laundry.
Pros
Age in place.

In-home care allows seniors to age in place and live independently in the familiarity of home while still getting the assistance and care they need. 

Family caregiver support.

If you live a distance away from your loved one and have to travel long distances to reach your loved one's home, in-home health care can give you peace of mind that your loved one is being cared for when you're not there.
Cons
Limited providers.

In-home health care options tend to be limited. Insurance agencies often only have one, or at most a few, providers for care. For example, most managed health care plans that offer in-home health care are contracted through a specific provider, meaning you would have to work with them for insurance to cover the costs. 

No round-the-clock care.

While the idea of in-home care may be desirable, this also means caregivers won't always be readily available. In-home caregivers can have multiple visits a day at different locations, meaning your caregiver isn't always around the corner. 



In-home care isn't all-inclusive.

Not all in-home care providers include meal preparation or running errands to retrieve food, so you may need to find additional assistance such as a grocery delivery service.
Who Is This Living Option Right For?
This is a great option for those who feel most comfortable in their home and wish to stay there, as it creates options for flexibility based on a person's individual needs. 
Something to consider when choosing in-home care is opportunities for social interaction — some individuals benefit from the social settings of senior communities or options other than in-home care. If your loved one chooses to stay in place, plan for family visits and social outings on a regular basis. 
Related: Senior Living Communities Vs. In-Home Care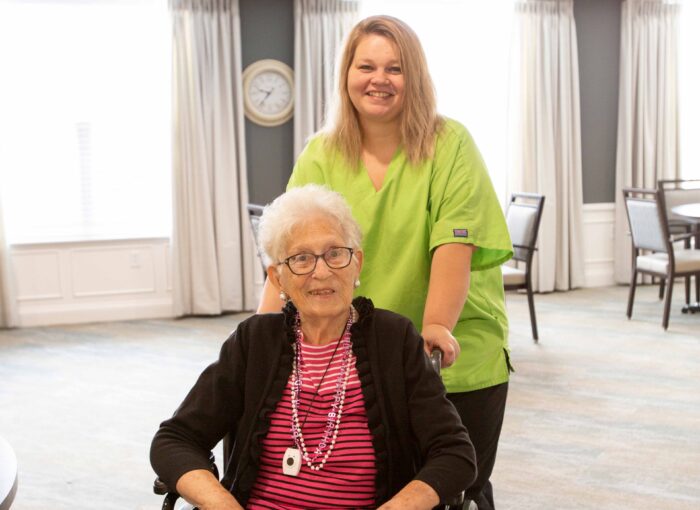 Continuing Care Retirement Communities (CCRCs)
A Continuing Care Retirement Community (CCRC) is a long-term care option that offers a full continuum of care under one roof. This living option offers multiple levels of care as a senior's care needs progress — from independent living, to assisted living, to memory care — ensuring your loved one will always have access to quality care.
Pros
No need to move.

The full continuum of long-term care offered at CCRCs provides seniors with a stable home for the future. As care needs change, you and your loved one don't have to worry about moving just because more assistance is needed.

On-site advanced senior care.

The biggest benefit in a CCRC is the access to on-site advanced health care support, such as assisted living and memory care.

An all-inclusive lifestyle.

An extra perk of living in a CCRC is that cooking, cleaning, house, and yard work are provided. CCRCs offer robust amenities like meals, social activities and more.
Cons
A large contractual up-front cost.

A CCRC has a large entry fee (like a down payment on a home) because it contractually guarantees housing and medical services for your lifetime. So, by paying the large initial fee, you are paying up front for care for life.
Who Is This Living Option Right For?
Recommending help is never an easy task, but if your loved one requires assistance with housekeeping, cooking and other household chores, they may benefit from added assistance. Here's our breakdown on the signs your loved would benefit from continuing care.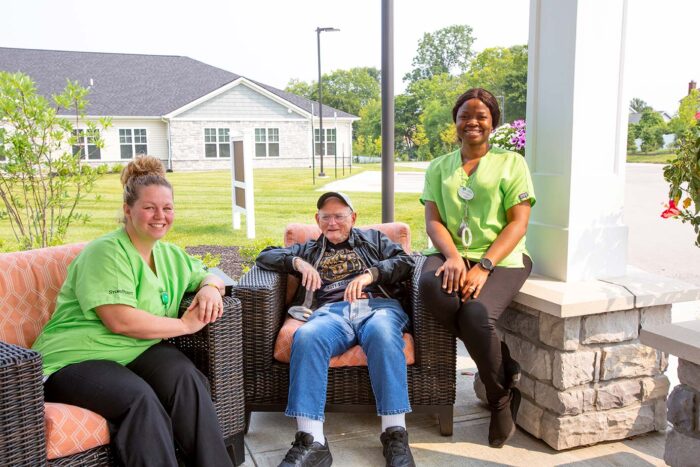 A Continuum Of Care In Senior Living Communities
Before considering continuing care communities, it's essential to be prepared for the financial requirements. The payment options can vary and have wide ranges, but the average initial payment is about $402,000 — that's a big price tag.
Most people don't know that, like a CCRC, some senior living communities offer a continuum of care without the huge initial fee!
Many of our StoryPoint Group communities offer a full continuum of care, allowing our residents to live with all of the perks of a CCRC — a maintenance-free lifestyle, access to community social events, on-site amenities and more — with the peace of mind knowing that your loved one won't have to move as their needs change. 
Senior Living Communities
Senior living communities offer an array of support services based on your loved ones needs with special perks of community living.
Life in a senior living community includes a cozy residence (an apartment, condo or townhouse) woven into the fabric of a central senior community. Residents live in a family-like neighborhood that offers the best care available for senior residents.
Why Residents And Their Families Love Senior Living Communities
24/7 specialized care.

Communities that offer care services, like assisted living or memory care, include round-the-clock support and assistance with activities of daily living (ADLs), medication reminders, mobility support and more. 

A maintenance-free lifestyle.

A major advantage of senior living communities is the freedom from home maintenance and chores, giving residents time to explore new passions and live life as they want.

Chef-prepared meals.

At StoryPoint Group communities, our residents enjoy home-cooked dishes made with fresh, local ingredients. Our culinary staff crafts menus based on our residents preferences and unique tastes. The result is a gourmet dining experience with meals made with care.
Use The StoryPoint Group Cost Calculator
Our cost calculator is here to help you get an estimate of the cost of senior living where you live: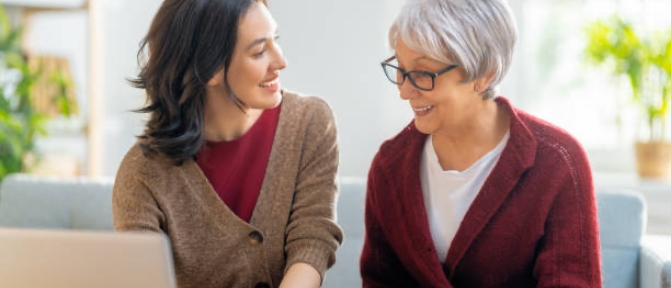 See The Costs Of
Senior Living Compared To Staying In Place
We created this senior living calculator to help you determine the costs of senior living compared to remaining in place.
Get Started
Compare The Costs Of Senior Living
To accurately estimate the cost of senior living, simply enter your monthly expenses in the field below.
To see an estimate of the cost of senior living, simply select the state and level of care you think is right for you or your loved one.
---
*This information is intended to aid in the evaluation and the decision-making process related to senior living alternatives. It is based on information and assumptions provided by you and information compiled from multiple accredited sources for comparison purposes. The calculations and comparisons provided should not be construed as financial, legal or tax advice. In addition, such information should not be relied upon as the only source of information.
Find The Right Living Option At StoryPoint Group Communities
Our StoryPoint Group senior living communities are staffed with experts ready to answer your questions about the best living option for your loved one, care services and more. Let us help guide you on your journey to find the right living option for your loved one.
Schedule a tour of your local StoryPoint Group community or call us at 1-844-275-9990. We can't wait to get to know you!