Curating delicious menus, sharing his culinary expertise, connecting with residents — that's all a part of Chef Brian's job description.
But what makes this Oxford senior living Executive Chef truly exceptional is all the ways he goes above and beyond to serve his community.
Whether that's by creating delicious dining experiences for Oxford seniors, inspiring young chefs in his kitchen or giving back to the greater Oxford community, Chef Brian does all this and more.
So, how did a picky eater go on to become an Executive Chef? How did speaking with residents grow from a fear to a favorite part of his job? How did Independence Village of Oxford score such an outstanding chef?
Keep reading and you'll find out.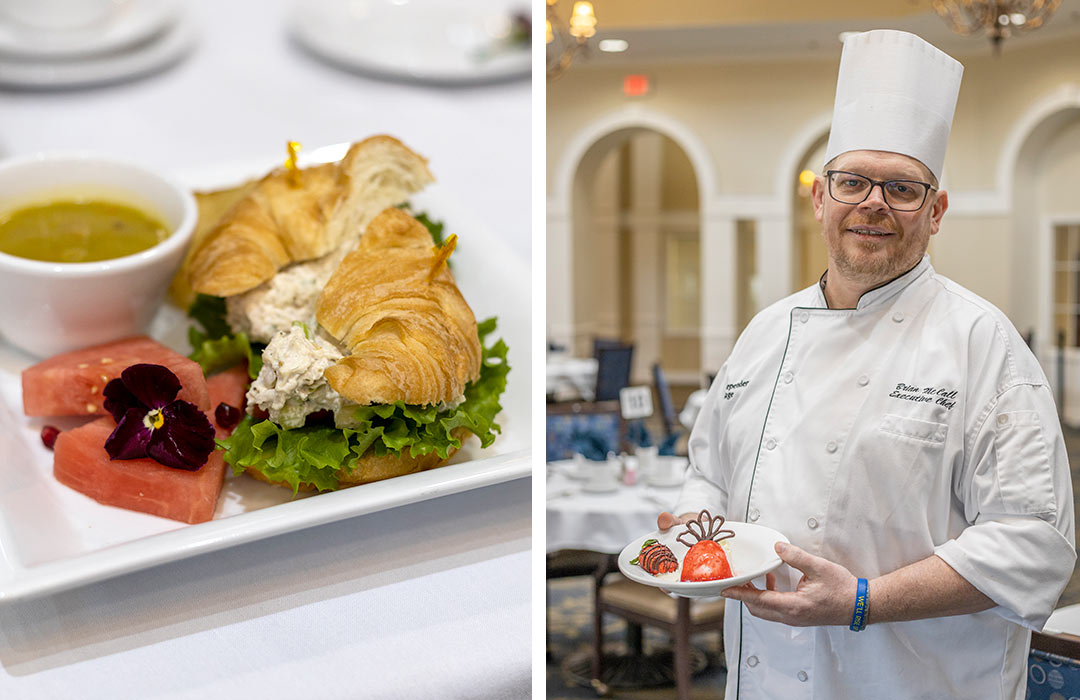 The Road To Becoming A Chef
When Chef Brian began his culinary career, it was mostly by accident.
He started washing dishes at 15. At 17, a friend from work suggested they go to culinary school together. So, he decided to give it a try.
His family, on the other hand, thought he was pretty much nuts. How could someone who barely ate pasta, hated fish and had a whole list of other foods he wouldn't eat, become a chef?
Still, Chef Brian was determined. When tuition was due for his first semester, he had to run out to his car and grab the spare change from his ash tray to foot the bill. But he wasn't going to give up.
When he graduated culinary school years later, Chef Brian found his way to Addison Oaks, a wedding and banquet venue for events hosting 2,000 to 5,000 people. It was here that Chef Brian discovered how much he enjoyed garnishing, elaborate food carvings and buffets.
After years serving the masses at elaborate events, Chef Brian moved on to pursue new opportunities. For the first time since he was 15, he was without a job and asking himself what was next. Maybe he'd move to Colorado with an old roommate. Maybe he'd work for a brick manufacturer.
That's when Independence Village called.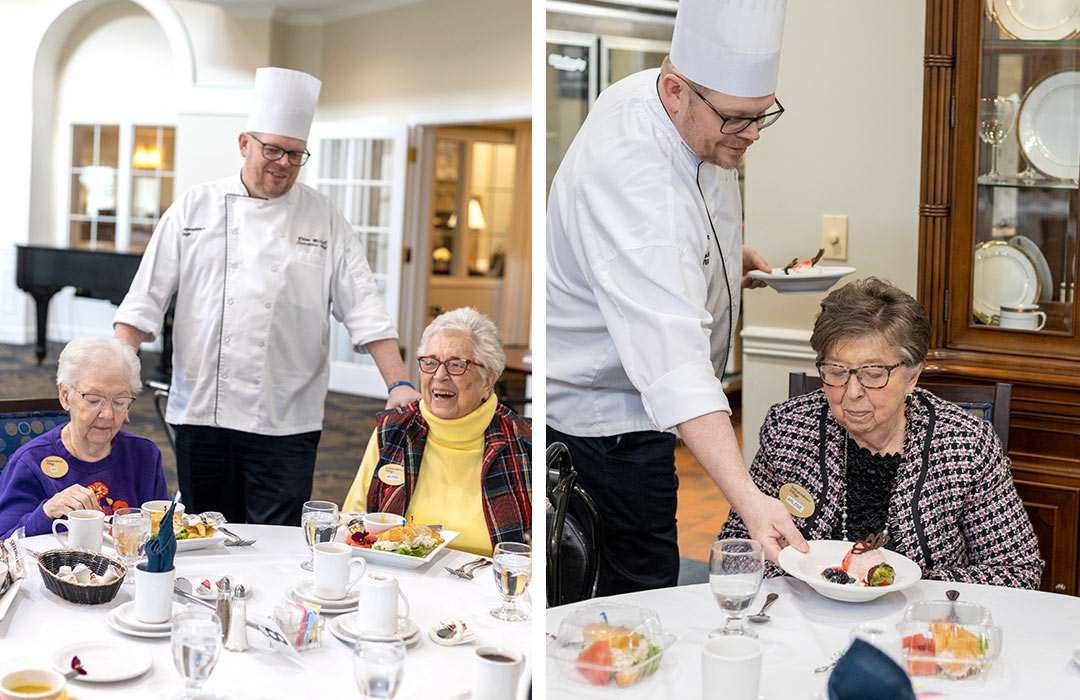 Finding His Calling In Oxford Senior Living
At first, Chef Brian was apprehensive about taking the position at our community. Talking to residents and meeting their high standards? Intimidating!
It wasn't long though before Chef Brian realized he wasn't just good at his new job — it was his calling. He found he enjoyed chatting with residents in the dining room, getting to know them and making them smile with his cooking.
Not only that, but he was blown away by the high standards of the culinary program.
"Everything is cooked from scratch here," Chef Brian said. "And it's a different soup, appetizer, entrée and dessert every night. You can learn so much."
Independence Village of Oxford residents appreciate those high standards, too. They look forward to Chef Brian's elaborate fruit carvings, holiday brunches, and even his dance moves!
We sat down for lunch with a few residents to learn more about Chef Brian and how he's impacted their lives.
"He listens. He takes suggestions. He's so approachable," one resident, Pat, shared. "We're laughing our sides off every time we talk with him!"
Another resident said, "Chef Brian told me he doesn't have any grandparents left. I told him, 'You do now!' and now he calls me grandma!"
It's clear to these residents how much Chef Brian cares for them, and it warms their hearts to see how much he cares for the community, too.
Oxford Strong
Many know Chef Brian as a staple of the Oxford community. Not only did he grow up in Lake Orion and attend Oxford High School, but he still lives just four minutes down the road from Independence Village of Oxford.
He volunteers in the community, and he coaches his son's basketball team (a son who, by the way, is one of the residents' favorite servers in the Independence Village dining room!)
Through and through, Chef Brian is Oxford Strong.
That could be one of the reasons that giving back to the community is so important to Chef Brian and the Independence Village of Oxford community.
Here are just a few of the ways the culinary team at Independence Village of Oxford supports their community:
Partnering With The Oxford Senior Center
Independence Village of Oxford and the Oxford Senior Center have always had a happy partnership. And there's nothing like sharing a delicious meal to bring people together. From delicious baked potato bars to Cinco de Mayo fiesta feasts, the Independence Village of Oxford culinary team has catered many events at the senior center. Chef Brian even prepared boxed lunches for the seniors' recent trip to Mackinaw.
Giving Back To The Community
Giving back to the greater community is important to everyone at Independence Village of Oxford, Chef Brian included. The culinary team is often donating to Meals on Wheels. And during the holidays, they send leftovers from their meals to a local church in Oxford.
Chef Brian and the Independence Village of Oxford residents know that supporting the community, helping to make Oxford a better place — that's what it's all about.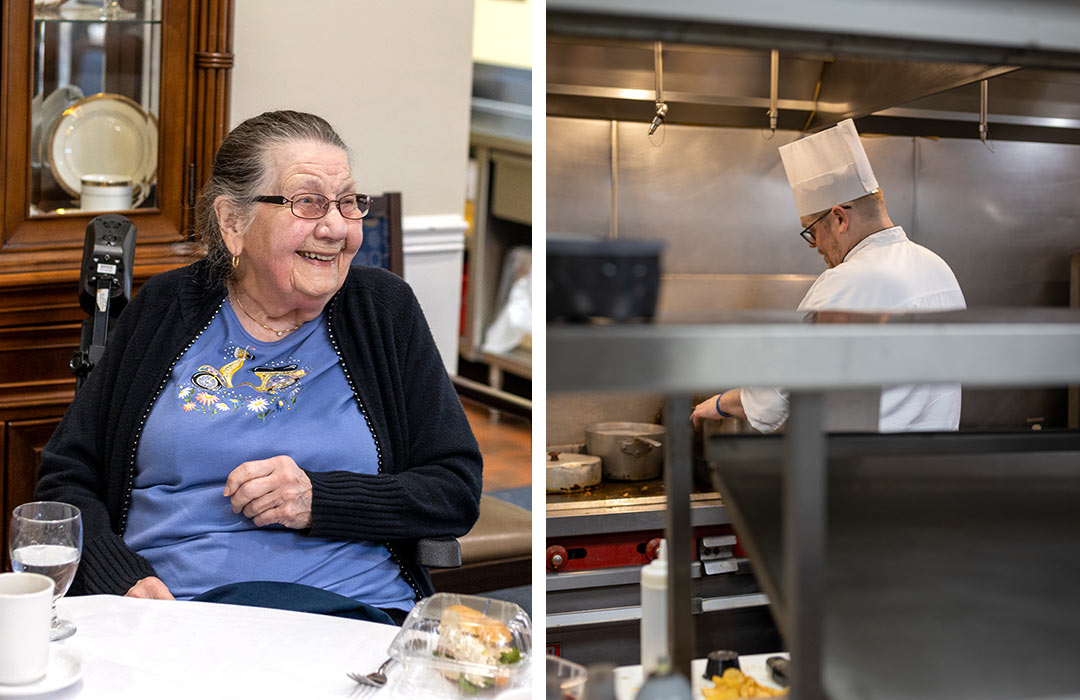 Grab A Meal With StoryPoint Group
Like Chef Brian, StoryPoint Group community chefs show up every day to provide an outstanding culinary experience for residents across the nation.
Whether that means spending a little extra time to prepare something off the menu, chatting with residents in the dining room or stopping in the hallway to say hi, these people make StoryPoint Group who we are today.
To learn more about our culinary program or the StoryPoint Group community nearest you, call today.