With a number of features to improve the lives of seniors, assisted living embraces the needs of older adults. 
Between a variety of onsite amenities, dining options, floor plans and more, there's plenty to evaluate when researching different assisted living communities for a loved one. It's important to schedule tours and go prepared with questions. 
Having the right questions to ask assisted living staff can help you compare important details and find the community that best suits your loved one's needs. 
We've categorized the crucial assisted living questions to ask during your next tour. Use them to ensure you pick the right community for your loved one.
What Is Assisted Living?
An assisted living community is residential housing (an apartment, condo, townhouse or other accommodation) that combines a cozy residence with personalized 24/7 senior care. Common care services available in assisted living involve support with the activities of daily living (ADLs) including medication management, support with bathing and dressing, mobility assistance and more.  
Assisted living provides community-based housing in tight knit neighborhoods with valuable services including nutrition planning, a wide range of social activities and health care. 
It's a great fit for seniors who would benefit from a maintenance-free lifestyle, added assistance with their personal care and access to amenities focused on senior wellness. 
Related link: What To Look For In Assisted Living And Memory Care Communities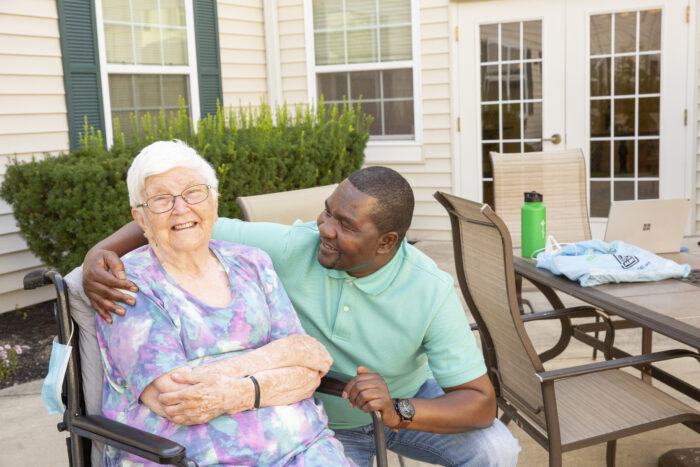 Crucial
Questions To Ask Assisted Living
Communities
We've broken down the most important assisted living questions into categories to help you get the information you need. Your questions during a tour should cover the following topics:
Lifestyle
1. How does the community encourage residents to live an active lifestyle?
Many assisted living communities offer clubs, monthly activities and other engagements to promote a social lifestyle for their residents. These activities support residents' well-being by encouraging them to stay physically, mentally and socially active. 
You'll want to ask about what clubs, outings and events are available for your loved one. This is a great question because it opens up the dialogue for you to ask more specific questions. For instance, if your mom practices yoga, you'll want to ask if that's available. 
2. What amenities are offered onsite? Examples include walking paths, beauty salons, fitness centers or spas.
Socializing is important to your loved one's happiness and quality of life, so knowing what types of social outings and amenities the community offers is a great starting point to find their best fit. Are there any must-haves your parents need? Depending on the community, amenities can include:
Movie theater

Beauty salon or barbershop

Game room

Library 

Fitness center

Communal garden

Billiard room

And more
Dining
3. What type of dining services do you offer?
Assisted living communities generally have a variety of dining options, so it's important to ask about this important topic. Whether it's meals delivered to their room, buffet style or restaurant style dining in a dining hall, there can be plenty of variation in meal services between communities. 
4. How many meals are provided per day?
Confirm how many meals are provided and see if there are set mealtimes. You'll also want to check if there's a cafe with healthy options or if the community provides snacks throughout the day. Getting the details on meal services will ensure your loved one has proper access to delicious, nutrient-packed dishes.
5. How often does the menu change?
Many communities, like our StoryPoint Group communities, have culinary experts that ensure the food is prepared fresh daily. It's best to ask in advance how the food is prepared and how often the menu changes. To really get a taste for what life would be like in the community, sample a meal during a tour. 
Care Services
6. Do you have licensed care staff available onsite 24/7?
If your loved one has a health condition or specific needs, it's crucial to ask detailed questions about how team members will care for your aging parent. Clarify whether the community has a registered nurse or other caregivers on staff that are available 24/7 and their procedure for a medical emergency. 
7. How does your staff go the extra mile to care for residents? 
While it's critical to ask about the qualifications of the staff, it's equally important to get insight into how the staff personally, compassionately cares about the seniors they serve. 
Asking about the community's care philosophy, the staff to resident ratio and whether the same caregiver will be consistently assigned will give insight into how the community builds personal connections with their residents.
Care isn't just about how the staff empowers their residents to be as independent as possible, but how deeply they cherish their residents and empower them to live their best life.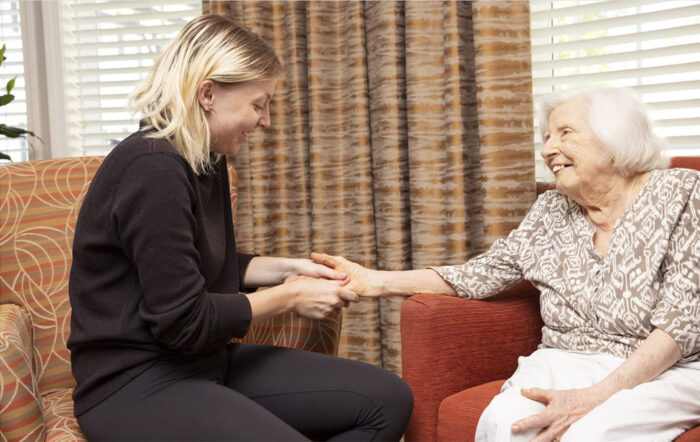 We'd Love To Answer Your
Assisted Living Questions
Our StoryPoint Group senior living communities are staffed with experts who can answer your questions about assisted living, community amenities, care services and more. Let us help guide you on your journey to find the right assisted living option for your loved one. Schedule a tour of your local StoryPoint Group community or call us at 1-844-275-9990. We can't wait to get to know you!