It's been one year since StoryPoint Medina senior living opened their doors, as Carol Clary stands to address her fellow residents and leaders of the community.
With a microphone and notes for her speech in hand, Carol looks out to the crowd of people she didn't even know a year ago, who have since had an impact on her life in a way she'd never imagined.
Carol and her husband, Norman, were the first residents to move into StoryPoint Medina and are Founders of the community. They've been here since day one. In that time, they've made new friends, shared more than a few laughs, and they've found a home within this community offering senior living in Medina, Ohio.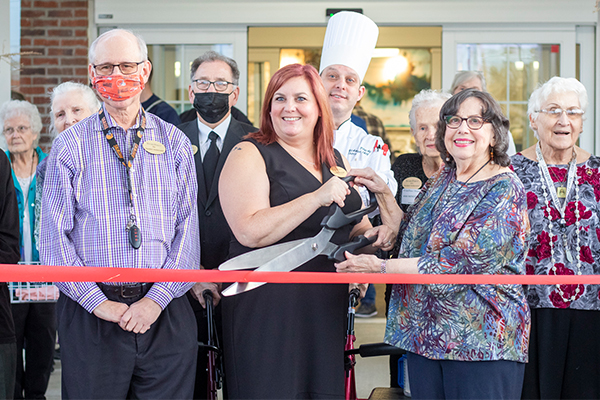 For Carol and Norman, StoryPoint is a treasured piece of their story. But it's just that: a piece. Keep reading for a closer look at the life Carol and Norman have shared and their experiences at StoryPoint Medina.
Building A Life Together
Carol and Norman first met at a party when they were both attending Ohio State University.
"He was standing there, and the French call it a 'le coup de foudre,' or a 'thunder strike.'" Carol said.
"We hit it off immediately, that very evening," Norman explained. "I walked her back to where she lived at her sorority house, and I think we felt a closeness right then and there."
After they finished their studies, both Carol and Norman went on to teach. Carol taught English at their alma mater and was later a librarian, and Norman was a professor of several historical subjects.
Carol and Norman bonded over their love of poetry and passion for activism. They spent much of their lives fighting for civil rights and were members of a group called C.O.R.E. (Congress of Racial Equality). Carol and Norman were even there for Martin Luther King Jr.'s historic "I Have a Dream" speech at the March on Washington.
Together, they have two children, Alison and Braden. At one point in their lives, the family even spent time living and adventuring in France while Norman conducted research at the French national library, or the Bibliothèque nationale de France.
Their daughter Alison earned her degrees from the University of Michigan, and she is a museum designer and environment activist (check out Alison's recent blog covering plastics found in tea bags!). Their son Braden is a graphic artist and has worked on several notable cartoon series.
Their brilliant family grew and now includes two sons-in-law and three grandchildren, Mallory, Jocelyn and Camden.
Making The Move
It was their children who suggested it may be time to consider downsizing to a senior living community in Medina, Ohio. At the start of the pandemic, Carol and Norman began their search for the community that felt right to them.
StoryPoint Medina stood out and made them truly consider leaving the home they'd known for decades. There was only one problem: What would they do with their stuff?
"StoryPoint gave us several recommendations, one for an agent who turned out to be excellent, and also the name of a company that handles moves from start to finish," Carol said.
Even the moving company was surprised to see Norman's impressive collection of books — about 5,000 volumes!
"Well, I couldn't bring all of them!" Norman shared. "We did buy some moveable shelving, and Erik, the Maintenance Lead at StoryPoint Medina, helped fashion it to the wall because we do still have a lot of books in there."
With the help of everyone at StoryPoint Medina, Carol and Norman (and their cat, Jenny!) settled in as the first residents at the community. They unpacked their belongings and began to feel right at home.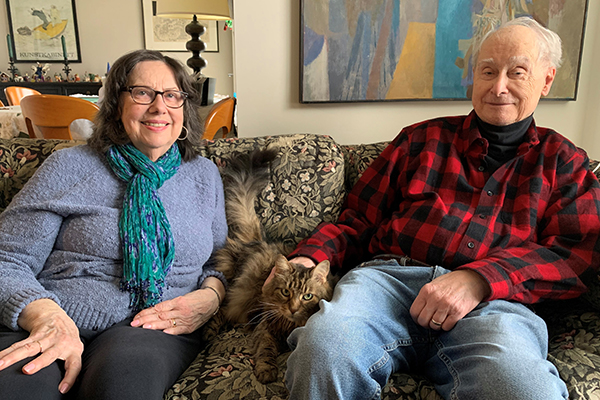 Life At StoryPoint
As the community continued to grow, Carol volunteered to meet with newer residents who — like she and Norman were — may have been apprehensive about the transition to the Medina senior living community. They got to know their fellow residents, and Carol and Norman were both surprised by the deep connections they found.
"I frankly didn't expect to make substantial friendships at my age," Carol said. "But I was wrong! I have. The dining room can be a riotous, boisterous place. Sometimes we don't mind making fools of ourselves in the interest of having fun."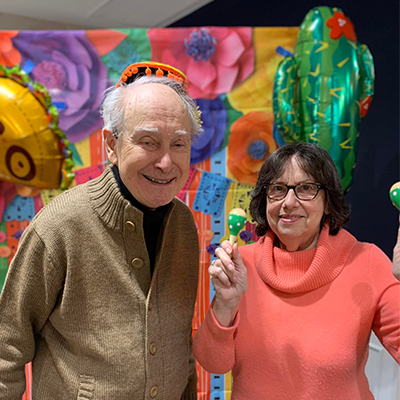 They've traded well-earned wisdom over meals in the dining room, confided in shared vulnerabilities, and of course, reminisced on stories of their lives. Carol and Norman found friends and a community that feels more like a family.
"We're very lucky to have these people," Norman said when asked about the residents and employees at StoryPoint.
At the StoryPoint Medina one-year celebration, Carol's speech shared the same sentiment and much of their story. In her final remarks, she said: "StoryPoint seems like a pretty good place to get on with the business of aging. It's not a dead end. Rather it's a new beginning, full of new experiences and the pleasure taken in new friendships. As we now enter StoryPoint's second year, we have lots to look forward to and plenty of help to live a full life, relieved of some of the burdens of our earlier lives. And we can continue to share the many commonalities we have and continue to discover together."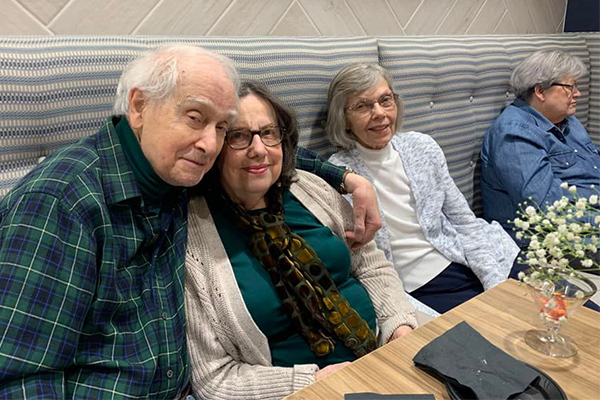 Our StoryPoint Residents
At StoryPoint, residents like Carol and Norman are what make our community so special. Their lives, their perspectives and their unique experiences make our community more than just a place to live — they make us a family.
It's our honor to serve residents like Carol and Norman and become a part of their life's journey. To learn more about how StoryPoint can be a part of your story, too, call 1-855-407-8679 to learn more and schedule a tour.