Residents from Independence Village of Zionsville East worked together to ensure that their community's biggest racing fans were chosen for the ultimate day at the track.
Keep reading to learn more about their once-in-a-lifetime experience and how residents made it happen.
Making Dreams Come True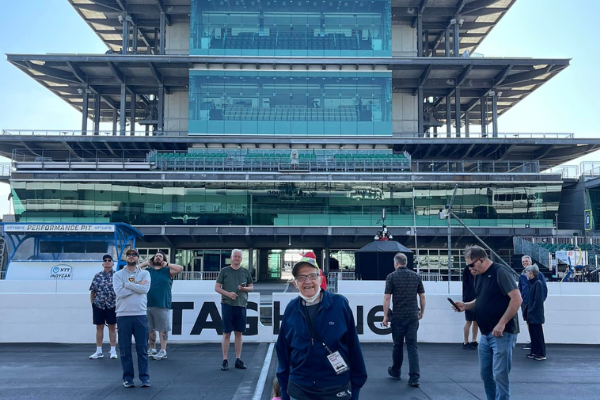 Life Enrichment Director, Ashley Duncan, is always coming up with fun experiences for Independence Village of Zionsville East residents to enjoy.
Sometimes that includes bringing the fun of a carnival right to the community, while other times it's visiting local stables that provide therapeutic horseback riding.
When Ashley discovered that, only 15 minutes down the road, the Indianapolis Motor Speedway offered private golf cart tours of the racetrack and grounds, she knew residents would go crazy for the opportunity to see it up close.
So, here was the plan:
Ashley made a big announcement that every time residents attended an activity, they would receive a ticket to go into the drawing for a private tour of the track.
As expected, residents were thrilled, and there were so many who wanted their shot at this incredible opportunity. That was until Ashley noticed participation in the raffle started to dwindle.
"I couldn't figure out what happened, but during our activities chat meeting, I discovered that a lot of the residents had got together and talked," Ashley said. "They wanted to make sure that fellow residents Jim and Joe were the two who were able to go on this special outing."
Their selfless, thoughtful act inspired leaders and the community. As a result of them rigging the contest, Jim and Joe were chosen.
Meet The Lucky Winners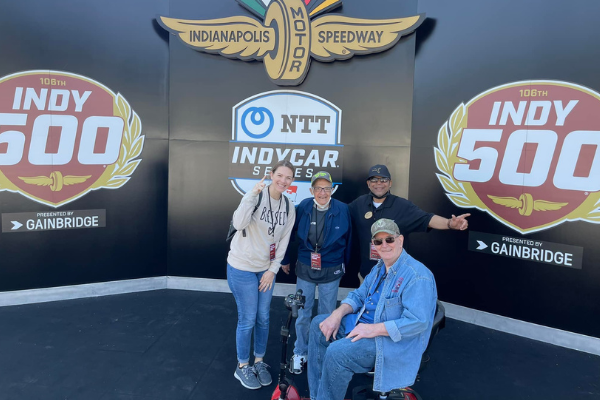 Residents were right — there were no two people more deserving of the chance to visit the speedway.
Jim has long been known as the biggest car fan at Independence Village of Zionsville East. In fact, he and his family have been huge car fans for many years. Jim and his son work on cars together, and his grandson is a certified mechanic. Jim even has a 1957 Chevrolet that he has brought to show off to our residents. 
Joe has been a ticket holder at the Indianapolis Motor Speedway for more than 40 years. He told us a story about how he could remember when the racetrack first opened. To this day. Joe purchases tickets and shares them with his kids and grandkids. It has become a family tradition!
When we asked Joe to describe how he felt about what residents had done to ensure he was chosen, he said, "I was over the moon!"
Heading To The Racetrack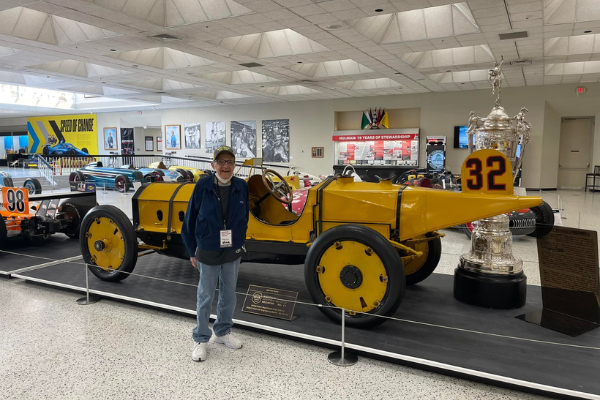 When Tuesday, May 24, finally came, Jim and Joe were so excited for their private tour at the track.
From driving one complete lap on the track, to seeing the pergola, suites, pit area, gasoline alley, and where the driver stay throughout the weekend; it all was incredible.
When we asked both residents what their favorite part of the day was, this is what they had to say:
"Being on the track in the golf cart and seeing it up close was really fascinating," Jim shared.
"Getting out to kiss the bricks is the absolute highlight," Joe said. "There's been an awful lot of famous race drivers that have done that and to think that I was doing something very important people have participated in was the highlight! But the whole trip was great!"
When the day was over, the gang headed home to Independence Village of Zionsville East. And they were met with an eager crowd!
"Joe and Jim answered so many questions from other residents when they got back, you would have thought they were celebrities," Ashley said. Jim and Joe answered every question enthusiastically and shared every detail of their day with the thoughtful residents who made their experience possible.
Making The Most Of Everyday
Independence Village of Zionsville East is not just a senior living community.

It's a place where residents and employees take the time to get to know each other. We share our days, our passions, our highs and lows together, and we care about making the people around us smile. We're a family!
Want to be a part of incredible experiences like this one? Call Independence Village of Zionsville East and schedule a tour today.
We'd love to show you around and share with you more about what makes our community so special.