Choosing a senior living community for you or a loved one is an important decision. When deciding between which community is the best fit, it's crucial to consider the staff that assists residents each day.
Employees play a major role in creating a safe atmosphere, providing seniors with connections and friendships, and helping residents maintain a positive mindset. Here's why the staff is an important component when choosing the right senior living community.
Employees Help Create A Safe Environment
When beginning to search for a senior living community, many are nervous about leaving the comfort of their own homes. They have to adjust to a new way of life and often worry about finding a place where they feel safe and comfortable.
Aside from helping residents feel content, senior living employees also promote safety. They help seniors avoid injuries, ensure they're getting the proper nutrition and more.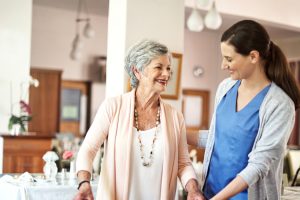 Employees Become A Lasting Companion
At any age, life changes can be intimidating. When someone moves to a new city, changes schools, or starts working at a new job, it can be stressful to find people to connect with.
One of the biggest perks of senior living staff for residents? Automatic friendships.
Employees are with residents on a daily basis and form meaningful relationships quickly. They're also familiar with the community dynamic and can help seniors who are new to the community acclimate to their new home.
Employees Instill Positive Mindsets
Moving is tough. And for some seniors, this process can trigger negative emotions.
The benefit of high-quality senior living employees is that their ultimate goal is the safety, comfort and happiness of their residents. They have the ability to change the way seniors think about certain instances and support them through difficult times. Because employees and residents spend so much time together, they often form strong bonds that help seniors feel connected and cared for.
Interested in Senior Living?
As you embark on your journey to find the right senior living community for you or a loved one, determining which type of community is the best fit is a great place to start. Take our survey here to find out.