At Independence Village, it is our honor to serve the senior veterans in our communities. For 40 years, we've helped residents navigate the process of qualifying for and receiving VA benefits for assisted living and veterans benefits for spouses.
We also work hard to ensure that the veterans in our communities feel recognized and thanked for their service. From planning community programs to organizing special outings and recognitions, our team is always looking for ways to give back to those who bravely served our country.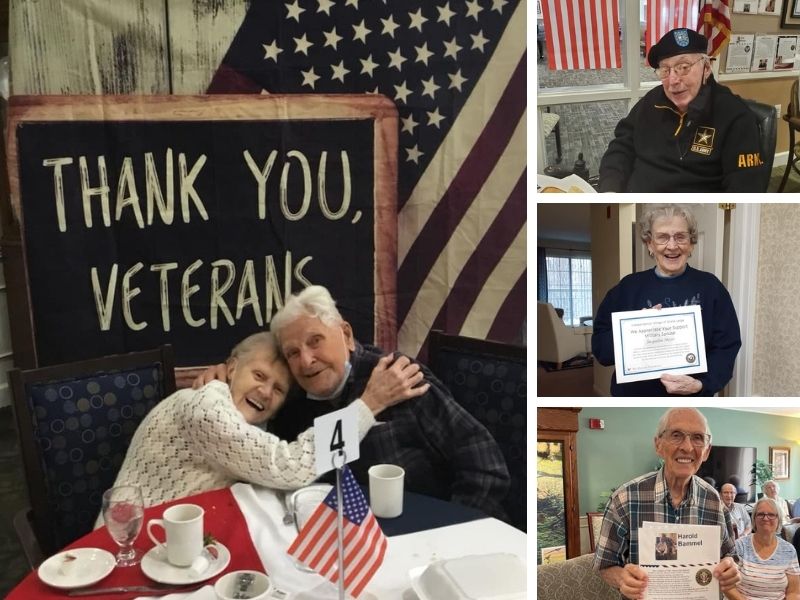 VA Benefits For Assisted Living
For qualifying veterans and their spouses, the U.S. Department of Veterans Affairs offers Aid and Attendance, an additional benefit paid on top of a regular monthly pension. This benefit helps disabled and senior veterans pay for care offered from an assisted living facility.
Aid And Attendance Eligibility
Veterans who served on active duty for at least 90 consecutive days, including at least one full day during a time of war, may be eligible for Aid and Attendance if they also qualify for the basic Veterans Pension and meet at least one of the requirements below:
Needing help with activities of daily living (ADLs)
Spending a large portion of the day in bed due to illness
Be a patient in a nursing home due to the loss of mental or physical abilities related to a disability
Have eyesight that is 5/200 or less in both eyes
Wartime Dates
Congress has also outlined the following wartime dates that the VA uses to determine which veterans qualify for benefits like Aid and Attendance:
World War II: December 7, 1941 — December 31, 1946
Korean Conflict: June 27, 1950 — January 31, 1955
Vietnam Era: February 28, 1961 — May 7, 1975
Gulf War: August 2, 1990, through a future date to be set by Presidential proclamation or law (for VA benefits purposes, this time of war is still in effect)
Basic Veterans Pension Requirements
In addition to the active duty and wartime service requirements, eligible veterans must also meet at least one of these criteria to qualify for a basic pension:
Be 65 or older with no or limited income
Receive Supplemental Security Income
Receive Social Security Disability Insurance
Have a permanent and total disability
Reside in a nursing home
More information about the VA benefits discussed above can be found through the U.S. Department of Veterans Affairs.
Independence Village Honors Veterans And Their Spouses
In our communities, we take the time to get to know our residents and their families in order to plan programs and activities that are meaningful to them. From celebrating veterans on Memorial Day and Veteran's Day to planning unique activities that recognize their service throughout the year, we make sure those who served know that we're here to serve them. Recently, Independence Village of Midland surprised one of its residents with an unforgettable 100th birthday celebration. Bill, a veteran that flew an F4F Wildcat and an F6F Hellcat during WWII, was given an opportunity to co-pilot an airplane for the first time in nearly a decade. Read more about his experience in the Midland Daily News article.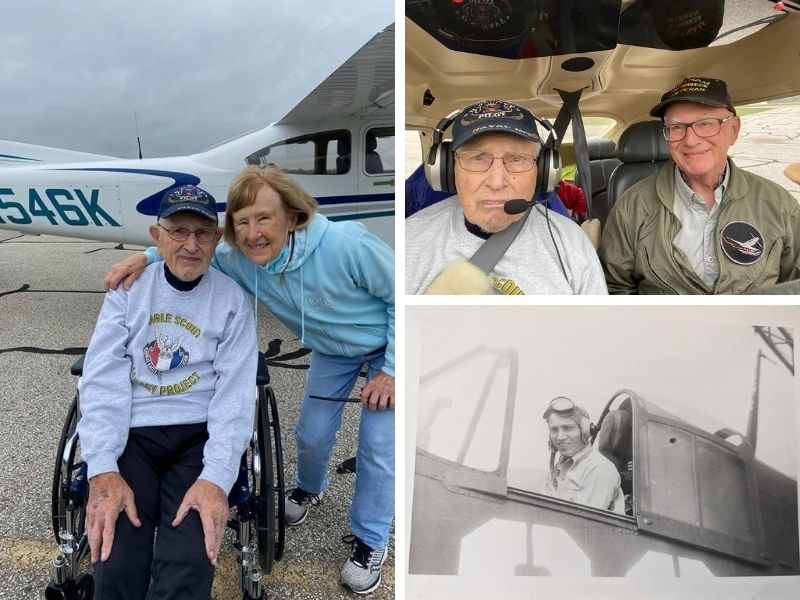 You Served Our Country, Now Let Us Serve You
Navigating the cost of senior living is often a large concern, and for those who served in the armed forces, accessing available financial assistance can add an extra layer of difficulty.
At Independence Village, we help senior veterans by connecting them with the resources they need to begin the application process and access the benefits they've earned.

To show our appreciation, we're ready to help guide you through the process of understanding and qualifying for VA benefits for assisted living (or other senior living options) and more. Call us today at 1-844-403-6569 to get started.