At StoryPoint, it is our honor to serve the senior veterans in our communities. For 40 years, we've helped residents navigate the process of qualifying for and receiving VA benefits for assisted living and veterans benefits for spouses.
We also work hard to ensure that the veterans in our communities feel recognized and thanked for their service. From planning community programs to organizing special outings and recognitions, our team is always looking for ways to give back to those who served our country.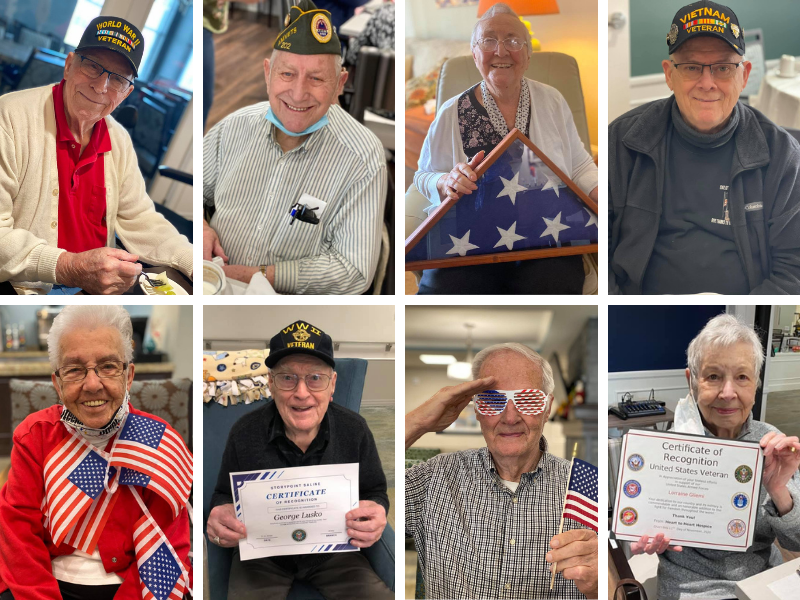 Veterans Benefits For Assisted Living
For qualifying veterans and their spouses, the U.S. Department of Veterans Affairs offers Aid and Attendance, an additional benefit paid on top of the regular monthly pension. This benefit is specifically designed to help disabled and senior veterans pay for care offered from an assisted living facility.
Aid And Attendance Eligibility
Veterans who served on active duty for at least 90 consecutive days, including at least one full day during a time of war, may be eligible for Aid and Attendance if they also qualify for the basic Veterans Pension and meet at least one of the requirements below:
Needing help with activities of daily living (ADLs)
Spending a large portion of the day in bed due to illness
Be a patient in a nursing home due to the loss of mental or physical abilities related to a disability
Have eyesight that is 5/200 or less in both eyes
Wartime Dates
Congress has outlined the following wartime dates that the VA uses to determine which veterans qualify for benefits like Aid and Attendance:
World War II: December 7, 1941 — December 31, 1946
Korean Conflict: June 27, 1950 — January 31, 1955
Vietnam Era: February 28, 1961 — May 7, 1975
Gulf War: August 2, 1990, through a future date to be set by Presidential proclamation or law (for VA benefits purposes, this time of war is still in effect)
Basic Veterans Pension Requirements
In addition to the active duty and wartime service requirements, eligible veterans must also meet at least one of these criteria to qualify for the basic pension:
Be 65 or older with no or limited income
Have a permanent and total disability
Receive Supplemental Security Income
Receive Social Security Disability Insurance
Reside in a nursing home
More information about the VA benefits discussed above can be found through the U.S. Department of Veterans Affairs.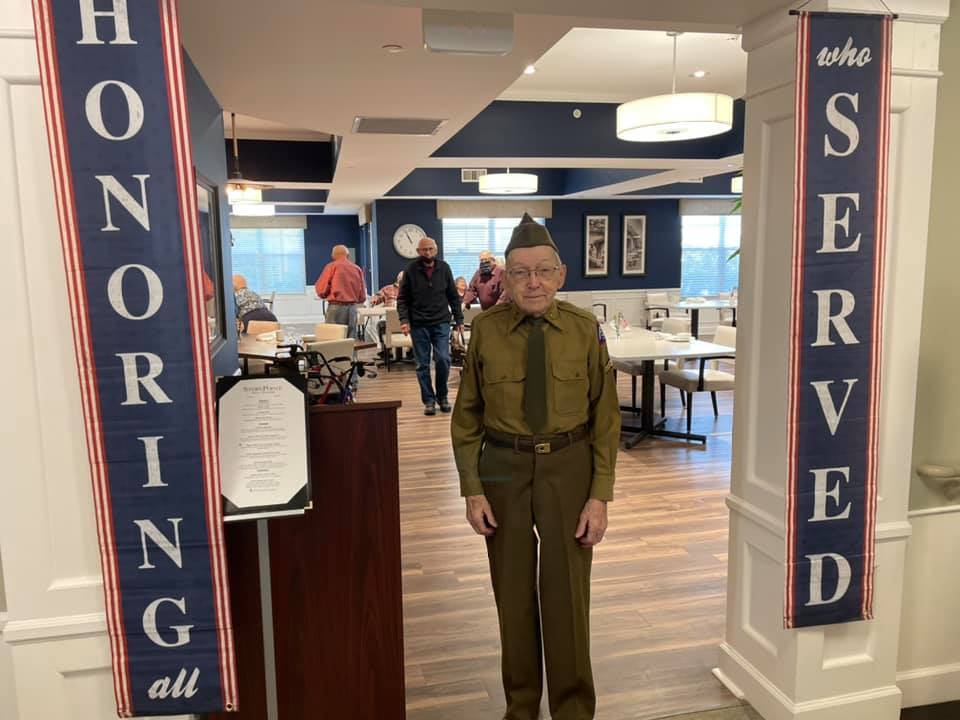 Honoring Veterans — In Flight And On The Field
Two particularly special outings that StoryPoint planned as a way to pay tribute to veterans' dedication and influence on our country's history were Honor Flight and Armed Forces Day.
Armed Forces Day
StoryPoint was grateful to be part of Armed Forces Day at a local high school baseball game. During the game, five World War II veterans of StoryPoint Saline in Saline, Michigan, were invited onto the field where they were recognized for their service. Players also wore jerseys with the veterans' names printed on the back as an additional way to pay tribute.
Related: Veterans Honored At Baseball Game
Honor Flight Dayton
Established in 2005 by pilot Earl Morse, Honor Flight is a non-profit organization whose mission is to take veterans to Washington D.C. to visit the memorials that honor their service and dedication.
StoryPoint coordinated with Honor Flight Dayton in Ohio to fly four veterans (two men and two women) from StoryPoint Troy in Troy, Ohio, to Washington, D.C. in the spring of 2018.
Residents were able to visit Arlington Cemetery and look at the names of all the fallen soldiers at the Vietnam memorial. This was another great opportunity for StoryPoint to honor resident heroes.
Related: Honor Flight Dayton Attendees
You Served Our Country, Now Let Us Serve You
Navigating the cost of senior living is often a large concern, and for those who served in the armed forces, accessing available financial assistance can add an extra layer of difficulty.
At StoryPoint, we help veterans by connecting them with the resources they need to begin the application process and access the benefits they've earned.

To show our appreciation, we're ready to help guide you through the process of understanding and qualifying for VA benefits for assisted living (or other senior living options) and more. Contact us today at 1-855-407-8679 to get started.