Passing dishes, sharing stories, laughing and enjoying a meal together — for many of us, the moments we spent around the dinner table shaped who we are.
For seniors in their retirement or seeking support in a senior living community, these moments of connection are just as important.
What if you could use your talents to create that experience for someone?
At StoryPoint Group communities across the nation, our talented, award-winning chefs craft menus that are specifically designed for older adults and made with farm-fresh ingredients. Not only that, but our culinary team upholds the tradition of showing people that they're loved by connecting through food.
If you're interested in becoming a part of the StoryPoint Group culinary team, apply now at StoryPoint.com/careers/. To learn more about what makes our culinary team so special, keep reading to hear some of their stories.
Our Senior Living Chefs Medal At Culinary Competition
When we say our culinary team is at the top of their industry, we're not kidding, and when we say no other senior living community has the talent we do, we mean it.
At the American Culinary Federation Annual Cook Like You Mean It competition at Dorsey College, StoryPoint Group chefs from our communities earned medals in a cook-off between chefs from top restaurants, country clubs and hotels. In fact, StoryPoint Group chefs were the only representatives from the senior living industry.
After hours of competition, four chefs were victorious!
Their medal-winning dishes were a testament to the creativity and talent of our culinary team.
It's A Career And A Calling
Chef Benoit spent 30 years of his life perfecting his skills in culinary arts in Michelin Star restaurants across France. After moving to the United States, he opened his own bistro, and now he proudly serves residents and families at StoryPoint Libertyville.
What led Chef Benoit to become a chef at StoryPoint Group community? It was his experience caring for his mother who was diagnosed with dementia.
Here's Chef Benoit to share his story.
Michigan Chef Goes Above And Beyond For Residents
Chef Brian and the Independence Village of Oxford residents know that supporting the community, helping to make Oxford a better place — that's what it's all about.
But at first, Chef Brian was apprehensive about taking the position at our community. Talking to residents and meeting their high standards seemed intimidating at first.
It wasn't long though before Chef Brian realized he wasn't just good at his new job — it was his passion. He found he enjoyed chatting with residents in the dining room, getting to know them and making them smile with his cooking.
One community resident shared, "Chef Brian told me he doesn't have any grandparents left. I told him, 'You do now!' and now he calls me grandma!"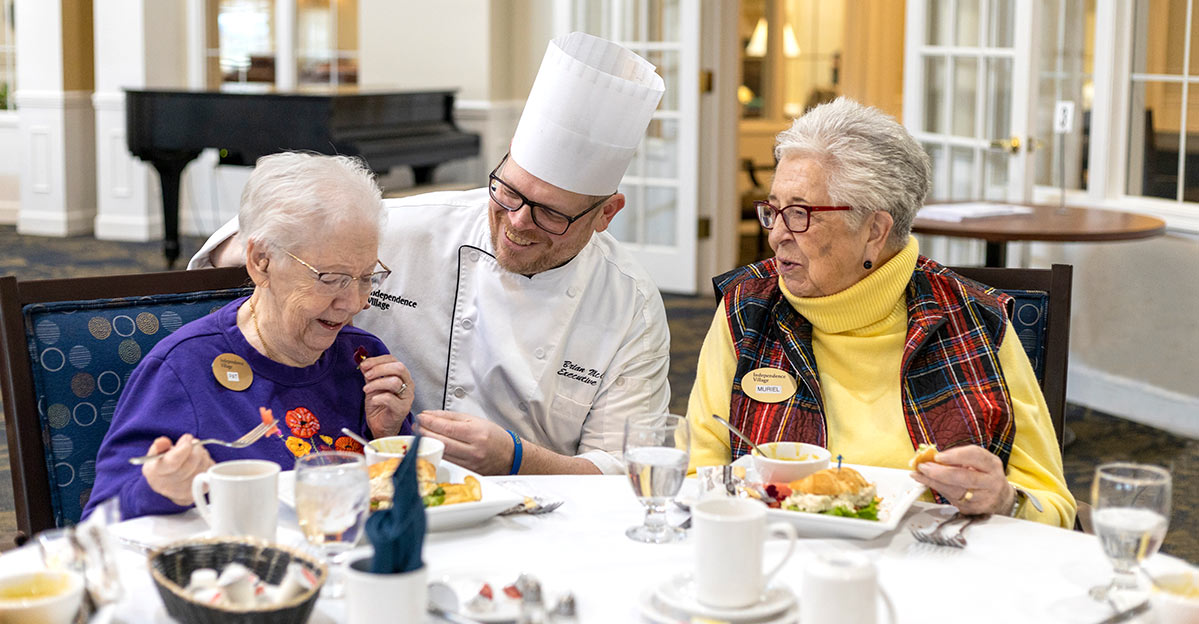 Chef Brian was blown away by the love from residents and the high standards of our culinary program.
"Everything is cooked from scratch here," Chef Brian said. "And it's a different soup, appetizer, entrée and dessert every night. You can learn so much."
Click here to continue reading more about Chef Brian's story.
StoryPoint Group Is Here For You
Whether you're considering senior living for yourself, for your loved one or as a possible career, StoryPoint Group is here to help.
Visit StoryPoint.com/careers/ or stop by the community nearest you to learn more about our culinary team and how they create the absolute best experience, and the absolute best food, for residents every day.