Senior living communities are a fantastic space for you to meet new friends, create amazing memories, and explore the things you're passionate about. Many seniors find interest in activities that they have never tried before, such as art. Senior living communities love promoting art activities because they allow all residents to participate, no prerequisites required.
At StoryPoint Saline, there are a handful of career artist residents as well as a large group of beginners who are interested in practicing art. It's not everyday that senior living communities can make residents' dreams come true, but StoryPoint Saline was lucky enough to do just that.
RELATED: Making Friends In A New Environment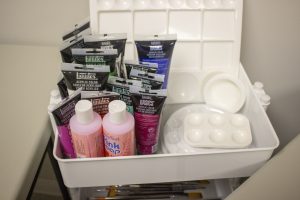 Making Space
For months and months, the residents of StoryPoint Saline have been asking for a designated space to create art and crafts. The staff has made finding an area for this a priority along with a space to showcase the exhibits within the community.
StoryPoint Saline put all-hands-on-deck to take an ample storage space and transform it into an amazing creative space for the residents. They can use the room to work on their art individually but also as a place for outside artists to come in and teach fun classes.
Resident Praise
The residents are thrilled with their new art studio and look forward to using it to try new crafts and art projects. As one resident, Kathy Constantinides, put it, it has been a long process, but the residents are excited to see the results of their efforts alongside the Life Enrichment and Maintenance Team:

"I've watched the development on my walks and have been impressed by the thoughtfulness, energy and work the entire StoryPoint staff has put into it. The new plumbed sink is a wonder. I stopped in again at the Studio today to admire all that has been done. It's a joy to see this addition to our Community." – Kathy Constantinides, StoryPoint Saline Resident
The StoryPoint staff is just as happy as the residents to have this new special part of the community and look forward to finding fun and innovative ways to use it. Supporting the interests of our residents is something we love doing, and we hope to get more opportunities like this in the coming year.