Just 40 miles northwest of Detroit, the town of White Lake, Michigan is full of open spaces. In fact, 30% of the township's 37 square miles are comprised of parks with 21 lakes, more than 6,000 acres of parkland, and plenty of farms and forests.
With nature around every turn, each new season brings its own breathtaking views and unique ways to experience White Lake. If that sounds like your kind of town, why not consider senior living in White Lake, Michigan?
Of all the senior communities near White Lake, MI, Independence Village of White Lake stands out from the crowd. Offering independent living in White Lake, Independence Village also provides enhanced living, a service unique to Independence Village.
Keep reading to discover if White Lake and Independence Village of White Lake is right for you.
What To Do In White Lake
Did we mention the 21 lakes?
Ask almost any resident of White Lake and they'll share with you their favorite boating, fishing or kayaking spot. Like much of Michigan, the town's lakes are one of the biggest attractions, and with an average temperature of 79 degrees in the summer months, cooling off in the water is a great way to spend your day.
Head to the public beach at Teeple Lake or dock your boat at the White Lake Inn and grab a bite to eat. If your perfect summer day is spent avoiding water, golf courses like Brentwood Golf Club and Banquet Center and the White Lake Oaks Golf Course might be a better fit for you.
In the fall, the trails at the Highland Recreation Area are especially beautiful. They're made to accommodate equestrian riders, mountain bikers, hikers and peaceful, afternoon hikers. At the Indian Springs Metropark, you can head to the trails or go straight to the Environmental Discovery Center to learn about the nature surrounding you.
The winter brings new exciting activities in White Lake, too. Whether you're the type to hit the slopes or retreat to the lodge with a hot chocolate, the Alpine Valley Ski Resort is the place to be. Trails range from beginner to intermediate, difficult and freestyle, so all skillsets are welcome.
Your Retirement Season
When you picture your perfect retirement, what do you see?
For some, they may look forward to days filled with exciting activities, new hobbies and bonus time to spend with friends. Others may long for a calm retreat with plenty of leisure time and, frankly, some peace and quiet.
No matter where your retirement dreams fall, you'll find them at Independence Village.
For the adventurous folks, our unique community amenities and features are a big hit. With designated community spaces for gathering, you'll always find a friendly face ready for a game of cards or neighborly chat.
The community Gathering Place is one spot where residents love to spend time together. From bingo to cozy movie nights, this is also the space where many of our community events are held.
Our monthly activities calendar is created and perfected by the life enrichment team, so there is no shortage of events to attend. You can't help but chuckle when you see the creative events our team comes up with.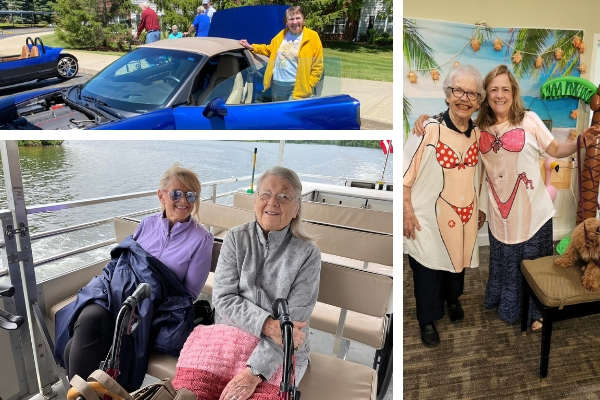 Those events can include anything from a weeklong camping event to a community car show and even a National Bikini Day celebration!
These events are always a lot of fun, but there are plenty of amenities at Independence Village for introverts to enjoy, too. Our community courtyard is a great spot for anyone looking to see some of the beautiful nature that White Lake is known for, and it wouldn't be White Lake without water!
Our residents love our community pond for the fresh air and quiet reflection at the water's edge. (They also love the frequent visits from the neighborhood dog who loves to stop by for a swim on warm summer days.)
Independence Village of White Lake also has a community garden where residents are encouraged to test their green thumb by growing flowers, herbs and other veggies. Of course, you'll always have your apartment for quiet relaxation, too. At our community, every apartment has a spacious floor plan, bright windows, and balconies or patios, so residents have plenty of personal space to make their own.
Care Options As Unique As You
At Independence Village of White Lake, we offer independent living and enhanced living services.
Independent living is exactly what it sounds like — an independent living experience with the benefit of maintenance-free living, luxurious amenities and features, and more.
Could your retirement experience benefit from adding support services?
At Independence Village, we believe that every senior's experience should be just as unique as they are. That's why we created enhanced living – a service offering where seniors can enhance their independent living accommodations to include curated, personalized support.
Through our preferred providers, you hand-pick the services that you want to receive. You create the experience that best fits your lifestyle by adding support to an otherwise independent, apartment-style setting.
Your enhanced living experience can be personalized to include support services, including:
Assistance with activities of daily living (ADLs), including bathing, dressing, grooming, showering and toileting
Mobility assistance
Medication reminders
Wellness and safety checks
One-on-one companion packages
Coordination with health care providers
Long-term care insurance assistance
Monthly blood pressure clinics and health education
And more
These services are flexible. That means that they can be expanded at any time depending on your needs, so you only pay for what you need. Regardless of the senior living service you choose, Independence Village of White Lake can't wait to get to know you and learn more about what makes you, you.
For More Than 40 Years
Independence Village communities have been providing seniors with the absolute best care for more than 40 years. We're proud to bring that same level of care to the seniors of the White Lake community.
To learn more about life in White Lake, MI and at Independence Village of White Lake, call and speak to our Community Specialist today.