Dining used to be an overlooked aspect for many senior communities, but over the past couple of decades, the quality of food and dining within a senior community has greatly improved. In fact, many senior living communities are now offering a finer meal experience.
Refining Senior Dining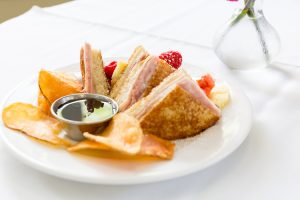 Meal times for a senior living community used to mean that food had a bland taste due to overcooking, lack of nutritious fresh fruits and vegetables and little to no variation in menu options. That's not the case anymore. Residents started to demand a higher quality of food, especially as more and more people began to downsize and move into senior living communities. This prompted many communities to transform their dining options into a more restaurant-style experience.
What To Expect In The Dining Room
The restaurant-style doesn't just stop at the quality of food. In many senior communities, being waited upon and having meals prepared by chefs is very common. Menus are typically provided for residents, but special preparations or meal requests can be made in many communities. Not only does this make the experience more enjoyable, but it also means that residents don't have to spend as much time preparing their own meals.
Gathering Together

For most people, sharing a meal has been a big part of the daily family routine for a while. This style of senior dining is perfect for providing a gathering space for loved ones and friends. Many residents will invite family or friends to share a meal and spend quality time together making them feel more comfortable within the place they call home.
Here at Independence Village, we take food seriously. We understand that food has the unique ability to bring people together to create memories and foster lasting relationships. Because of this, each one of our communities features a team of culinary experts who craft unique, locally-sourced dining experiences each day.