Our Veterans' Project was established to connect, unite and honor those who have served in the Armed Forces, whether through events, presentations or community activities.
As a little introduction to our Veterans' Project, we wanted to share the story of one of our resident veterans, William 'Bill' Brown. Bill's story was captured by Sean Tracy, our Veterans' Project Coordinator, who has interviewed hundreds of veterans in our communities.
Get To Know Independence Village of Plymouth's Resident, Bill
Bill was born in Syracuse, New York on June 13, 1921. He was a machinist who received an 18-month deferment before making himself eligible for the draft. After completing his basic and advanced training as an engineer, Bill was tasked with repairing machinery in his engineering unit.
After the conflict overseas ended, Bill returned home to his wife in 1946. He went on to buy his own machine shop, obtain his pilot's license and build part of his shop to function as an aircraft hangar. At the ripe age of 85, Bill sold his shop to one of his employees, giving him the opportunity to spend his time doing what he loves, building and flying model airplanes.
The Two Makers Finally Meet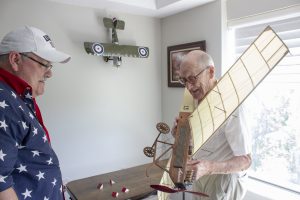 When Sean Tracy was able to meet Bill for the first time, they connected over their love of building model airplanes. Bill creates flyable, wooden RC models with miniature electrical motors built into them, whereas Sean creates exact replica models that aren't meant to fly.
This is ironic, as Bill stated, "I don't build anything that doesn't fly."
Sean was amazed walking into Bill's apartment for the first time. He was greeted with all the sights he has loved since he was a child: airplanes! Bill escorted Sean to the part of his apartment he deems his "workshop." It was in this workshop that Bill showed Sean his completed models, as well as those that were still under construction.
Once Bill and Sean realized that they both knew a lot about this particular hobby, they began sharing stories of successes and failures. Bill emphasized to Sean that he found it so relaxing to control a model plane built by hand and the satisfaction gathered in knowing that he built it correctly. Sean understood this feeling but preferred to make his static, non-flying models that don't run the risk of getting damaged in their use.
Before parting ways, Bill recommended a particular flyable model that Sean should get that is both affordable and easy to build. He also invited Sean to come back to visit, and that Bill would take him to his favorite flying spot to teach him the ins and outs of remote-controlled airplanes. Upon this offer, Sean went straight to the store to purchase the model that Bill recommended.
This connection between Bill and Sean is special, but not unique. Interactions just like this one occur each day at our communities. By promoting the interests of our residents, and taking the time to get to know each one personally, we are able to help create connections and friendships that last a lifetime.