Veterans have a special place in all of our communities. From organizing activities to bringing in speakers and more, we're always looking for ways to give thanks for their service. So when the opportunity to honor them for Armed Forces Day at a local high school baseball game was presented, we took it.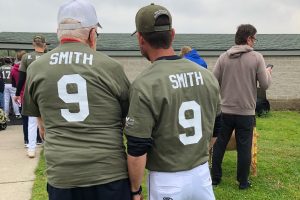 Five World War II veterans and residents of StoryPoint Saline attended the game, where players had the residents' names printed on the back of their jerseys. The residents were able to step onto the field, and one by one they were acknowledged in front of a crowd of families, friends and baseball fans.
The dedication and sacrifice of all of our residents is never forgotten. To be able to honor them in our community, the areas we serve and beyond, is gratifying for our StoryPoint teams.