Welcome to the neighborhood!
Pickerington, Ohio is a welcoming community known for its great schools, tree-lined streets and family-friendly atmosphere. There are over 150 acres of parkland in Pickerington and plenty of outdoor playground spaces to enjoy the city's natural beauty.
With a variety of local businesses, restaurants, museums and more, residents of Pickerington have plenty of activities to choose from. And for those who would rather head into the big city, the city of Columbus is only a short 30-minute drive away.
Pickerington is home to many young families, but it's also a great place for seniors to enjoy their retirement. At StoryPoint Pickerington, a StoryPoint Group community, Pickerington seniors discover new ways to shine every day.
Not only is there plenty to do at StoryPoint Pickerington, but the residents love to find ways to experience the surrounding city as well.
Here's a closer look at our community at StoryPoint Pickerington and all of our favorite spots in and around Pickerington, Ohio.
Ohio Glass Museum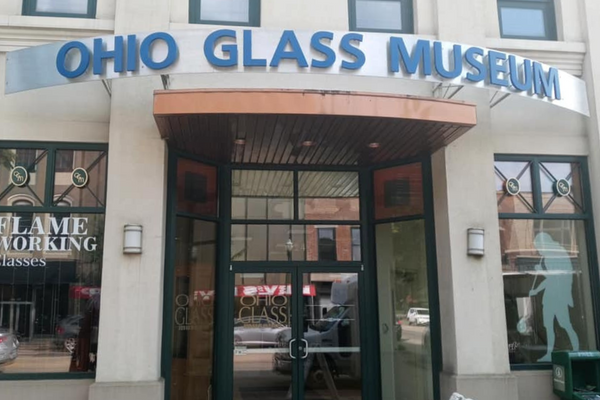 Did you know there's an abundance of natural glass and sandstone in Ohio?
It's true! For nearly 150 years, the glass industry has had a significant impact on Ohio's economic growth. The Ohio Glass Museum celebrates and teaches more about that fact.
The museum has numerous classes, holds a variety of exhibits and even offers memberships for those who want to learn more about how Ohio's natural recourses are used to create beautiful glass art.
All of us at StoryPoint Pickerington took a trip to the Ohio Glass Museum. Our friends at our sister community, StoryPoint Powell North, even met us there.
Together we had lunch and took a glass blowing class where the pros at the Ohio Glass Museum showed us just how they create glass art.
Buckeye Raceway
Buckeye Raceway has some of the newest, fastest, "clean-green" electric go-karts around. Their challenging course is a quarter mile long and filled with sharp turns and chances to hit daring speeds.
In addition to go-karting, the Buckeye Raceway offers axe throwing, tactical laser tag, footbowl and various arcade games, too.
When our residents headed to Buckeye Raceway, we had our sights set on go-karting. What an adventure!
The Pickerington Senior Center
For many seniors in Pickerington, the Pickerington Senior Center is one of their favorite places to be. The center hosts activities including, travel, social programs, monthly luncheons, bid euchre, duplicate bridge, bridge, euchre, strength classes, bingo, crafts, square dancing, watercolor classes and the summer music series.
Have you ever been line dancing? At StoryPoint Pickerington, many of our residents agreed this was something they wanted to try. We all headed over to the senior center for a line dancing class that they were hosting. We had a great time breaking out our dancing moves!
No matter what events or activities seniors are interested in, the senior center is a shared place to gather, enjoy meals and spend time getting to know one another.
Ohio Stadium
O-H! I-O!
For many residents of Ohio, Ohio Stadium is one of their favorite places in the state. We can all agree that there's nothing like a day spent at the stadium, cheering on our favorite football team, the Buckeyes.
It had been years since some of our residents had attended a game — some hadn't been since their 40s! When leaders at the community realized this, we knew exactly what we had to do.
We grabbed our favorite Ohio State gear and headed to the stadium to watch the Buckeyes play. While we were there, we had great weather, even greater, company and we even got to see a win. Go Bucks!
StoryPoint Pickerington
At StoryPoint Pickerington, we believe that it's an honor to serve the seniors and families of Pickerington. With independent living and enhanced living, our community offers flexible services to seniors looking to get the most out of their retirement.
Here's a closer look at the senior living services provided at StoryPoint Pickerington:
Independent Living
You'll find everything you need to discover your ideal retirement with independent living at StoryPoint Pickerington. From maintenance-free living to luxurious amenities and features, everything is designed so that you can spend each day exactly how you want to.
Enhanced Living
Enhanced living, a service unique to StoryPoint Group communities, allows seniors to enhance their independent living accommodations to also include curated, personalized support. Maybe you'd benefit from medication reminders, mobility assistance or help getting ready in the mornings.
Through our preferred providers, you create the experience that best fits your lifestyle by adding services you need when you need them — all while benefiting from an otherwise independent, apartment-style setting.
Welcome To The Family!
No matter what service offering is right for you, when you become a part of a StoryPoint Group community, you're not only a part of our tight-knit community. You're a part of our family!
Who prefers their coffee black?
Who had a visit with their grandchildren yesterday, and how did it go?
StoryPoint Group employees take the time to get to know our residents' and families' stories because we know that their unique experiences, perspectives and personalities are what make our community so great.
Not only that, but we consider our residents to be like family, and it's an honor to be considered a part of their families, too.