Chesterfield, Michigan. Where you can enjoy the Great Lakes of Michigan and stroll the boardwalk on Anchor Bay. Experience the beauties of the past at Selfridge Military Air Museum and Stahls Automotive Foundation. Hike or jog the 900-acres of trails at the Wetzel State Recreation Area. And now enjoy all that and more at the newest senior living community in town: StoryPoint Chesterfield.
We're Officially Open
StoryPoint Chesterfield has officially opened its doors to you and your loved ones. Whether you're looking to live a little more independently with independent living or need a little extra help with our one-of-a-kind service option, enhanced living, this new senior living community is ready to experience the next exciting chapter of your life with you.
What We Offer
With a wide range of amenities like gourmet meal plans, barbershops, an overflowing event calendar and more, StoryPoint is the new hub of senior living communities in Metro Detroit.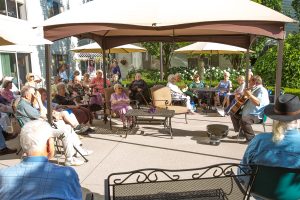 Each spacious apartment is designed to fit you or your loved one's needs. We offer wheelchair accessibility, walk-in showers, grab bars, balconies/private patios and more.
Not Your Average Senior Living Community
We know that not everyone has the same interests. That's why we tailor our events and activities so that you can do the things you love while creating relationships with other residents. We'd love to hear about your favorite hobby and create a community event for everyone to enjoy!
Next Steps
Are you thinking this new independent living community could be the place for you? We'd love to meet you and talk more about how StoryPoint Chesterfield is the right fit! Call today and schedule a tour of our newest community.
Learn more about StoryPoint Chesterfield here.