What activities do you like to do? Why do you like to do them? Just like everyone else, there are some activities that a patient with dementia may enjoy more than others.
Finding activities that tailor to your loved one's interests and talents — whether they've changed with their diagnosis or not — is a great way to enrich their lives and can help combat their symptoms, too.
We've compiled a list of the best activities for dementia patients according to experts. These interactive activities to do with dementia patients are beneficial to them and a great way to spend time together, too.  
The 9 Best Activities For Dementia Patients
Keeping your loved one healthy and involved in activities is crucial as they navigate through this new stage of life. Fortunately, there are plenty of great activities for patients with dementia to engage your loved one. Check out our list of the best activities: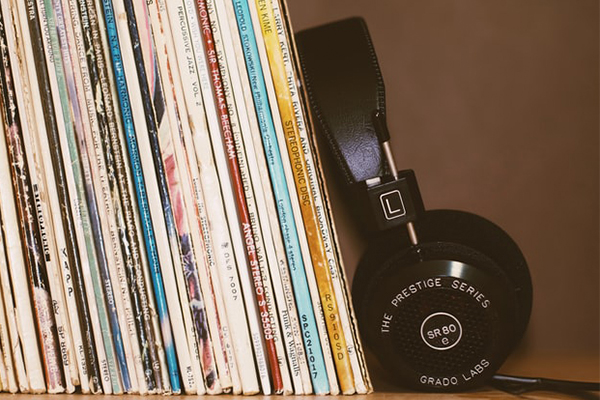 1. Listening To Music
Did you know that music has been proven to improve mood, behavior, and in some cases cognitive function for people living with memory impairments?
Think about they kind of music your loved one enjoys. Whether that's Frank Sinatra, Whitney Houston or Christmas carols, play your loved one's favorite music and enjoy it together. Encourage them to sing and dance along with you or simply play it in the background of their normal routine.
Studies on dementia have shown that incorporating familiar music into your loved one's day can be a powerful stimulus, help to reaffirm their personal identity and increase social connection.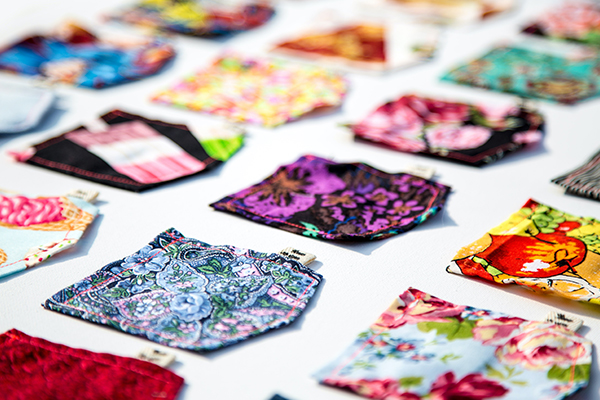 2. Tactile Crafts
Smooth velvet, a sweater with fringe or a homemade quilt with lace trim — objects like these have widely different textures. For patients with dementia, the feeling of unique textures actually has a strongly therapeutic effect because it stimulates their senses.
Create a rummage box filled with a variety of fabrics. Tie a few knots on a soft rope for your loved one to untie. Use slippery clay, play-dough, hand lotion or other objects to create a tactile experience for your loved one.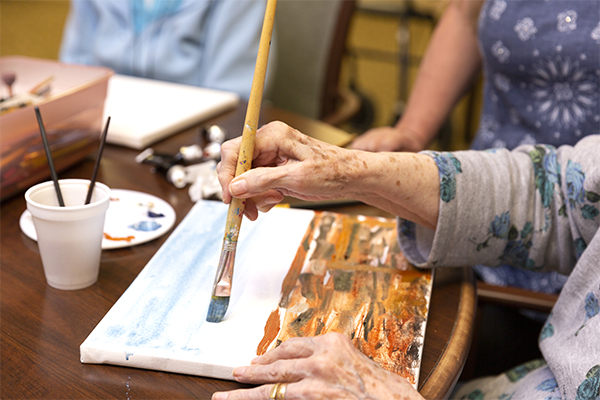 3. Painting And Drawing
Is your loved one an artist? Even if they aren't, painting, drawing, coloring books and other artistic activities engages the part of the brain that we use for language and creativity. Draw a picture of your childhood home, your loved one's pet or favorite vacation spot and encourage them to color it in.
Some patients with dementia even connect with memories from their life before their diagnosis through art. Even if they don't remember the specific memory, spending time together and expressing themselves through art can be an enjoyable activity.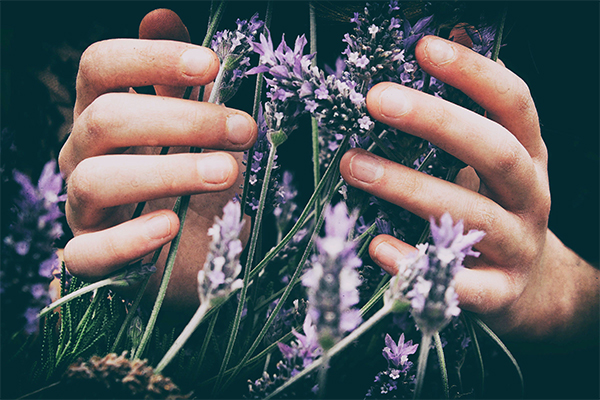 4. Aromatherapy
Does the smell of freshly cut grass take you back to rolling in the yard as a kid? Do lilacs remind you of your grandma because that was her favorite perfume? That's not a coincidence. According to Harvard scientists smell and memory are closely linked, and your loved one with dementia can experience that, too.
Use the power of aromatherapy to offer your loved one stimulation through all their senses. Studies have found that essential oils like lavender, bergamot and lemon can even reduce aggression and agitation in patients with dementia.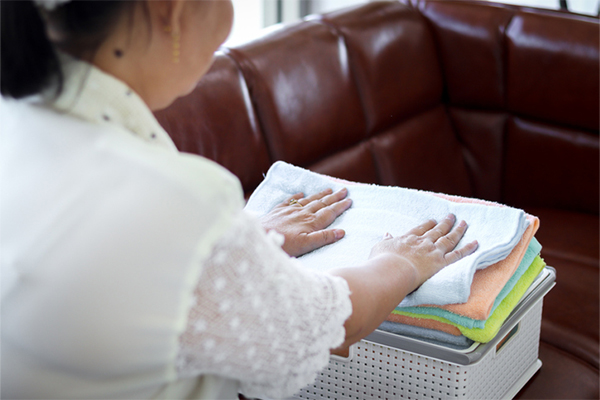 5. Familiar Activities
Someone with dementia may not be able to access their memories, but familiar activities, parts of their daily routine like household chores, can provide a lot of comfort. Folding laundry, sorting clothes, doing the dishes and projects around the house may have been a huge part of your loved one's life, and there are ways to make these familiar activities accessible.
Give your loved one a few shirts and ask them to fold them for you. Work together to set the table, stack, arrange and organize dishes. Use wooden or plastic tools to simulate small home repairs.  Activities for dementia patients that are reflective of their daily life and familiar routine can provide comfort and excitement to your loved one's day.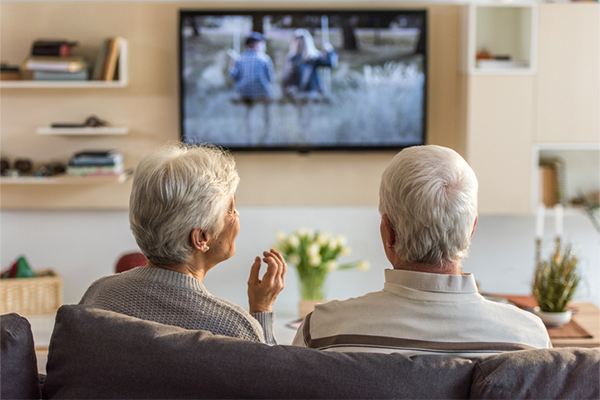 6. Watching Old TV Shows Or Movies 
Although they may not recall specific details, your loved one's favorite movies or tv shows can stir up positive feelings and can be a great activity to do together.
Studies suggest that the best movie to watch for someone with dementia is something fun and upbeat, shorter in length (under two hours), not violent, and straightforward in plot and number of characters.
Choose a movie that your loved one enjoys and fits those parameters. While you watch, describe the movie or comment on an actor and see if your loved one wants to discuss the film. Movies are more than just a way to fill the day. In fact, they can be a tool to connect with your loved one with dementia and a great activity to enjoy together.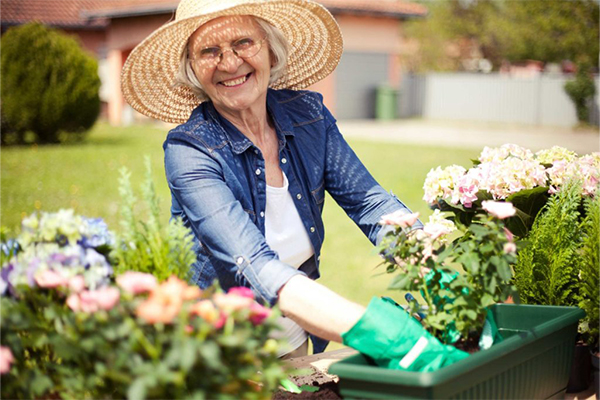 7. Gardening Or Being Outside 
Does your loved one have a green thumb? They may not be able to mow the lawn or till a field like they used to, but there are still ways to bring the great outdoors to them.
Buy a small pot and seeds for your loved one to plant. Fill their space with plants and work together to water them every day. If you'd rather, spend the day in a community garden or courtyard and enjoy the sunshine together. Being outside has numerous benefits for seniors and is a great activity for patients with dementia.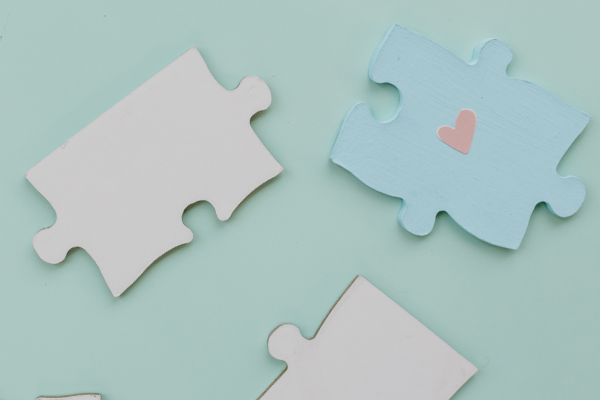 8. Doing A Puzzle
Puzzles are a great way to provide mental stimulation for someone with dementia, and they can be modified as symptoms progress. There are even puzzles that are specifically made for those with dementia, some include:
Puzzle cube. It's a simplified version of the Rubix cube thoughtfully designed with bright colors.
Busy boards. These busy boards may have locks to undo, latches to close or buttons to push. They're a great activity for dementia patients because they can be a comforting distraction and even ease some of the symptoms of the disease. 
Fidget and sensory activities. Seniors with dementia may show anxiety or agitation through fidgety hands. Sensory therapy or fidget items are an effective way to reduce their anxiety and be a source of comfort. 
Large-piece jigsaw puzzles. The best puzzles for someone with dementia are ones that are tactile puzzles with a variety of textures or ones that are personally meaningful. Did you know that you can create your own customized photo puzzle? These personalized photo puzzles can encourage positive emotions for your senior loved one. A large-piece custom puzzle that shows a family picture may open the door to discuss fond memories.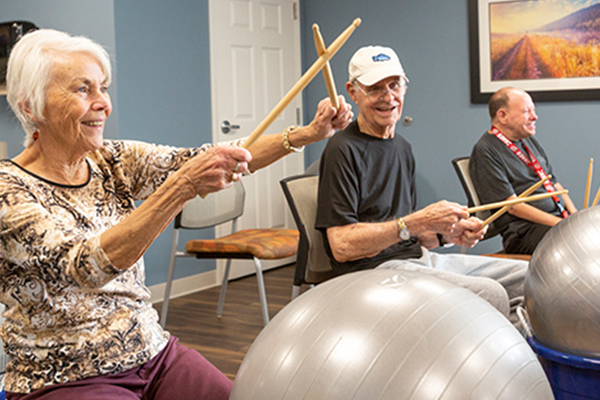 9. Low-Impact Exercises
What's something that's good for both you and your loved one with dementia? Exercise! Build a daily walk together into your schedule and add other low-impact exercises into your loved one's day. Some recommended low-impact exercises are:
Leg raises
Arm stretches
Shoulder rolls
Toe lifts
Being active and getting exercise has been proven to help people with Alzheimer's disease feel better, and it has numerous additional benefits, too.
Morning 'Power Up' At StoryPoint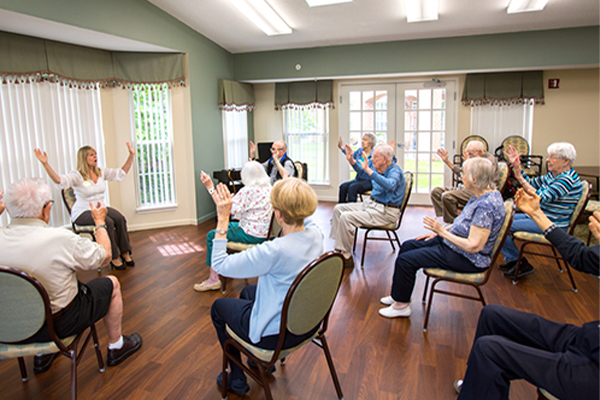 At StoryPoint we know how important routine and exercise is for those with memory impairments, and our 'Power Up' program is one part of our community's routine.
This 30-minute, daily exercise program encourages residents to start their day in a positive, energized way. It features engaging music based on residents' preferences and mirrored workouts where residents can follow along with our team through a series of exercises.
It's a great way to begin our day the right way — getting active and spending time together.
How StoryPoint Can Help
At StoryPoint, we specialize in activities for patients with dementia and enriching the lives of those with memory impairments. In our memory care neighborhoods, our professionally trained team is here to support your loved ones and help them make the most of every day. 
Memory care includes:
24-hour licensed support in all areas of living, wellness, dining and more.
Specially trained employees equipped to navigate the effects of memory impairments.
Specialized programming that meets residents where they're at to ensure comfort while promoting the utmost dignity and personal success.
Thoughtfully designed elements such as high ceilings and enlarged windows to combat the effects of memory loss and dementia.
And more.
We know it can be difficult when your loved one begins experiencing dementia, Alzheimer's, or other memory impairments.
At StoryPoint, we're here to guide you through this journey and help you find the right care for your loved one. Call our caring staff at 1-855-407-8679 to speak with a Community Specialist today.