Dementia has many effects on those who live with this condition. While the most well-known is memory loss, dementia is also responsible for behavioral changes that can make it even more difficult to care for a loved one. Perhaps prior to the dementia diagnosis mom was calm and happy, and now she experiences anxiety and depression. Maybe dad was always level-headed and is now erratic and agitated. 
Aggressive behaviors, such as dementia anger issues, can unfortunately be part of the progression of dementia in your loved one. While normal, it can be extremely tough to see your loved one in that state and to care for them properly. Here are a few tips for navigating these behavioral changes.
Identify The Cause Of Their Anger
There are various factors that can contribute to anger-related behaviors in your loved one. These factors primarily stem from a waning ability to communicate wants and needs, and greater difficulty in engaging with others properly. 
For example, your loved one could be experiencing physical discomfort — whether that be from pain (urinary tract and other infections are not uncommon in those with Alzheimer's or other forms of dementia), restless sleep, or medication side effects — and unable to express this discomfort. Another trigger could be overstimulation from being in an active environment or hearing a loud noise.
Yet another cause of anger in dementia could come from confusion. Whether they lose their train of thought while talking, mix up memories or forget where they are, anything that leaves your loved one feeling lost or confused can be upsetting.
Once you're able to identify where the agitation stems from, you can eliminate those factors as much as possible to help ease your loved one.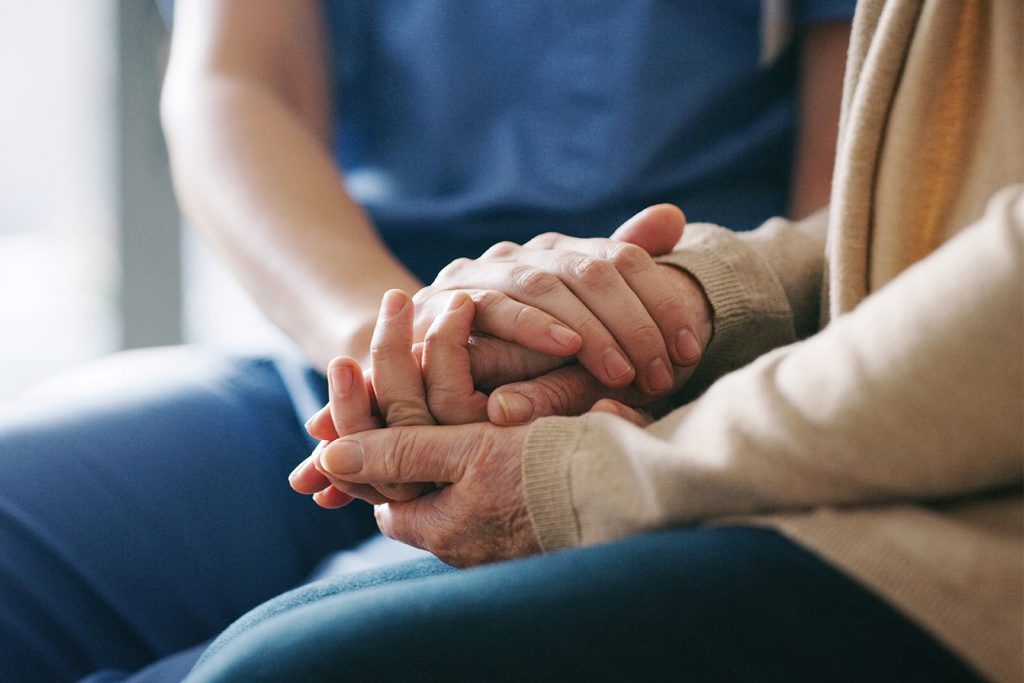 Focus On Your Communication Style
A decline in the ability to communicate and understand is a core effect of dementia. It's also a primary cause of dementia anger issues. There are many tactics you can utilize when communicating with mom or dad to avoid and/or overcome any frustrations that arise:
Talk simply and slowly. To help your loved one stay engaged in conversation, use simple words and direct sentences. Asking "yes" or "no" questions can help keep the dialogue flowing. In addition, speaking at a slower pace will also help them to better comprehend.
Limit distractions. The more you can limit distractions, such as sitting in a noisy, high-traffic area, the greater likelihood of having a successful conversation. Turn the TV off, silence your phone and try conversing with your parent one-on-one. This will help your parent better avoid confusion and overstimulation.
Use non-verbal cues. From maintaining eye contact to using clear facial expressions, the use of non-verbal cues can help your loved one better understand what you are saying. In addition to verbally explaining a task, try to physically demonstrate it to aid in understanding and to encourage participation.
Don't Take It Personal
Seeing your parent in a distressed state can certainly be jarring. When you witness or are on the receiving end of their anger, try to reframe the situation. 
Remember: Dementia is the cause of their behavioral changes — they aren't consciously acting out in this way, and it isn't a personal attack against you. (Although, it can certainly feel that way at the moment.)
In these situations, patience is key. Your loved one could be having an exceptionally hard day, they could be overstimulated or the effects of their dementia could just be taking a toll at that moment. 
Respond with compassion. Try simply re-explaining what you were saying, give them time to express their thoughts, and, when in doubt, let it go. Arguing or trying to get your point across will likely only worsen the situation.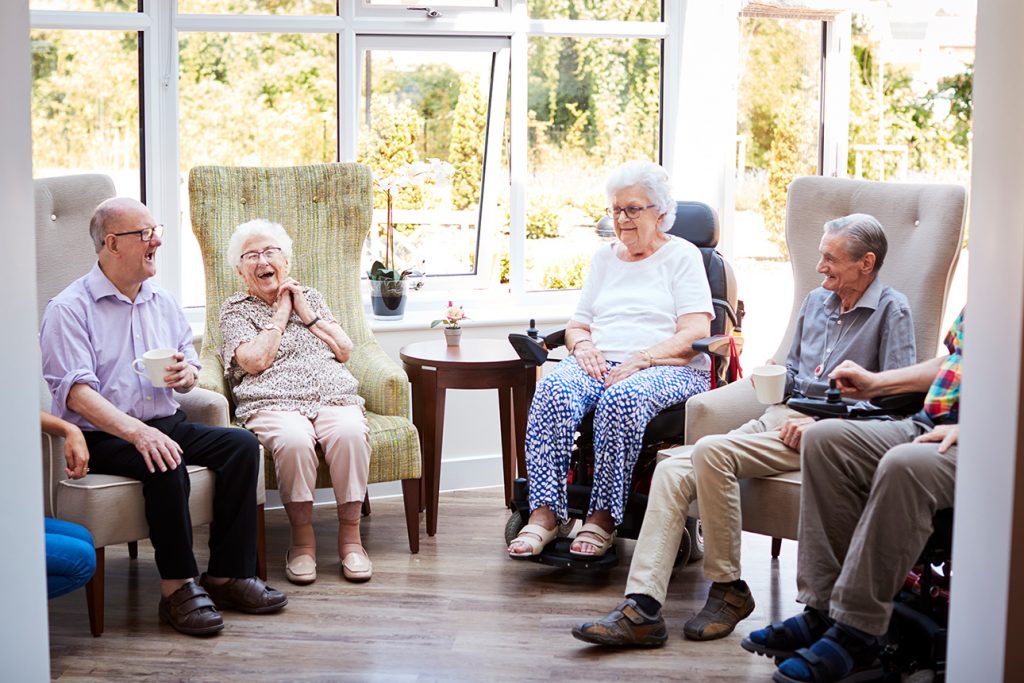 Lean On Others For Support
Having a loved one with dementia can be overwhelming, especially when you feel you have to navigate the situation alone. Perhaps you're grieving the person mom or dad once was, or, if you care for your loved one yourself, you may be experiencing caregiver burnout. 
This is where the support of other friends and loved ones is crucial. Take them up on their offers to help. Let a sibling take over mom or dad's care for the weekend so you can focus on self-care or doing something you enjoy. Accept the offer for a friend to drop off dinner one night. Take the time you need to refresh by going for a walk or catching up with a good book.
Moving your loved one to a senior living community is another way to balance the burdens of dementia on you and your family. At StoryPoint, our licensed memory care neighborhoods are designed to accommodate the effects of dementia, and our specially trained teams know the proper tactics for caring for those with this condition. This means your loved one receives the absolute best care, and when you stop by to visit, you're able to enjoy it knowing they're safe and in an environment suited to their unique needs. 
Dementia anger issues tend to worsen as Alzheimer's disease or other forms of dementia progresses, meaning verbal outbursts or small acts of defiance can grow into violent situations where someone could get seriously hurt. These circumstances make senior living communities an ideal living option for your loved one as they can provide the necessary support needed while properly handling the effects of dementia.
Memory Care Designed With Mom And Dad In Mind
Our memory care communities are designed to give your loved one the best possible care with safety and comfort being top of mind. With a licensed care staff and a life enrichment team ready to serve your loved one, StoryPoint communities are here to assist you with your search. If you or your loved one have questions about our memory care services call 1-855-407-8679 to speak with a community specialist.