Making the decision to move a loved one to a memory care community is not easy, but learning some best practices, including how to decorate, can ease the process.
While decorating can be exciting and fun, it's important to keep it functional. Ensuring home decor meets memory care requirements can ease day-to-day tasks while keeping dementia patients safe.
Here are a few tips to ensure your loved one feels comfortable and at ease in their new memory care neighborhood.
Home Sweet Home
Nothing says home like being in a personalized environment, and no one knows your loved one better than you do. Fill their room with memories and pieces of their life, such as past hobbies or passions, and photographs of grandchildren, children, pets or their partner.
Downsizing to a new space also presents the opportunity to declutter. Keep rounded furniture, furniture that's easy to use and personal decor that can stimulate memory. Remove items that can create clutter or become disorienting (such as throw rugs with busy patterns).
To ensure their new apartment feels familiar, set up furniture and other decor in the same arrangement as it was in their former home.
Tip: Music has been shown to be a great benefit for people living with memory impairments, so it may help to bring a small speaker, radio or CD player with some of your loved one's favorite music.
Related: When To Transition To Memory Care
Keep It Simple
Small pieces of familiar furniture or decorations can comfort your loved one in their new community. Smaller pieces can allow more floor space, creating open walkways to avoid tripping hazards.
When it comes to furniture and decor, there are a few things to keep in mind about your loved one's new space:
Contrast colors: The older we get, the harder it becomes to locate like-colored objects. Combine colors that are dark and light so they can be easier to differentiate between the surrounding objects. One example is dishes. A solid color dish can help your loved one differentiate between the food and the plate itself due to the contrast of colors.
Avoid busy patterns: A busy pattern can confuse someone who is experiencing memory loss. Objects in the pattern may be unrecognizable, causing your loved one confusion as to what is on their rug or towel.
Proper lighting: Natural light is best, but when adding additional lighting, be sure the lights aren't too bright or harsh. Avoid twinkling or blinking lights as they can cause confusion for seniors experiencing memory impairments.
Remove or cover mirrors: If your loved one has trouble recognizing themself, seeing their reflection can be startling. To avoid this, cover or remove unnecessary reflective surfaces.
Add informative labels: Add clear, decorative labels to home items like the thermostat, storage containers or jars and drawers, so that your loved one can easily locate and identify things.
Overall, don't overwhelm the home. Keep it simple and stick to the necessities. When choosing items, follow these memory care requirements to ensure the easiest use of household items and decor.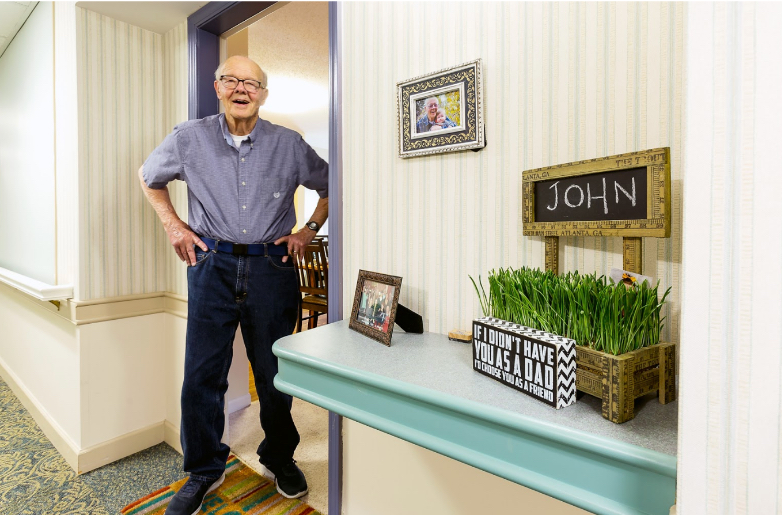 Fun And Functional
For some, decorating can be the fun part of moving into a new space. When shopping for new items, ask yourself if it's something your loved one truly needs. Too many decorations can be overwhelming to someone experiencing memory loss.
Avoid items that may cause distress such as electronics with small buttons or lights that are overly bright or flashing. Instead, focus on pieces that are both fun and functional.
Tip: Wreaths or signs are also fun decorations that are equally functional. Having a decoration on the exterior of the door can help your loved one identify their place, preventing them from getting lost or confused.
Related: What To Bring Vs. What Not To Bring To Senior Living
Promote Wellness
While comfort is crucial in your loved one's new space, it's important to include items that will help promote wellness. Wellness relates to habits or behaviors that create better outcomes to reach one's full potential.  Incorporating these elements into the environment may assist in the preservation of their sense of self and purpose.
Install non-slip carpet over hardwood floors or smooth surfaces to help your loved one avoid slipping. Be sure to avoid scatter rugs to prevent tripping or confusion.
Keep walkways as open as possible to create wide walkways for easy accessibility.
Hang drapes over apartment windows to help muffle noises from outside that could cause disorientation.
Position furniture to encourage engagement rather than in front of a TV.
If any fixes can be made to the home to promote wellness, it's helpful to do so. Once things are set up, assess the room to make sure everything is easy to navigate with minimal hazards or confusing situations.
Create A Memory Garden
Once your loved one's new space is set up to promote wellness, take advantage of it. Explore your loved one's interests and see what they enjoy doing. A great idea is a garden.
Tending to a garden can create a sense of routine and help memory care residents gain a sense of independence. Indoor gardens also double as decor.
Some memory care neighborhoods offer community garden options as a way to encourage residents to get physical exercise, fresh air and vitamin D from the sun. Having a project or hobby like a garden also provides excitement as well as healthy snacks once the produce flourishes.
Related: Why You Should Try Indoor Gardening
Understanding Memory Care
Designing a space for your loved one should be done with their best interest in mind. First, think about the functional abilities they perform well and design their space around this.
Does your loved one enjoy being social? Find them a place that encourages social gatherings and events. Do they enjoy being active? Most communities offer fitness and wellness programs.
Other ways to encourage independence are:
Establishing routines: Routines can ease anxiety when your loved one knows what to expect. Write out meal times and regularly scheduled items so they can stay on track.
Using labels: Labeling cabinets or storage spaces is an important design feature for those in memory care and can help seniors identify where certain items or medications are located.
Encouraging participation in social events:  Socialization can help boost moods and lead to feelings of meaning and self-purpose. These activities can also help your loved one from falling into isolation tendencies dementia may cause.
Updating their wardrobe: If your loved one is struggling to change, consider replacing any complicated clothing or accessories. For example, shoelaces can be replaced with velcro or slip on tennis shoes.
Implementing these adjustments can make daily events easier for your loved one and can set them up for success in their memory care new community.
Related: 6 Tips For Moving Someone With Dementia
Memory Care Matters
Moving your loved one into a new community is a big transition. These memory care decorating tips should allow you to make their space feel like home in no time. Before you begin to decorate your loved one's memory care room, be sure to check with the community for any guidelines to follow.
For more tips and advice about moving a loved one to memory care, reach out to your local Independence Village community.