Every individual has unique needs as they age, and for this reason, senior living communities provide an assortment of benefits and luxuries for seniors in all phases of life. Here's a breakdown of the living options to assist in helping you and your loved one make the decision that's right for your family.
Independent Living Communities
Independent living is a good option for seniors who are looking for a maintenance-free lifestyle, greater social opportunities or simply to be part of the buzz of a larger community setting. In independent living, seniors can come and go as they please, and in many communities, can add on à la carte options such as meal service. While independence looks different for everyone, if your loved one is able to care for themselves without the need for everyday assistance, independent living is a good step for them to enjoy their retirement without the hassle of household chores, home upkeep and more.
An Enhanced Lifestyle: Enhanced Living
Unique to StoryPoint, enhanced living combines the benefits of independent living and customizable support services into one package. The biggest benefit? Flexibility in service offerings. In enhanced living, seniors only pay for the services they need, allowing them to continue their day-to-day as they would in an independent living neighborhood while having the peace of mind that they're receiving the support they need.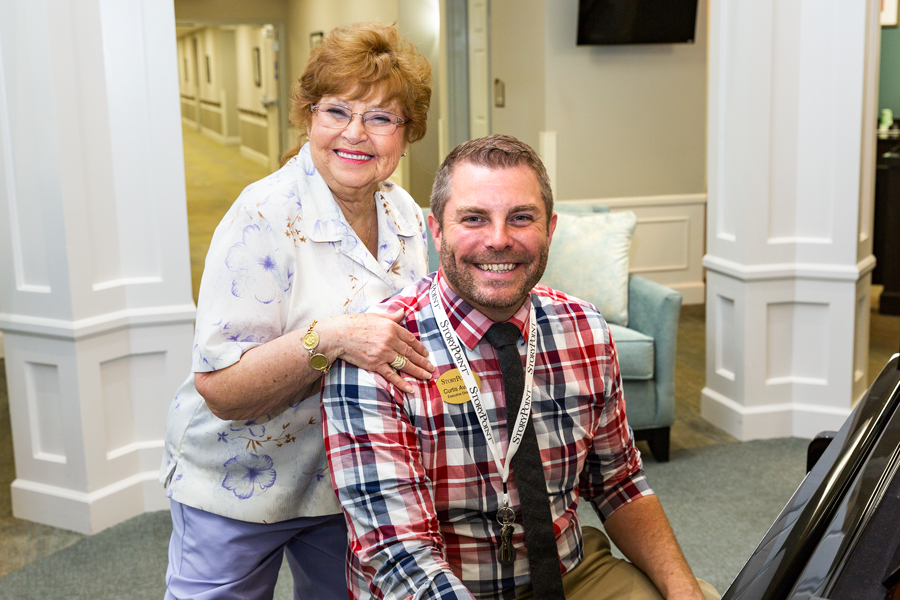 Assisted Living: Licensed Communities
Assisted living communities offer seniors a long-term option that fuses support, housing, and personal care together with the help of skilled professionals. Seniors who prefer a heightened level of assistance or need more support than enhanced living can enjoy the customized service offerings available in these licensed caregiver communities.
Assisted living also provides families peace of mind their loved ones' needs are being met. At StoryPoint, our teams can support a variety of needs including activities of daily living (ADLs), medication reminders and administration, coordinating with health care providers, and more.
Specialized Memory Care Assistance
Memory care is a community option designed specifically for those with dementia, Alzheimer's disease or other memory impairments. Memory care professionals are specially trained in the care of those with memory loss, and assist seniors 24 hours per day with their everyday care needs. At StoryPoint, specific activities programming helps promote comfort while giving seniors the opportunity for socialization and to maximize independence. The intentional design of StoryPoint memory care neighborhoods is also meant to accommodate those with memory impairments.
For example, enlarged windows allow for more natural light and help minimize shadows that could lead to trip hazards. Carpet is patterned in such a way that it signals to residents when to walk and when to stop, and handrails are designed to be round on top and flat on the bottom to support the grip of those with arthritis.
Finding The Right Community For Your Loved One
Each senior living option has its unique care offerings, so it is important to decide what services are the best fit for your loved one. We're here to guide you through any questions or concerns you may have as you navigate this journey. Contact our team to learn more today.