Alzheimer's disease is an irreversible brain disorder that slowly leads to memory loss and the inability to carry out daily tasks. While we don't fully understand what causes Alzheimer's, we do know this: sensory stimulation has various positive effects on those coping with this disease.
Here's a breakdown of what sensory stimulation is, how it works and the benefits it offers for those with Alzheimer's.
What Is Sensory Stimulation?
Sensory stimulation involves the use of everyday objects to trigger memories and evoke emotions in those with conditions like Alzheimer's.
It works by introducing items that heighten the senses. For example, a favorite food, which targets the sense of taste, may also spark a memory of family dinners. A certain smell or the touch of a familiar blanket may help orient someone, or give them cues that it's time to go to sleep.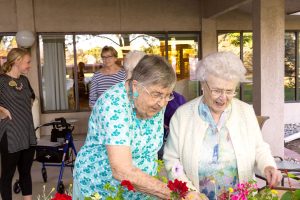 What Are The Benefits For Those With Alzheimer's?
As Alzheimer's progresses, it becomes increasingly difficult for people to communicate and take part in everyday life. This inability to be fully present can cause frustration, a lack of confidence and even depression as those affected by Alzheimer's sometimes pull away from the people and activities they care about.
Sensory stimulation provides an outlet for expression, which can help improve mood, self-esteem and overall well-being.
RELATED: When to Transition from Assisted Living to Memory Care
Types Of Sensory Stimulation
There are numerous tools that are used in sensory stimulation therapy. Within Independence Village communities, we utilize the following to support our memory care residents:
Essential oils: We use citrus essential oil during breakfast and lunch to stimulate energy, and lavender oil at dinner to signal the end of the day.
Warm washcloths: Before each meal, residents are provided with warm washcloths to clean their hands, signaling that it is time to eat.
Patterned carpet: All of the carpet in hallways and walkways has a directional pattern to guide residents to dining and activity areas and prompt them to walk. In sitting areas and living spaces, the pattern signals residents to stop walking.
Independence Village Is Here To Help
Do you have a loved one who may be ready for the services of our memory care communities? Learn more about memory care and when to make the transition by reaching out to one of our community specialists today.