If your loved one is experiencing early stages of memory loss or has been diagnosed with dementia, it may be time to start looking into a living community that can serve all of their needs. 
Moving your loved one into any type of assisted living community is a decision that takes time and planning. When searching for the right community, it is important to ask as many questions as possible to ensure both you and your family members are confident with your choice.
From pricing and comfort, to safety and services provided, here's a checklist that will help you find the right memory care community for someone you love.
What Services Does A Memory Care Community Provide?
Memory care communities provide a variety of services that are tailored specifically to your loved one's needs. When researching and touring possible care communities, be sure to get a clear explanation of the type of services each community offers. You will want to be sure your loved one is not only getting the care they currently need, but any additional care they may need in the future.
Some questions to ask include:
Is the care staff certified? What types of training have they completed?

What is the resident-to-staff ratio? 

Will my loved one have the same nurse everyday?

Do you have a high turnover rate? 

Is the community able to meet a wide range of health needs? If so, is there a list for reference that I can take home with me?

If my loved one does not currently need a specific service but may in the future, can I add additional care services when needed? 
Knowing a community's staffing standards and service offerings will help to guide you to the right decision when choosing a memory care community. You and your loved one will want a highly equipped and compassionate team so you can have total confidence in the care that is being received.  
Related: What To Look For In Assisted Living And Memory Care Communities
Related: Understanding Dementia Behaviors
Find The Right Community For Your Loved One
As this community may be your loved one's new home, exploring the community culture is important for finding the right fit. Communities that offer additional amenities like family-style dining services and life enrichment opportunities are great signs of a welcoming community that you should consider. 
Here are some questions to ask when deciding if a care community is the right fit for your loved one: 
Though my mom or dad will need assistance, will they still have some independence or privacy? 
Are there planned enrichment activities available each month?
Are all areas of the community easily accessible? Is the community easy to navigate? 
Does the community hold holiday celebrations throughout the year?
How often can mom or dad have visitors?
Though it is important to get all your questions answered, it is important to encourage your loved one to ask questions as well. Have a conversation about their community concerns before touring so you also can ask questions on their behalf.
Ask About Safety Measures When Touring A Care Community 
When touring a care community, it's important to ask questions about what the community does to ensure the safety of all its residents.
Some questions to keep in mind regarding safety include:
How does staff ensure residents are always safe?
What security protocols are in place?
Is the staff available 24/7?
How does the community handle medical emergencies?
How often do you update family members about the residents' well-being? 
Can you accommodate wheelchair-bound or bedridden residents?  
When it comes to safety, trust your natural feelings. Many memory care communities are well-staffed and equipped, but trusting your instincts is key to finding a community that will bring you peace of mind.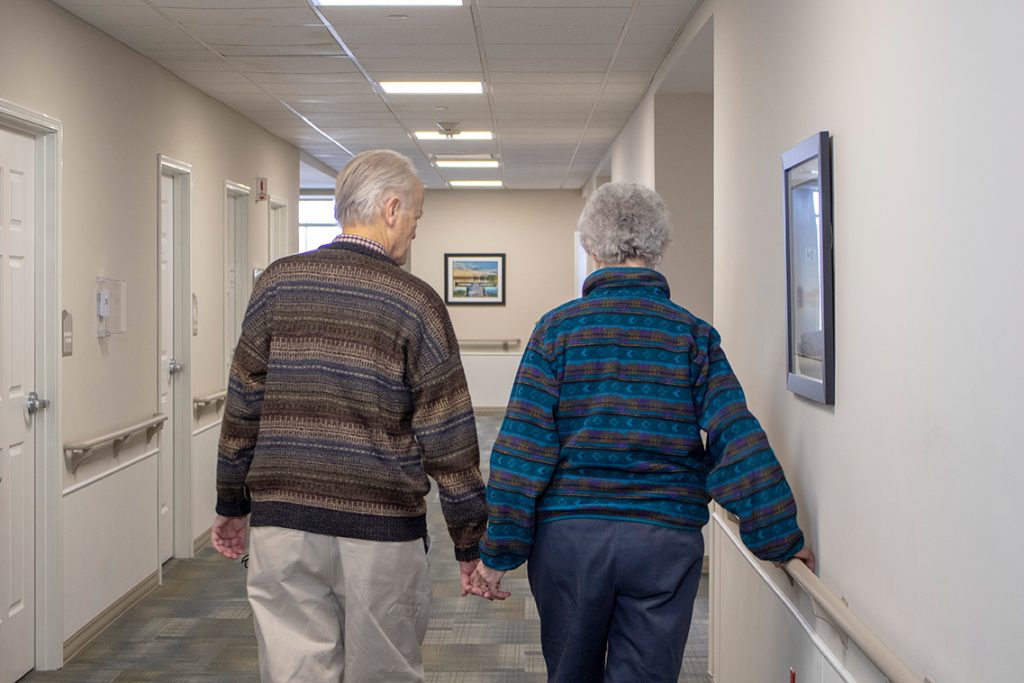 How Much Does A Memory Care Community Cost?
When narrowing down your memory care options, an important factor that comes into play is the cost breakdown. After touring care communities and finding one that piques your interest, get a clear cost breakdown so both you and your loved one know what to expect. 
Different communities offer different levels of service which may affect your family's choice of where to place your loved one. While it may go without saying, knowing the cost of memory care plays a big part in a family's choice, and it is important to determine when touring different communities. 
To help guide your search, here are some cost consideration questions to ask the community specialist: 
What is the base price per month or year?
How are costs paid?
Does Medicare cover costs? 
Does the community offer veterans benefits? 
Are there any additional resources available to help navigate the costs? 
Memory Care Designed With You In Mind
Our memory care communities are designed to give your loved one the best possible care with safety and comfort being top of mind. With a licensed care staff and a life enrichment team ready to serve your loved one, StoryPoint communities are here to assist you with your search. If you or your loved one have questions about our memory care services call 1-855-40-STORY to speak with a community specialist.